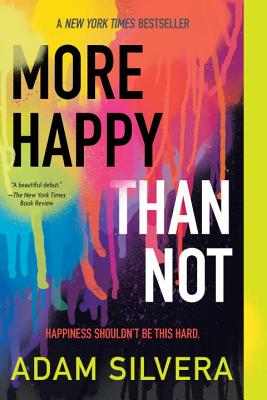 More Happy Than Not (Paperback)
Soho Teen, 9781616956776, 336pp.
Publication Date: April 26, 2016
Description
In his twisty, gritty, profoundly moving New York Times bestselling-debut--also called "mandatory reading" and selected as an Editors' Choice by the New York Times--Adam Silvera brings to life a charged, dangerous near-future summer in the Bronx. In the months after his father's suicide, it's been tough for sixteen-year-old Aaron Soto to find happiness again--but he's still gunning for it. With the support of his girlfriend Genevieve and his overworked mom, he's slowly remembering what that might feel like. But grief and the smile-shaped scar on his wrist prevent him from forgetting completely. When Genevieve leaves for a couple of weeks, Aaron spends all his time hanging out with this new guy, Thomas. Aaron's crew notices, and they're not exactly thrilled. But Aaron can't deny the happiness Thomas brings or how Thomas makes him feel safe from himself, despite the tensions their friendship is stirring with his girlfriend and friends. Since Aaron can't stay away from Thomas or turn off his newfound feelings for him, he considers turning to the Leteo Institute's revolutionary memory-alteration procedure to straighten himself out, even if it means forgetting who he truly is. Why does happiness have to be so hard? "Silvera managed to leave me smiling after totally breaking my heart. Unforgettable."
--Becky Albertalli, author of Simon vs. The Homo Sapiens Agenda "Adam Silvera explores the inner workings of a painful world and he delivers this with heartfelt honesty and a courageous, confident hand . . . A mesmerizing, unforgettable tour de force."
--John Corey Whaley, National Book Award finalist and author of Where Things Come Back and Noggin
About the Author
Adam Silvera was born and raised in the Bronx. He has worked in the publishing industry as a children's bookseller, marketing assistant at a literary development company, and book reviewer of children's and young adult novels. His debut novel, More Happy Than Not, received multiple starred reviews and is a New York Times bestseller, and Adam was selected as a Publishers Weekly Flying Start. He writes full-time in New York City and is tall for no reason.
Aaron Soto is a 16-year-old Puerto Rican living in the South Bronx and is falling in love with a boy, but Aaron feels threatened by pursuing this attraction because of his friends. A lot of teen literature where characters are coming out often features violence against the teen for being gay. Did you find the violence in this book to be realistic because of the book's setting or unnecessary?
The Leteo Institute offers a groundbreaking service where they can alter memories for those suffering psychologically and emotionally. There is controversy within the book surrounding the ethics of this procedure. Do you forgive Kyle Lake for forgetting his twin brother's existence after being responsible for his murder? Or should everyone—including Kyle—be forced to confront their issues without the help of a procedure like the Leteo Procedure?
What would this novel have looked like from Genevieve's perspective? And is there another character whose side of the story you'd be interested in hearing?
What did you think of the way the author structured the novel with different levels of happiness to measure Aaron's journey? (These levels included Happiness, A Different Happiness, Unhappiness, Less Happy Than Before, More Happy Than Not.)
The end of the book finds Aaron facing trials that are far from a happy ending. Did you find these conditions to be harrowing or hopeful? Would Aaron's story have felt complete or forced if he got a clean break?
Where do you think the characters (specifically Aaron, Thomas, Genevieve, Brendan, and Collin) end up ten years later?
Advertisement