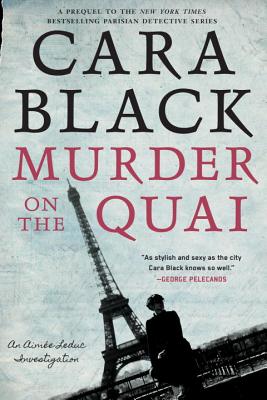 Murder on the Quai (An Aimée Leduc Investigation #16)
Hardcover

* Individual store prices may vary.
Other Editions of This Title:
Paperback (5/2/2017)
Hardcover, Large Print (7/5/2017)
Description
The world knows Parisian private investigator Aimée Leduc, heroine of 15 mysteries in this New York Times bestselling series, as a très chic, no-nonsense detective—the toughest and most relentless in the City of Lights. Now, author Cara Black dips back in time to reveal how Aimée first came to inherit Leduc Detective . . .

November 1989: Aimée Leduc is in her first year of college at Paris's preeminent medical school. She lives in a 17th-century apartment that overlooks the Seine with her father, who runs the family detective agency.

But the week the Berlin Wall crumbles, so does Aimée's life as she knows it. First, someone has sabotaged her lab work, putting her at risk of failing out of the program. Then, she finds out her aristo boyfriend is getting engaged to another woman. And finally, Aimée's father takes off to Berlin on a mysterious errand. He asks Aimée to help out at the detective agency while he's gone—as if she doesn't already have enough to do. But the case Aimée finds herself investigating—a murder linked to a transport truck of Nazi gold that disappeared in the French countryside during the height of World War II—has gotten under her skin. Her heart may not lie in medicine after all—maybe it's time to think harder about the family business.
Praise For Murder on the Quai (An Aimée Leduc Investigation #16)…
Praise for Murder on the Quai

National Bestseller 
ABA Independent Bestseller

"Who wouldn't love to catch a glimpse of a favorite sleuth as a blundering amateur? Cara Black lets us do just that in Murder on the Quai, which reveals how Aimée Leduc, her fashionable Parisian private investigator, joined the business founded by her father and grandfather . . . The case is engrossing, complete with Vichy flashbacks, but the most fun are the scenes where Aimée meets her future partners and acquires Miles Davis, her beloved bichon frisé. One caveat: For such a clotheshorse, Aimée doesn't do nearly enough shopping."
—Marilyn Stasio, The New York Times Book Review

"The much-anticipated origin story of how legendary—and legendarily chic—French private investigator Aimée Leduc became the super sleuth she is today."
—Woman's World

"This vivid prequel . . . alternates between Aimée's investigation and violent events in November 1942 in a small village in Vichy France that may be at the root of several killings. As Aimée becomes a target and her father's trip grows complicated, Black reveals why Aimee chooses to pursue the family business."
—BBC

"Fans of Aimée Leduc, the most chic private eye in France—and therefore the world—have already enjoyed 15 of her investigations as imagined by her American creator. Now we go back to Paris, 1989, for a backstory that fills in the details of how she acquired Miles Davis, her bichon frise; René, her supergeek sidekick; and her first Chanel jacket. Charmant."
—The Sunday Times (UK)

"Quintessential summer reading . . . The Berlin wall is crumbling, and in a series prequel Parisian medical student Aimée Leduc finds her métier, detecting."
—The Boston Globe

"Paris-based investigator (and fashion plate) Aimee Leduc returns in her 16th atmospheric adventure, this one with a twist. Readers flash back in time to learn how former medical student Aimee became a sleuth in the first place."
—The Sacramento Bee

"Origin stories are almost without exception powerful, and so is this one. It is perhaps one of Black's best and most memorable efforts."
—Mystery Scene

"Cara Black has done her fans a service with an excellent prequel . . . The 1989 setting is used to great effect–Black portrays a moment in French history stunned by the end of the Cold War and torn between past crimes, and historical legacies and future dreams."
—Mystery People Bookstore

"The Aimée Leduc backstory we've been waiting for." 
—North Hills 

"Murder on the Quai is suspenseful, emotional and, thanks to its Paris setting, très atmosphérique."
—BookPage

"Finally we have the prequel we've been craving . . . A treat for series fans."
—Booklist

"So begins the arc of Aimée's story: the first corpse, the first clue, the first shattered love affair, the first meeting with René, her eventual partner, and the reader's first glimpse of Leduc Detectives."
—Kirkus Reviews

"A first-rate whodunit."
—Kittling Books

"By filling in the character's early years, Cara Black has strengthened the bond between her creation and the many readers who have followed Aimée's development."
—Book Loons

Praise for the New York Times bestselling Aimée Leduc series

"Transcendently, seductively, irresistibly French."
—Alan Furst
"A winning mystery, as stylish and sexy as the city Cara Black knows so well."
—George Pelecanos
"Wry, complex, sophisticated, intensely Parisian . . . One of the very best heroines in crime fiction today."
—Lee Child

"So authentic you can practically smell the fresh baguettes and coffee."
—Val McDermid

"As always, with airfares so high, Black offers armchair travelers a whirlwind trip through the City of Light."
—USA Today

"Forever young, forever stylish, forever in love with Paris—forever Aimée."
—New York Times Book Review 

"[Cara Black] is on to a good thing: each of her novels is set in a colorful Parisian neighborhood—and there are a lot of them. The cumulative result of reading this addictive series is a sort of mini-tour of the city, as seen through a filter of fictional murder . . . Leduc is always a reliable and charming guide to the city's lesser-known corners."
—The Seattle Times

"Black creates rich, plausible characters, giving them individuality and depth."
—San Francisco Gate
Soho Crime, 9781616956783, 336pp.
Publication Date: June 14, 2016
About the Author
Cara Black is the author of sixteen books in the New York Times bestselling Aimée Leduc series. She lives in San Francisco with her husband and visits Paris frequently.
or
Not Currently Available for Direct Purchase