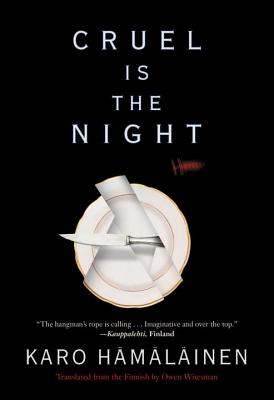 Cruel Is the Night (Hardcover)
Soho Crime, 9781616956813, 320pp.
Publication Date: April 11, 2017
* Individual store prices may vary.
Description
Prizewinning Finnish author Karo Hämäläinen's English-language debut is a literary homage to Agatha Christie and a black comedy locked-room mystery about murder, mayhem, and morality in our cynical modern world.

Three cell phones ring in an opulent London apartment. The calls go unanswered because their recipients are all dead.

Earlier that night, four Finnish friends meet for dinner. It's been ten years since the host, Robert, has seen his once-best friend, Mikko. The two had an ideological falling-out because Robert, a banker, made millions off of unethical (but not illegal) interest rate manipulations. Mikko, meanwhile, is an investigative journalist who has dedicated his career to bringing down corrupt financiers and politicians. Also along for the evening are Mikko's wife, Veera—with whom Robert once had a secret affair—and Robert's young trophy wife, Elise. Mikko has arrived in London with an agenda and thinks he's about to get away with murder, but he has no idea what's on the menu for the night: not only does every diner have a bone to pick with another, but there's an arsenal of deadly weapons hiding in plain
sight.

And by the end of the night, there will be only one survivor.
About the Author
Karo Hämäläinen spent 15 years as an economics reporter and currently works as the managing editor of Parnasso, Finland's leading literary publication. His debut novel, The Buyout, was shortlisted for the 2011 Savonia Prize and received the 2012 Tampere Literary Prize. His novel Alone won the 2016 Savonia Prize. Following stints in Munich, Berlin, and Tampere, he now lives in Helsinki. In his spare time, he likes reading and running; his record marathon time is 3:04:04.

Owen F. Witesman is a professional literary translator with a master's in Finnish and Estonian area studies from Indiana University. He has translated more than thirty Finnish books into English, including novels, children's books, poetry, plays, graphic novels, and nonfiction. Owen currently resides in Springville, Utah, with his wife, three daughters, one son, two dogs, a cat, and thirty-odd fruit trees.
Praise For Cruel Is the Night…
Praise for Cruel Is the Night

"It's hard to separate the potential killers from the probable victims, and the mood ranges from darkly humorous to just plain terrifying. Hämäläinen is a wicked and controlled writer who rarely allows his readers a moment of peace."
—Toronto Star

"A very dark comedy . . . Enjoy the ride." 
—International Noir Fiction 

"Hämäläinen makes his English-language debut with a darkly humorous, carefully crafted Finnish take on the classic British locked-room mystery. Hämäläinen is at ease with using the four distinct character voices to shift the apparent power balance constantly over the course of the evening, providing both thrilling surprises and the dread of inevitability, all in the context of some truly delightful dinner dialogue." 
—Publishers Weekly, Starred Review 

"[A] well-paced thriller . . . Raises thought-provoking questions and makes relevant political commentary. Crime-fiction readers shouldn't think twice about accepting Hämäläinen's invitation to this lethal dinner.​"
—Shelf Awareness, Starred Review

"A clever novel of suspense." 
—Acadiana Lifestyle 

"A compelling setup. The diners' repartee and the flashbacks revealing their relationships call to mind Herman Koch's The Dinner . . . But Hämäläinen's novel takes things to a completely different level. The reader follows the events safely through a wall of Plexiglas, holding back laughter, yet absolutely absorbed."
—Helsingin Sanomat
 
"In F. Scott Fitzgerald's novel, the night is tender, but in Karo Hämäläinen's hands, it becomes extremely cruel. Champagne sabres are drawn, cyanide capsules get broken . . . Hämäläinen has produced a thriller that is not only imaginative and over the top, but also fitting within genre bounds while being far from generic."
—Kauppalehti

"A tense, irony-laden, not-so-cozy ode to cozies, award-winning author Hämäläinen's English-language debut initiates a nail-biting shell game of poisons and allegiances . . . clever storytelling masks Hämäläinen's secrets until the final pages."
—Booklist

"This English-language debut by a prize-winning Finnish author has a great hook . . . [for] readers who enjoy books like L.S. Hilton's Maestra and Caroline Kepnes's You, in which the game is the goal."
—Library Journal 

"[A] darkly elegant locked-room thriller​."
—Stop, You're Killing Me! ​

Praise for the works of Karo Hämäläinen
 
"The Bonfire of the Vanities for the new millennium, flavored with [a] thriller plot."
—Kauppalehti Optio, on The Buyout
 
"The atmosphere is like on the savannah, where scavengers lie in wait for their prey and each other." 
—Helsingin Sanomat, on The Buyout
 
"Psychologically astute and heartbreaking." 
—Suomen Kuvalehti, on Alone as Book of the Year