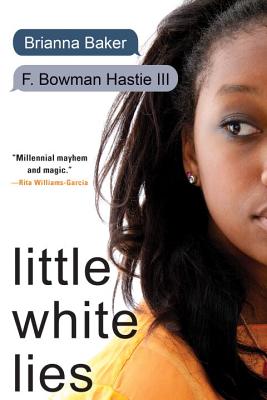 Little White Lies (Paperback)
Soho Teen, 9781616957070, 272pp.
Publication Date: February 7, 2017
* Individual store prices may vary.
Description
Seventeen-year-old honors student Coretta White's Tumblr, Little White Lies—her witty thoughts on pretty much . . . everything—has gone viral. She's got hundreds of thousands of followers; she's even been offered a TV deal. But Coretta has a secret. She hasn't been writing all her own posts. Stressed from the demands of the sudden attention, she hired an expert ghostwriter, forty-one-year-old Karl Ristoff, to keep the Tumblr going. Now consumed with guilt, she confesses.

Almost instantly, she suffers a public humiliation. The TV deal disappears. Her boyfriend breaks up with her. Then Karl is thrust into the limelight, only to suffer a dramatic fall himself. Together, they vow to find out who is responsible for ruining both of their lives, and why. But in order to exact justice and a wicked revenge, they must first come clean with each other.
About the Author
Brianna Baker is an actress, improviser, writer, and lover of cheese who lives in Los Angeles, California. Brianna graduated from Illinois Wesleyan University. Her autobiographical one-woman show Bede, about her blissfully ignorant childhood as a biracial tomboy, was named one of the Best Comedy Shows by Timeout Chicago. She co-wrote, co-created and co-starred in the award-winning web series Young Couple. Despite her greatest efforts, Brianna is still not very good at math.
 
F. Bowman Hastie III is at least as old as Karl Ristoff. He has ghostwritten for such #1 New York Times bestselling young adult authors as Newbery winner Katherine Applegate and Francine Pascal, the iconic creator of the Fearless series and the Sweet Valley series, which has sold half a billion copies worldwide. The first book to carry his own name was Portrait of the Dog as a Young Artist, the biography of his Jack Russell terrier, the late Tillamook Cheddar a.k.a. Tillie. Mr. Hastie lives in Brooklyn with Tillie's son, Doc Chinook Strongheart Cheddar.


From the Hardcover edition.
Praise For Little White Lies…
Praise for Little White Lies

"What nail-biting fun! Little White Lies is millennial mayhem and magic. All I want to know is what's next?"
—Rita Williams-Garcia, Coretta Scott King Award-winning author of P.S. Be Eleven and One Crazy Summer

"This book is funny, smart and entertains the brain like few books do today. I highly recommend!" 
—Michael Render a.k.a. "Killer Mike," Rapper, Activist, and Entrepreneur 

"Little White Lies is a compelling read based on an all too real possibility in today's teen world of social media."
—Midwest Book Review

"Little White Lies is a hilarious, righteous, and page-turning coming-of-age story. Imagine Judy Blume meets Candace Bushnell meets Harper Lee all in one novel. You won't be able to put it down . . . and be sure to read the appendices!"
—Dorian Warren, host of MSNBC's Nerding Out

"An over-the-top, ripped-from-the-headlines morality tale sure to be in demand by media-savvy teens familiar with Bey and Kanye, #BlackTwitter and white privilege, after-school altruism, and scam laptop donations to Africa. Today's brave new world demands more than just the three Rs; Baker and Hastie prove revenge and redemption are requirements, too."
—Booklist


From the Hardcover edition.