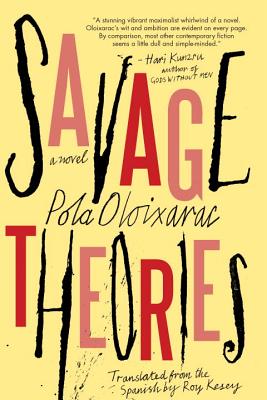 Savage Theories
Hardcover

* Individual store prices may vary.
Other Editions of This Title:
Digital Audiobook (1/9/2017)
Paperback (12/12/2017)
Description
"A stunning vibrant maximalist whirlwind of a novel. Oloixarac's wit and ambition are evident on every page. By comparison, most other contemporary fiction seems a little dull and simple-minded." —Hari Kunzru, author of White Tears and Gods Without Men

A debut novel of seduction and madness, hate and love, set in the world of Argentine academia and animated by the spirits of Wittgenstein, Rousseau, Nabokov and Bolaño

Rosa Ostreech, a pseudonym for the novel's beautiful but self-conscious narrator, carries around a trilingual edition of Aristotle's Metaphysics, struggles with her thesis on violence and culture, sleeps with a bourgeois former guerrilla, and pursues her elderly professor with a highly charged blend of eroticism and desperation. Elsewhere on campus, Pabst and Kamtchowsky tour the underground scene of Buenos Aires, dabbling in ketamine, group sex, video games, and hacking. And in Africa in 1917, a Dutch anthropologist named Johan van Vliet begins work on a theory that explains human consciousness and civilization by reference to our early primate ancestors—animals, who, in the process of becoming human, spent thousands of years as prey.

Savage Theories wryly explores fear and violence, war and sex, eroticism and philosophy. Its complex and flawed characters grapple with a mess of impossible, visionary theories, searching for their place in our fragmented digital world.
Praise For Savage Theories…
Praise for Pola Oloixarac

"What constitutes the originality of Oloixarac's work is her representation of daily life, with a richness and color only hinted at by either Borges or Baudrillard. Her novels do more than allegorize the pursuit of knowledge or theorize the ontological status of the real in an age of unreality. Her multifaceted characters show something of what it's like to inhabit a fleshy body in a world awash in representations—which is to say, our own world."
—Public Books

Praise for Savage Theories

"[An] exuberant blend of political satire and sexual picaresque. This book rewards total immersion: Come for the inevitable Borges allusions, stay for the wild ride." 
—The New York Times Book Review

"Philosophy gets sexy in Pola Oloixarac's Savage Theories."
—Vanity Fair

"Pola Oloixarac's prose is the great event of the new Argentinian narrative. Her novel is unforgettable, philosophical and very serene."
—Ricardo Piglia, author of Target in the Night

"Pola Oloixarac is one of the great writers of the Internet, the only country larger than Argentina."
—Joshua Cohen, author of Moving Kings

"A radical, bitingly funny debut novel offers a veritable hurricane of ideas on topics from technology to anthropology and features parallel arcs, one involving a student obsessed with her professor and the other about a couple cruising the Buenos Aires underground."
—O, The Oprah Magazine

​"​This debut novel announces a huge, rambunctious talent, with its hilarious and ribald glimpse of intellectual and sexual politics in a post-post revolutionary Argentina. ​"
—The Boston Globe​

"A stunning vibrant maximalist whirlwind of a novel. Oloixarac's wit and ambition are evident on every page. By comparison, most other contemporary fiction seems a little dull and simple-minded."
—Hari Kunzru, author of Gods Without Men

"San Francisco's Pola Oloixarac, named one of Granta's Best Young Spanish Novelists, takes the reader on a surreal journey through her native Argentina in Savage Theories."
—The Mercury News

​​"Savage Theories presents a deep-focus tableau wherein theory and praxis, subject and object, past and present share a single stage in an ongoing, immemorial drama. Its kaleidoscopic vision of a densely layered life-world illuminates the sheer scope of existence. Oloixarac's creative force is ferocious, comprehensive, tidal. Her debut novel formulates one of the most thoroughgoing theories of the way we live now." ​
—​The Rumpus ​

"While there are echoes of Borges and Bolaño here, the synthesis of ideas and the manic intelligence are wholly new. Brilliant, original, and very fun to read."
—Kirkus Reviews, Starred Review

"Oloixarac's brilliant, dextrous, debut novel, is a twisty tale of academia, lust, and culture. The author's ability to incorporate diverse elements, including 1970s Argentinian sex comedies, early 20th-century psychological theory, Elton John and Thomas Hobbes singing in bed, makes for singular and humorous experience. Perhaps best of all is Oloixarac's prose: discursive, surprising and off-kilter—like the characters themselves, it reveals a ceaseless appetite for understanding and belonging." 
—Publishers Weekly, Starred Review

"[A] transgressive novel of revolution, desire, and academia . . . Savage Theories compels with its energetic characters, and the seamless blend of desire and theorizing is contagious on both fronts."
—Words Without Borders

"In this dazzling, frantic tour de force, Argentine author Oloixarac traces several intertwining threads. She also manages to resurrect ghosts from Argentina's Dirty War and dive headfirst into the twenty-first century's strange technological frontier...readers willing to indulge this careening carousel of a novel will be rewarded with an unexpectedly prescient experience."
—Booklist

"Clearly one of the first Latin American classics of the twenty-first century."
—El Mundo 

"A prodigious, masterful novel."
—Le Figaro

"A strange, bewildering debut novel, an eccentric baroque fantasy."
—Les Inrockuptibles

"Monstrously clever and terribly funny. More than a debut, this book is one many of us would spend our lives trying to write." 
—Javier Calvo, author of Wonderful World

"A provocative, brave, controversial novel."
—Vicente Luis Mora, author of Pangea: Internet, Blogs and Communication in a New World

"Savage Theories is a novel of ideas, exploring the violent nature of humans . . . this is the type of book you read when you want great writing and to learn something about the world."
—Translated Lit
Soho Press, 9781616957353, 304pp.
Publication Date: January 10, 2017
About the Author
Pola Oloixarac is a fiction writer and essayist. Her novels, Savage Theories and Dark Constellations, have been translated into seven languages. Her writing has appeared in n+1, The White Review, The New York Times, and Granta, which named her to its list of Best Young Spanish Novelists. She wrote the libretto for the opera Hercules in Mato Grosso, which debuted at Buenos Aires's Teatro Colón and was staged at New York City's Dixon Place. She lives in San Francisco, where she's completing a PhD at Stanford University. Savage Theories is her first novel to appear in English.
or
Not Currently Available for Direct Purchase