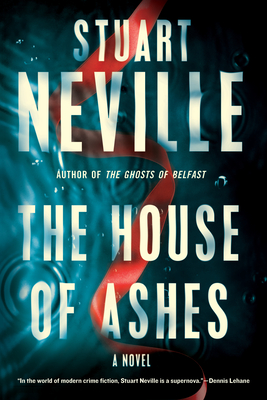 The House of Ashes
Hardcover

* Individual store prices may vary.
Description
For fans of Gillian Flynn and Tana French, a chilling story of a Northern Irish murder sixty years buried
 
Sara Keane's husband, Damien, has uprooted them from England and moved them to his native Northern Ireland for a "fresh start" in the wake of her nervous breakdown. Sara, who knows no one in Northern Ireland, is jobless, carless, friendless—all but a prisoner in her own house. When a blood-soaked old woman beats on the door, insisting the house is hers before being bundled back to her care facility, Sara begins to understand the house has a terrible history her husband never intended for her to discover. As the two women form a bond over their shared traumas, Sara finds the strength to stand up to her abuser, and Mary—silent for six decades—is finally ready to tell her story . . .

Through the counterpoint voices—one modern Englishwoman, one Northern Irish farmgirl speaking from half a century earlier—Stuart Neville offers a chilling and gorgeous portrait of violence and resilience in this truly haunting narrative.
Praise For The House of Ashes…
Praise for The House of Ashes

CrimeReads Most Anticipated Crime Fiction of Fall

"Chilling, compassionate and compelling, Stuart Neville takes us straight to the dark heart of rural Ireland."
—Val McDermid

"A brilliant, atmospheric novel from Stuart Neville that plays with chronology and the idea that evil can linger in the dark places. Neville writes with care and empathy and his characters will stay with you for a long time. In a storied career, this may well be Stuart Neville's best book."
—Adrian McKinty, bestselling author of The Cold Cold Ground

"Moving, thrilling, tragic. The House of Ashes is a phenomenal achievement from a crime fiction Titan."
—Chris Whitaker, author of We Begin at the End

"A gripping mystery with a soupçon of the supernatural . . . Neville fuses a heartbreaking story of domestic abuse with a tightly written thriller in The House of Ashes."
—Oline H. Cogdill, Shelf Awareness

"Neville has been known for his beautifully written Northern Irish noir. But with The House of Ashes, while the writing is still beautiful, Neville's subject is men['s] mistreatment of women—including murder—and women who find the courage to stand up . . . A remarkable, if troubling, work about resilience and justice."
—Jack Batten, The Toronto Star

"Stuart Neville writes crime fiction that is edgy, compelling and always deeply humane. This might well be his masterpiece."
—Mark Billingham

"Spellbinding . . . Neville hooks his reader with the opening sequences of his story, mystery, and horror emerging prominently. The multi-narrative structure that plays out is effective and gripping. Impressive just begins to describe Neville's latest offering."
—Seattle Book Review

"Stuart Neville seamlessly blends gothic fiction, psychological thriller, and Northern Irish noir in his powerful new novel."
—CrimeReads

"A stunning novel, brutal, disturbing and completely riveting . . . Life-endangering female resistance to misogyny is a recurrent theme in contemporary crime fiction, but The House of Ashes is one of the most vivid, moving and memorable treatments it has received."
—Crime Culture

"Featuring supernatural and even gothic elements in a book fueled by female resilience, this is a huge departure for Neville, a risk that pays off quite handsomely . . . A story that is as moving and inspiring as it is terrifying."
—BookReporter.com

"An absorbing read, one that is difficult to put down and hard to forget."
—Reviewing the Evidence

"This hardboiled thriller paints a shattering image of how absolute power becomes absolute control . . . [The House of Ashes] is a work of psychological horror, drenched in blood, death, and sexual abuse . . . The terrors revealed and persisting match the book against such classics as Silence of the Lambs."
—Kingdom Books

"A disquieting novel that grabs readers at page one and never lets them go."
—Feathered Quill

"Stuart Neville is truly the master of Irish noir. His latest mystery, The House of Ashes, is his best novel since his haunting debut, The Ghosts of Belfast."
—Gumshoe Review
 
"Fans of the superhit film franchise, The Conjuring, will love [The House of Ashes] . . . The House of Ashes is a very creepy, fast-paced, highly intriguing horror mystery that is rife with human suffering and grief."
—SF Revu

"[A] gut-wrenching novel of psychological suspense with ghostly undertones . . . This unforgettable tale of servitude and subservience, domestic abuse, and toxic masculinity builds to a resolution offering redemption and heartfelt solace. Neville has outdone himself."
—Publishers Weekly, Starred Review

"This psychological thriller is not for the fainthearted."
—Library Journal

"[The House of Ashes] will keep you turning the pages."
—Kirkus Reviews

Praise for Stuart Neville

"Noir, noir, noir—everybody wants to write noir fiction. But most self-anointed 'noir' narratives just don't hack it. They're dark and dreary, to be sure; but a true noir mystery must also have a black heart. This kind of spiritual despair comes naturally to Stuart Neville, whose Belfast crime novels bleed."
—The New York Times Book Review

"Tightly wound, emotionally resonant . . . Displays an acute understanding of the true state of Northern Ireland, still under the thumb of decades of violence."
—Los Angeles Times

"The current master of neo-noir detective fiction."
—The Boston Globe
 
"A great, brawling ache of a novel . . . filled with both prickling suspense and fiercely wrought emotion."
—Megan Abbott
 
"In the world of modern crime fiction, Stuart Neville is a supernova."
—Dennis Lehane
 
"The dread in this novel is palpable from the first pages until the heartbreaking final ones. It's Neville's best yet."
—Milwaukee Journal Sentinel
 
"Superlative . . . A pulse-pounding crime novel from a master of the genre."
—Booklist, Starred Review
Soho Crime, 9781616957414, 304pp.
Publication Date: September 7, 2021
About the Author
Stuart Neville, the "king of Belfast noir" (The Guardian), is the author of the short story collection The Traveller, as well as nine novels, for which he has won the Los Angeles Times Book Prize and been shortlisted for the Edgar, Macavity, Dilys, Barry, and Anthony Awards as well as the CWA Steel Dagger. He lives near Belfast.