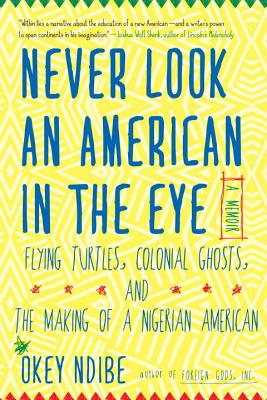 Never Look an American in the Eye (Hardcover)
A Memoir of Flying Turtles, Colonial Ghosts, and the Making of a Nigerian Amiercan
Soho Press, 9781616957605, 224pp.
Publication Date: October 11, 2016
Other Editions of This Title:
Paperback (9/12/2017)
* Individual store prices may vary.
Description
The author of Foreign Gods, Inc. and Arrows of Rain tells his own immigrant's tale, where what is lost in translation is often as hilarious as it is harrowing. 

Okey Ndibe's funny, charming, and penetrating memoir tells of his move from Nigeria to America, where he came to edit the influential—but forever teetering on the verge of insolvency—African Commentary magazine. It recounts stories of Ndibe's relationships with Chinua Achebe, Wole Soyinka, and other literary figures; examines the differences between Nigerian and American etiquette and politics; recalls an incident of racial profiling just thirteen days after he arrived in the US, in which he was mistaken for a bank robber; considers American stereotypes about Africa (and vice-versa); and juxtaposes African folk tales with Wall Street trickery. All these stories and more come together in a generous, encompassing book about the making of a writer and a new American.
About the Author
Okey Ndibe first came to the US to act as founding editor of African Commentary, a magazine published by Chinua Achebe. He has taught at Brown University, Connecticut College, Simon's Rock College, Trinity College, and the University of Lagos (as a Fulbright scholar). He is the author of two novels, Arrows of Rain and Foreign Gods, Inc., and his award-winning journalism has appeared in The New York Times, The Guardian, and The Hartford Courant. Mr. Ndibe lives in West Hartford, Connecticut, with his wife, Sheri, and their three children.
Praise For Never Look an American in the Eye: A Memoir of Flying Turtles, Colonial Ghosts, and the Making of a Nigerian Amiercan…
WINNER OF THE 2017 CONNECTICUT BOOK AWARD FOR NONFICTION
A HARTFORD COURANT BEST BOOK OF THE YEAR
PUBLISHERS WEEKLY BIG INDIE BOOK OF FALL 2016

Praise for Never Look an American in the Eye

"This page-turner memoir is an immigration narrative that begins with a young man's lucky accident in Nigeria, proceeds with culture shock at an American airport and carries us through the adjustment to citizenship. At times it's laugh-out-loud funny. Its more serious moments offer a poignant look at culture change in a land of steady habits. This book changed my understanding of American immigration."
—The Hartford Courant

"Okey Ndibe is a natural raconteur, and his tales of coming to America are winsome and lyrical and absorbing. But within lies a larger narrative: about the education of a new American—and a writer's power to span continents in his imagination."
—Joshua Wolf Shenk, author of Lincoln's Melancholy and Powers of Two

"Okey Ndibe brings a keen eye to his delightful and insightful new memoir. His vision is clearer than 20-20. A writer who can arrive in America, be falsely accused of bank robbery in just 10 days, and still manage to keep his sense of humor is a man with a story to tell. He writes it beautifully." 
—Sally Denton, author of The Profiteers: Bechtel and the Men Who Built the World

"Full of beautiful writing."
—WBUR Boston

"[Ndibe's] memoir could not be more enjoyable."
—CounterPunch

"[Nidibe's] candor and sense of humor make this an enjoyable read."
—Minneapolis Star-Tribune

"Uplifting . . . [Ndibe's] writing can induce the sort of laughter that make the ribs ache." 
—Herald Scotland

"Ndibe's eminently readable tone is marked by humour, honesty and humility, so that it's impossible to imagine anyone not liking him tremendously by the end of the book."
—The Big Issue

"A thrill to read, and yet offers powerful insights into the trials, prospects, and triumphs of being an immigrant in America. In a style that is impressively skillful, Ndibe masterfully conveys the odysseys of his early life in Nigeria and as well as his immigrant life in the US. I have never laughed harder in recent years when reading a book."
—SaharaReporters

"A generous, encompassing book about the making of a writer and a new American."
—West Hartford News

"Ndibe shapes an entertaining and endearing tale from his many struggles. This enjoyable and quick read is recommended for all memoir lovers."
—Library Journal

"A moving and often laugh-out-loud account of one man's immigrant experience."
—Booklist

"Seeing this country through Ndibe's eyes is a pleasure everyone should have."
—LitReactor

Praise for Foreign Gods, Inc.

"Razor-sharp."
—The New York Times

"A story of sweeping cultural insight and absurd comedy."
—The Washington Post

"Unforgettable . . . A page-turning allegory about the globalized world."
—Los Angeles Times

"A hard look at the American dream, which seems to be receding further and further into the distance these days."
—GQ

"We clearly have a fresh talent at work here. It is quite a while since I sensed creative promise on this level."
-Wole Soyinka, winner of the Nobel Prize in Literature