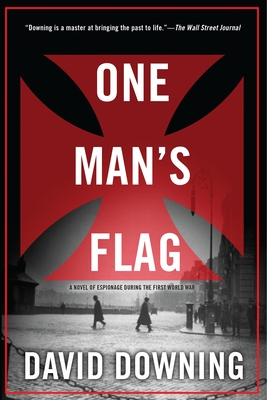 One Man's Flag (A Jack McColl Novel #2)
Paperback

* Individual store prices may vary.
Other Editions of This Title:
Hardcover (11/3/2015)
Hardcover, Large Print (2/17/2016)
Description
Spring 1915: World War One rages across Europe, and the British Empire is assailed on all fronts—domestic and abroad. Amidst this bloodbath of nations, where one man's flag is another man's shroud, a British spy is asked to do the impossible: seduce and betray the woman he loves, again. Only this time betrayal is a two-way street.

Jack McColl, a spy for His Majesty's Secret Service, is stationed in India and charged with defending the Empire against Bengali terrorists and their German allies. Belgium, he finds, is not the only country seeking to expel an invader.

In England, meanwhile, radical journalist Caitlin Hanley begins the business of rebuilding her life after the execution of her brother—an IRA sympathizer whose terrorist plot was foiled by Caitlin's own ex-lover, the very same Jack McColl. The war is changing everything and giving fresh impulse to those causes—feminism, socialism and Irish independence—which she as a journalist has long supported.

The threat of a rising in Dublin alarms McColl's bosses as much as it dazzles Caitlin. If another Irish plot brings them back together, will it be as enemies or lovers?
Praise For One Man's Flag (A Jack McColl Novel #2)…
Praise for One Man's Flag

"Downing's imaginative research and fresh prose pull events together in ways that make the terrible war seem both ridiculous and understandable."
—Toronto Star

"Downing is a master at bringing little-known history to light and building great plots around it. It helps that he knows how to pace a story and develop characters that stay in the mind. Can't wait for the next episode."
—Margaret Cannon, The Globe and Mail

"Engrossing . . . Comparisons to W. Somerset Maugham's classic stories about Ashenden, another gentleman spy, are well deserved."
—Adam Woog, The Seattle Times

"Downing reaffirms his place as one of the finest espionage writers with this engaging historical thriller."
—Bruce Tierney, BookPage, Top Pick in Mystery

" [A] brilliantly told tale . . . Bring on the next Jack McColl adventure ASAP!"
—Suspense Magazine

"Electrifying."
—The Aptos Times

"As a spy thriller, as a love story, and as vibrant historical re-creation, this one hits on all cylinders. Thankfully, the series is still in its early days."
—Booklist, Starred Review

"Downing exhibits his knowledge of world history in a wide-ranging story that takes place in India, Ireland, and Belgium. His details about how countries in the British empire were affected by the Great War are quite absorbing."
—Library Journal

"[One Man's Flag] builds in interest and intensity as, bolstered by nuanced historical color, the protagonists grow in complexity." 
—Kirkus Reviews

"There is much to like in One Man's Flag. The timeframe is intriguing, action sequences are thrilling, the philosophizing thoughtful and pertinent, the dialogue realistic."
—Bookgasm

Praise for Jack of Spies

*A Seattle Times Best Mystery of the Year*
*An Indie Next Selection*
*A Publishers Weekly Top 10 Mysteries & Thrillers Pick*
*A Library Journal Editor's Pick*
*A Deadly Pleasures Best Book of the Year*

"[Downing] is a master at bringing the past to life through the careful and often loving observation of even minor players and through the artful deployment of specific detail. In addition, Jack McColl's debut has a zest, an exoticism and a joie de vivre well-suited to an era when best sellers were being written by Zane Grey, suffragettes were demanding the vote, and opium parlors were a readily accessible temptation."
—The Wall Street Journal

"Moves along briskly and offers interesting facts about events now a century past . . . Always entertaining."
—The Washington Post

"When his 'innocent' data-gathering escalates into knife fights and arrest warrants, McColl finds himself in an advanced game of espionage he hadn't intended on playing. I can already see Gerard Butler in the lead role of the film version of this book."
—Parade

"Smart and erudite . . . A ripping good tale."
—The Seattle Times

"[A] splendid saga of espionage during the Great War."
—The Globe and Mail

"It would already be enough that Jack of Spies is a taut, highly intelligent spy thriller without it being a brilliant historical portrait and a captivating love story to boot. A remarkably engaging world tour of pre–World War One espionage featuring an honorable protagonist begging for a long series."
—Lyndsay Faye, author of The Fatal Flame

Soho Crime, 9781616957643, 352pp.
Publication Date: November 8, 2016
About the Author
David Downing grew up in suburban London. He is the author of two other Jack McColl novels, Jack of Spies and Lenin's Roller Coaster; the thriller The Red Eagles; and six books in the John Russell espionage series, set in WWII Berlin: Zoo Station, Silesian Station, Stettin Station, Potsdam Station, Lehrter Station, and Masaryk Station. He lives with his wife, an American acupuncturist, in Guildford, England.