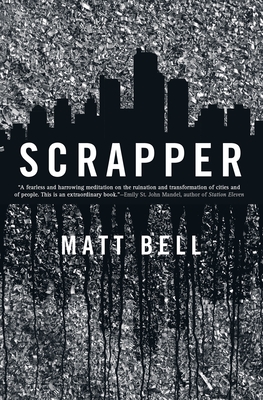 Scrapper
Paperback

* Individual store prices may vary.
Other Editions of This Title:
Digital Audiobook (9/14/2015)
Description
For fans of The Dog Stars and Station Eleven, Scrapper traces one man's desperate quest for redemption in a devastated Detroit.

"Has the feel of Cormac McCarthy's The Road set in present-day Motor City... powerful."
—Publishers Weekly

Detroit has descended into ruin. Kelly scavenges for scrap metal from the hundred thousand abandoned buildings in a part of the city known as "the zone," an increasingly wild landscape where one day he finds something far more valuable than the copper he's come to steal: a kidnapped boy, crying out for rescue. Briefly celebrated as a hero, Kelly secretly avenges the boy's unsolved kidnapping, a task that will take him deeper into the zone and into a confrontation with his own past and long-buried traumas.

The second novel from the acclaimed author of In the House upon the Dirt between the Lake and the Woods, Scrapper is a devastating reimagining of one of America's greatest cities, its beautiful architecture, its lost houses, shuttered factories, boxing gyms, and storefront churches. With precise, powerful prose, it asks: What do we owe for our crimes, even those we've committed to protect the people we love?
Praise For Scrapper…
Praise for Scrapper

"Equal parts dystopian novel, psychological thriller, and literary fiction, [Scrapper] evokes a dark and lonely existence for its stoic protagonist . . . By the novel's end, Bell adeptly depicts Kelly as a complicated soul capable of great violence and kindness."
—The New York Times Book Review

"A fearless and harrowing meditation on the ruination and transformation of cities and of people; but amid loss and destruction, Bell finds a strain of piercing hope. This is an extraordinary book."
—Emily St. John Mandel, New York Times bestselling author of Station Eleven

"This haunting story is juxtaposed with Bell's fierce lyricism, creating a stirring and noir-ish novel that reflects on the nature of emptiness, ruin and renewal."
—The Detroit Free Press

"Scrapper is a meditative, moody work of art. It's about love and violence, hope and ruin, a kind of superhero story for adults. Matt Bell is truly gifted and his latest offers more proof that he's a writer we should all be reading."
—Victor LaValle, author of The Devil in Silver

"I love this book . . . full of metaphorical possibilities . . . quite frankly beautiful. Does to Detroit what Bolaño does to Ciudad Juárez . . . Fantastic."
—KTEP, Words on a Wire

"A book of what to do with ruin and of how we attempt to salvage or redeem . . . Scrapper eventually shows Kelly to be a deeply wounded man, so much so that he nearly carries two halves inside him: the 'scrapper' and the 'salvor.' The former wants to rip the houses apart and let Detroit (and himself) burn; the latter wants to find and treasure whatever may yet be worth saving—in himself, in Detroit, in anyone."
—Star Tribune

"Bell's fiction has been described as grisly, spooky, and dreamlike. Perhaps parts of Scrapper are each of those things, as it takes us on a journey through trauma, destruction, and hope—hope for ourselves, for others, for those who would make us afraid."
—The Rumpus

"[Scrapper] explores regret, redemption, and the cost of violence in both our private lives and on the global scale of racism, war, and industry."
—Belt Magazine

"Bell slowly teases [out] Kelly's failures at willed amnesia in equally beautiful and painful streaks of poetic and suggestive prose . . . Stunning, timely, and ultimately illuminating."
—Rain Taxi Review of Books

"An apocalypse of the psyche."
—American Book Review

"Scrapper explores the apocalypse of the everyday, the world-ending moments that happen in silence and how against all odds we try to survive them and be better."
—Puerto del Sol

"Splendid . . . stirring . . . Bell is a brave writer . . . [and] can write like a dream."
—Bill Morris, author of Motor City Burning, for The Millions

"Matt Bell's new novel Scrapper envisions a world as grim and primed for post mortem as any sci-fi dystopia . . . One of the most unflinchingly real and devastatingly disconcerting narratives of a hero's acclaim imaginable . . . A punishingly effective and brutally affecting novel."
—PASTE

"[Bell is] a literary chameleon who refuses to be cast in a single mold . . . Scrapper is as much a love letter to the Detroit of old as it is a literary thriller." 
 —LitReactor

"Matt Bell describes his new novel, Scrapper, as a 'quiet book'—but it comes across with the noisy fury of righteous revenge . . . The author could've easily settled for a straightforward novel about the hard and dangerous life of a scrapper, but the novel takes a decidedly darker turn . . . At its core, the book is a love story intertwined with a morality tale and a reflection on how we find redemption through confronting evil."
—Lansing City Pulse

"I've been reading and admiring Matt Bell's constantly shifting, deeply visceral fiction for years now . . . Scrapper, retains [the] sense of grit and emotional tension [of In The House upon the Dirt between the Lake and the Woods], but does so in a much more realistic setting: specifically, contemporary Detroit."
—Tobias Carroll, Vol. 1 Brooklyn

"[Bell] has done us all a service by writing this book and imagining this world in such richness and depth."
—Brad Listi, Other People Podcast

"Scrapper [is] a meditation on the ruins of a city and an entire American landscape of fear, and on breaking a cycle of perpetuated, inherited violence."
—The Pleiades Book Review

"Original and honest, you won't want to put this one down." 
—BookTrib

"[A] melancholy ode to Motor City . . . [Scrapper] explores what it means to be a man, but it also works with diligence to eviscerate this medieval notion, to shine a light into the hollow posturing, the macho bluster, and the animalistic violence."
—The New York Journal of Books

"A tale of hard emotions in a hard environment . . . Bell poses difficult, elemental questions about right and wrong and of what constitutes morality in a place where the usual rules don't always apply. And, refreshingly, the answers his protagonist arrives at are neither easy nor expected."
—Library Journal, Starred Review

"Scrapper proves particularly grim, a novel set in a wasteland version of Detroit . . . All the same, Kelly, the protagonist, finds 'the endurance of the beautiful,' . . . resulting in an existential noir that seems to merge Robbe-Grillet with the film Prisoners."
—Kirkus Reviews

"Scrapper is rooted in the tragic reality of a once-great city's collapse, but Bell seems to be revisiting some of [In the House upon the Dirt between the Lake and the Woods's] fundamental concerns: obligations to loved ones, redemption from past misdeeds . . . Bell's portrait of a city brought to its knees is riveting."
—Booklist

"Has the feel of Cormac McCarthy's The Road set in present-day Motor City . . . A morality tale about the duty to confront the evil in the world and within oneself, a tale told in powerful, controlled prose."
—Publishers Weekly

"Scrapper is an offering to the grim phoenix rising out of the ashes of Industrial America—elegy, eulogy, and prophesy. Readers: listen and attend!"
—Aaron Gwyn, author of Wynne's War and Dog on the Cross

"Matt Bell adds his song to the poetry inherent in the image of the abandoned city. Here, in his fierce second novel, Scrapper, Bell mines Detroit, the zone, with Kelly, an unforgettably rendered ruin, an 'unaccomodated man . . . a poor, bare, forked animal,' who yet amazes with his capacity to love. " 
—Christine Schutt, author of Prosperous Friends

"In the imaginative, mysterious, and beautiful Scrapper, Matt Bell delves into the complexity of ruins: the wider American ruins and the local personal ruins. This is an evocative novel that lingers over what has been abandoned and shows us how the places we inhabit shape who we are and how we are."
—Dana Spiotta, author of Stone Arabia

"Like the very best novels, Matt Bell's dark and suspenseful Scrapper works on so many levels that it's difficult to describe in just a few words, but what I can tell you is that it's ultimately about love and death, and that people will still be reading it when all of America, not just Detroit, is crumbling under the weight of its mistakes." 
—Donald Ray Pollock, author of The Devil All the Time


Praise for In the House upon the Dirt between the Lake and the Woods

"Mr. Bell has written a gripping, grisly tale of a husband's descent into and ultimate emergence from some kind of personal hell."
—The New York Times

"It's hard to imagine a book more difficult to pull off, but Bell proves as self-assured as he is audacious . . . Bell's novel isn't just a joy to read, it's also one of the smartest meditations on the subjects of love, family and marriage in recent years . . . The novel is a monument to the uniqueness of every relationship, the possibility that love itself can make the world better, though of course it's never easy."
—NPR

"Somber, incantatory sentences to hold you within [Bell's] dreamlike creation . . . This unique book leaves you with the haunting lesson that even if you renounce and cast away your loved ones, you can never disown the memory of your deeds."
—The Wall Street Journal

"A blood-soaked fable . . . With this debut novel, Matt Bell [reworks] myths, rituals and fictions into something that can hold his visceral, primal vision. In the House upon the Dirt between the Lake and the Woods provides us with a new, unstable literary element, something scavenged from the old, something bright and wet and vital."
—The Globe and Mail

"For readers weary of literary fiction that dutifully obeys the laws of nature, here's a story that stirs the Brothers Grimm and Salvador Dalí with its claws . . . As gorgeous as it is devastating."
—The Washington Post

"In the House Upon the Dirt Between the Lake and the Woods is an extraordinary achievement, telling a most ancient story in a way that feels uncannily new."
—The Boston Globe

"This is a fiercely original book—at once intimate and epic, visceral and philosophical—that sent me scurrying for adjectives, for precedents, for cover. Matt Bell commands the page with bold, vigorous prose and may well have invented the pulse-pounding novel of ideas."
—Jess Walter, National Book Award Finalist and author of Beautiful Ruins and We Live in Water
Soho Press, 9781616957650, 320pp.
Publication Date: August 23, 2016
About the Author
Matt Bell is the author of the novel In the House upon the Dirt between the Lake and the Woods, a finalist for the Young Lions Fiction Award, a Michigan Notable Book, and an Indies Choice Adult Debut Book of the Year Honor Recipient, as well as the winner of the Paula Anderson Book Award. His stories have appeared in Best American Mystery Stories, Conjunctions, Gulf Coast, The American Reader, and many other publications. Born in Michigan, he now teaches creative writing at Arizona State University.
or
Not Currently Available for Direct Purchase