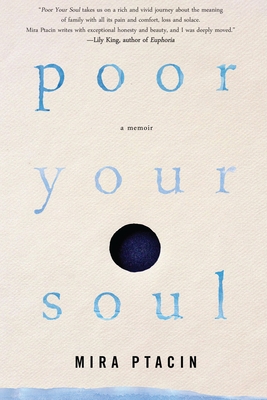 Poor Your Soul
Paperback

* Individual store prices may vary.
Other Editions of This Title:
Digital Audiobook (1/11/2016)
Hardcover (1/12/2016)
Description
Poor Your Soul—moving, wise, and passionately written—is a beautiful reflection on sexuality, free will, and the fierce bonds of family.

At twenty-eight, Mira Ptacin discovered she was pregnant. Though it was unplanned, she embraced the idea of starting a family and became engaged to Andrew, the father. Five months later, an ultrasound revealed that her child would be born with a constellation of birth defects and no chance of survival outside the womb. Mira was given three options: terminate the pregnancy, induce early delivery, or wait and inevitably miscarry.

Mira's story is paired with that of her mother, who emigrated from Poland to the United States, and who also experienced grievous loss when her only son was killed by a drunk driver. These deftly interwoven stories offer a picture of mother and daughter finding strength in themselves and each other in the face of tragedy.
Praise For Poor Your Soul…
Praise for Poor Your Soul

A Kirkus Best Book of 2016

"This vivid memoir tells of an unexpected pregnancy, ultimately welcomed, then threatened by birth defects that preclude life outside the womb. Far more than her personal story of abortion, Ptacin's brutally honest account incorporates her own mother's tragic loss of a child." 
—Ms. Magazine

"Ptacin ploughs through this landscape of unbearable sadness with surprising vigor and even more unexpected humor. The portrait of her indomitable mother—who herself had lost a child—shines particularly bright and provides an example of how to survive the unthinkable, how to move forward through sheer force of will, in a world riven by an unfixable wound."
—The Boston Globe

"Poor Your Soul is an important entry into the canon of the modern female experience—unflinching and specific, Ptacin examines love, grief, family and personhood with clear eyes and an open heart."
—Emma Straub, author of Modern Lovers

"Poor Your Soul takes us on a rich and vivid journey about the meaning of family with all its pain and comfort, loss and solace. Mira Ptacin writes with exceptional honesty and beauty, and I was deeply moved." 
—Lily King, author of Euphoria

"I read large swaths of Poor Your Soul, breathless, tears held (mostly) at bay, that feeling like someone was standing on my throat. Not because it is unbearably sad (though it's sad) but because it was telling me something true about being human, something that might have otherwise remained secret. This is a beautiful, contradictory book: big-hearted and hard-hearted, angry and introspective, drowning and triumphant, and suffused with humor both dark and light. It's a book about learning how to embrace what you didn't want, how to grieve when it's lost, and how to forgive life—and yourself—for the lot of it." 
—Diane Cook, author of Man V. Nature

"If there is any upside to grief, Mira Ptacin gradually uncovers it in her moving and eloquent memoir, Poor Your Soul." 
—Portland Press Herald

"Poor Your Soul paints a conflicted, coming-of-age story, one of perseverance through the bonds of family in the face of grief."
—Battle Creek Enquirer 

"[Poor Your Soul] examines the intricate threads of family, how our histories get woven into tapestries, and how to rebuild when it feels hopeless. It is a story of becoming, of renewal, of life."
—The Rumpus 

"Poor Your Soul is exceptional for its honest eloquence about complicated and deep emotions and experiences."
—Maine Women Magazine

"Poor Your Soul is, at its core, a story of perseverance . . . Warm, honest, thoughtful, and funny."
—Michigan Quarterly Review

"Mira Ptacin's Poor Your Soul is an unblinking and moving literary memoir of grief and love by a talented young writer coming to terms with the multiple losses in her life. Poor Your Soul is a beautifully written celebration of the love of family, the bonds between mothers and daughters, and the healing that comes after loss. Mira's very personal journey through grief is also a universal one." 
—Shelf Awareness

"Heartwrenching and radically honest."
—Dispatch Magazine

"Compelling and immersive storytelling . . . An emotional and engrossing memoir."
—Harvard Review

"An unexpectedly hopeful, but never mawkish, tale of love and loss. With grace and compassion, Ptacin describes the roller-coaster plunge from cautious elation to profound sorrow as romance yielded to pregnancy. Beautifully written, at just the right emotional pitch. Of interest to all readers but likely to find a home among bereaved mothers."
—Kirkus Reviews, Starred Review

"Beautifully written."
—Booklist

"[A] nicely paced, moving memoir of loss and renewal. Ptacin's memoir is a raw and absorbing story of family fortitude and a young woman's struggle to confront and accept the unexpected."
—Publishers Weekly

"In the tradition of Cheryl Strayed, Elizabeth Gilbert, and Melissa Coleman, Mira Ptacin has written a funny and deeply moving memoir of loss, love, and redemption. Poor Your Soul is a story of an American family as unique and loving as any you'd wish to meet, and you'll be caught up in a gripping narrative, as Ptacin writes of her wild girlhood, her enterprising parents, the confusions of love and sex, and the brave choices women make, following their own good instincts. Elegiac and wise, Poor Your Soul is, ultimately, about the strength of the human spirit."    
—Kate Manning, author of My Notorious Life

"Mira Ptacin invites her reader to viscerally experience her upbringing, to know her family intimately (and theirs is remarkable story) as she reveals, by one humorous and sorrowful turn after another, her journey toward finding her way in this very unsettling world. Hers is an immigrant's story in the most American sense. Reading her find her way through her most trying times left me feeling I'd found my own way through my own. There's no greater compliment I can pay. To read Poor Your Soul is to come to know its writer very well. Only the best writing does that."
—Cate Marvin, Co-founder of VIDA: Women in Literary Arts and author of Oracle: Poems

"Vivacity of spirit, pungency and accuracy of observation, and a sharp, disabused, but nevertheless empathetic consciousness permeate her pages. Mira Ptacin soothes us, but she also, always, surprises."
—Vijay Seshadri, winner of the 2014 Pulitzer Prize in poetry
Soho Press, 9781616957667, 320pp.
Publication Date: December 6, 2016
About the Author
Mira Ptacin's work has appeared in Guernica, NPR, New York Magazine, McSweeney's Internet Tendency, The National Book Foundation, The Morning News, Tin House, The Rumpus, and more. She teaches memoir writing to women at the Maine Correctional Center and lives on Peaks Island, Maine, with her husband, Andrew; son, Theo; daughter, Simone; and their two dogs, Huckleberry and Maybe.