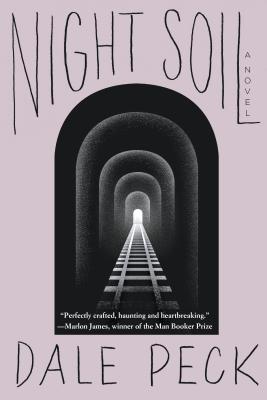 Night Soil
Hardcover

* Individual store prices may vary.
Other Editions of This Title:
MP3 CD (7/23/2019)
Compact Disc (7/23/2019)
Paperback (7/16/2019)
Description
"You'd think it has been done before but it really hasn't—the perfectly crafted, haunting and heartbreaking, raw, funny, unblinking yet merciful art novel."—Marlon James

Family secrets, sexual explorations, art world wealth, and legacies of racism and environmental destruction collide in the new novel from Lambda Award-winning author Dale Peck.

A century and a half of family secrets are written on Judas Stammers's body, painted purple by a birthmark that covers half his face and abdomen. Judas is the last descendent of a 19th-century robber baron who made his fortune off the slaves who died in his coal mines. The money's gone, but the legacy lives on in the form of an all-male, all-black private school founded by the family patriarch in atonement for his sins. Ostracized for his name as much as his appearance, Judas's lust for his classmates is matched only by their contempt for him, until finally he's driven to seek out sex in places where his identity means nothing to the anonymous men he gives himself to.
 
Hovering over everything is Judas's mother, Dixie, an acclaimed potter whose obsession with creating the perfect vessel over and over again leaves her son that much more isolated. By turns philosophical and perverse, Night Soil is a tour de force by the writer whom Alexander Chee called "the only genius I know who could write it and live."
Praise For Night Soil…
The Millions Most Anticipated Fall Books of 2018
A Bay Area Reporter Best Book of 2018

Praise for Night Soil

"You'd think it has been done before but it really hasn't—the perfectly crafted, haunting and heartbreaking, raw, funny, unblinking yet merciful art novel."
—Marlon James, author of Man Booker Prize-winning A Brief History of Seven Killings

"A remarkably layered and nuanced novel that explores many themes simultaneously—the relationship between a single mother and her son, the repercussions of slavery and racism in America, the abuse of our natural environment, the search for a paternal role model—all through the life of a singularly unique gay character . . . Peck has done it with nuance and authenticity."
—Lambda Literary

"A hilarious, thought-provoking, and lush novel about art's entanglement with America's original sin." 
—The Millions 

"A haunting and gorgeously written queer coming-of-age story."
—The Waterloo Region Record 

"A work of dizzying, profane, deeply comic imagination."
—Bay Area Reporter  

"[An] elegantly written sucker punch of a novel . . . Peck's moving, precisely rendered prose binds the reader to Judas with a knot tied so tightly that the character and the novel are impossible to forget."
—Publishers Weekly, Starred Review

"A lush, provocative, and thought-provoking story of queer identity at the intersection of art, family history, capitalism, and the American racial order."
—Kirkus Reviews, Starred Review

"Dale Peck's Night Soil, a portrait of the artist(s) as mother-and-son, is a feat of storytelling. Faulknerian in its mythmaking, Delany-esque in its candor, Peck's novel chronicles the queer, complex family history and present education of (birth-)marked narrator and insider-outsider, Judas 'Jude' Stammers. Vivid, multilayered and carnal, this novel never fails to surprise."
—John Keene, author of Counternarratives

"Night Soil is a novel about art, genius, capitalism, and the uncomfortable, full of the pleasures of the unbeautiful and the broken, from the only genius I know who could write it and live. An incisive, shrewd meditation on just what marks the limits of the human heart, and why."
—Alexander Chee, author of The Queen of the Night

"Dale Peck's intriguing, challenging Night Soil blends parable and queer coming of age story. American history gets told as dynastic drama. It is a genealogical narrative that then drops open like a trap door into the history of consciousness. This is a compelling contemplation of the weird and human as well as a vigorous exploration of literary form."
—Darryl Pinckney, author of Black Deutschland 

"I've long thought nobody writes queer coming-of-age tales of love and longing like Dale Peck. We've been waiting a decade for another novel and Night Soil delivers on every level and more. This is a parable for a dead modern world that's built shakily atop an undying past, a mysterious family history where the personal and the political continually raise the stakes, and a lyrical modern mythology only a mind like Peck's can produce. Art, nature, race, gender, sexuality, all of it is reexamined in this fiction 2018 and onward cannot afford to skip. Riveting, mesmerizing, haunting—the novel is so lucky to have Dale Peck back."
—Porochista Khakpour, author of Sick: A Memoir

"Dale Peck has written a brilliant, beautiful, provocative novel about art, society and human consciousness itself. In it he retraces many of the concerns that first made his name, while extending them into daring new realms. Peck has proven once again why he is among the most gifted of writers in the country."
—Calvin Baker, author of Grace

"Night Soil is a desperately funny, intensely smart novel that begins with a highly cloistered life—a young man growing up in the shadow of his mother's eccentric genius, and his family's equally eccentric boarding school—and grows into a story about the darkest secrets hidden in American landscapes. This was my first encounter with Dale Peck's fiction, and it made me want to go back and read everything he's written."
—Jess Row, author of Your Face in Mine

"If I could pick one contemporary to write a novel about art and obsession, and families and obsession, and language and obsession, and cleanliness not being next to godliness but to very near something sinister, that person would be Dale Peck. And now he's gone and done it. Read it and writhe."
—Rebecca Brown, author of The Gifts of the Body

"Night Soil is not like other books, not like any other books, not at all.  It's excessive, preposterous, oddly-angled, exuberant, compulsive, stubborn, unseemly, unforgiving, indifferent to convention.  You're either going to love it or you're going to hate it.  I know where I stand."
—Jim Lewis, author of The King Is Dead

Praise for Dale Peck

"An astonishing work of emotional wisdom . . . Peck has galvanized his reputation as one of the most eloquent voices of his generation."
—The New York Times
 
"The prose is so unobtrusively graceful that it may take you a while to notice how beautiful it is . . . Peck is as piercing on old age as on youth, as comfortable writing about women's bodies as about men's."
—The New Yorker
 
"Few writers have Dale Peck's nerve. He writes without secrets, packing his novels with the intimacies of his life, his family, his sexuality . . . There is an extraordinary sense of the risk and adventure of writing in every page of this novel."
—The Nation
 
"Shatteringly honest, disturbing and provocative . . . A masterful confrontation with truth in the guise of a brilliantly conceived and executed work of fiction."
—San Francisco Chronicle
 
"Peck delivers a novel that explores family, sexuality, AIDS, and the resiliency of the city, and he does it without kowtowing to the populist sentiment that a character ought to be likable: this one certainly isn't . . . In typical fashion, Peck spares no punches."
—Lambda Literary Foundation
Soho Press, 9781616957803, 264pp.
Publication Date: August 14, 2018
About the Author
Dale Peck is the author of thirteen books in a variety of genres, including Visions and Revisions, Martin and John, Hatchet Jobs, and Sprout. His fiction and criticism have appeared in dozens of publications, and have earned him two O. Henry Awards, a Pushcart Prize, a Lambda Literary Award, and a John Simon Guggenheim Memorial Fellowship. He lives in New York City, where he has taught in the New School's Graduate Writing Program since 1999.
or
Not Currently Available for Direct Purchase