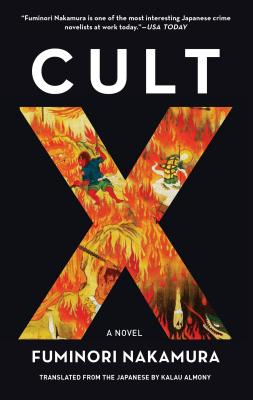 Cult X
Hardcover

* Individual store prices may vary.
Other Editions of This Title:
Paperback (4/16/2019)
Description
The magnum opus by Japanese literary sensation Fuminori Nakamura, Cult X is a story that dives into the psychology of fringe religion, obsession, and social disaffection.

When Toru Narazaki's girlfriend, Ryoko Tachibana, disappears, he tries to track her down, despite the warnings of the private detective he's hired to find her. Ryoko's past is shrouded in mystery, but the one concrete clue to her whereabouts is a previous address in the heart of Tokyo. She lived in a compound with a group that seems to be a cult led by a charismatic guru with a revisionist Buddhist scheme of life, death, and society. Narazaki plunges into the secretive world of the cult, ready to expose himself to any of the guru's brainwashing tactics if it means he can learn the truth about Ryoko. But the cult isn't what he expected, and he has no idea of the bubbling violence he is stepping into.

Inspired by the 1995 sarin gas terrorist attack on the Tokyo subway, Cult X is an exploration of what draws individuals into extremism. It is a tour de force that captures the connections between astrophysics, neuroscience, and religion; an invective against predatory corporate consumerism and exploitative geopolitics; and a love story about compassion in the face of nihilism.
Praise For Cult X…
A Japanese Bestseller, with over 400,000 copies sold
A LitHub Most Anticipated Crime, Mystery, and Thriller Title of 2018
A Library Journal Best Book of 2018

Praise for Cult X

"You'll think about Nakamura's questions long after you've closed his book's covers. He uses the conventions of a genre to prop up a tent for big ideas about groupthink and individual responsibility. If you feel a few frissons along the way? Consider how easily you might be seduced into a cult, and then take a long, cold shower."
—NPR

"Raises the literary stakes to literally cosmic proportions . . . Cult X, translated into handsome, unadorned English by Kalau Almony, pushes the boundaries of the thriller genre to an extreme degree. Mr. Nakamura has written a daunting, challenging saga of good and evil on a Dostoevskian scale. Those who persevere to its finale may well feel the richer for it."
—Tom Nolan, The Wall Street Journal

"Nakamura's impassioned writing is part of a continuum that stretches from Dostoevsky to Camus to Ōe."
—Los Angeles Times

"Nakamura's talent for characterization and willingness to engage make this a novel worth wrestling with."
—Los Angeles Review of Books

"One of the most buzzed about novels of the season."
—Salon

"The Fuminori Nakamura novel we've been waiting for . . . [Nakamura's] talent has always been for exploring the lives of those on the fringes of society, the damaged and the ostracized, and that remains at the heart of this work."
—The Japan Times

"Taking as his inspiration the 1995 sarin gas attack on the Tokyo subway, award-winning author Nakamura weaves together politics, religion, and science—including biology, cosmology, and quantum physics—into a fascinating noir brimming with insightful commentary on totalitarianism that is especially apt for our times."
—Booklist, Starred Review

"Gripping . . . This noirish thriller will resonate with Ryu Murakami fans."
—Publishers Weekly

"At its heart [Cult X] is an investigation—first for a lost woman, but ultimately into humanity's darkest motivations and the temptation to follow them." 
—The Sunday Times

"Cult X was inspired by Aum Shinrikyo, the group responsible for the 1995 sarin attack in the Tokyo subway, but that is just a starting point, for Nakamura weaves in themes of personal commitment, politics, religion and much more. It's not, however, for the faint of heart."
—BookPage

"A magnificently unsettling work."
—Words Without Borders

"[Cult X] twists adeptly toward a horror-laden plot of mass destruction . . . Horrifying, yes—but worth confronting." 
—Kingdom Books

"The sprawling novel, told from multiple perspectives and with long forays into the science of the universe, is an epic endeavor that deserves to stand next to the works of Ellroy and Bolaño in the canon of lengthy crime fiction."
—CrimeReads

Praise for Fuminori Nakamura

"Crime fiction that pushes past the bounds of genre, occupying its own nightmare realm . . . Guilt or innocence is not the issue; we are corrupted, complicit, just by living in society."
—Los Angeles Times

"A suspenseful study of obsession . . . Love, even illicit love, has a way of bringing out the best or the worst in a person."
—The New York Times

"Few protagonists in modern crime fiction are as alienated as those in the challenging, violent, grotesque tales of Japanese author Fuminori Nakamura."
—The Wall Street Journal

"This slim, icy, outstanding thriller, reminiscent of Muriel Spark and Patricia Highsmith, should establish Fuminori Nakamura as one of the most interesting Japanese crime novelists at work today."
—USA Today
Soho Crime, 9781616957865, 528pp.
Publication Date: May 22, 2018
About the Author
Fuminori Nakamura was born in 1977 and graduated from Fukushima University in 2000. He has won numerous prizes for his writing, including the Ōe Prize, Japan's largest literary award; the David L. Goodis Award for Noir Fiction; and the prestigious Akutagawa Prize. The Thief, his first novel to be translated into English, was a finalist for the Los Angeles Times Book Prize. His other novels include The Gun, The Kingdom, Evil and the Mask, The Boy in the Earth, and Last Winter, We Parted.
or
Not Currently Available for Direct Purchase