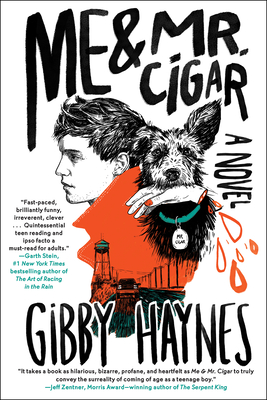 Me & Mr. Cigar
Hardcover

* Individual store prices may vary.
Other Editions of This Title:
Digital Audiobook (1/13/2020)
Paperback (5/11/2021)
Description
From the wild and wonderful mind of Gibby Haynes—world famous Butthole Surfers front man/lyricist and self-proclaimed eternal Texan adolescent—comes the surreal tale of seventeen-year-old Oscar Lester and his trusted dog, Mr. Cigar.

Oscar and his dog have made a pretty good life for themselves, despite the fact that Oscar's family has all but vanished—his father is dead; his mother has a new boyfriend. His older sister, Rachel, fled five years ago . . . right after Mr. Cigar bit off her hand.

Despite the freak accident, Oscar knows his dog is no menace. Mr. Cigar is a loyal protector: a supernatural creature that can exact revenge, communicate telepathically, and manipulate car doors and windows with ease. So, when Rachel—now twenty-two and an artist living in New York—calls out of the blue and claims she's being held hostage, Oscar sees an opportunity to make things right between them.
 
He races north, intent on both saving Rachel and fleeing the mysterious evil forces targeting his dog. And it's only by embarking on this dual quest that Oscar starts to untangle his own life and understand the bizarre reality of Mr. Cigar.

*Features original artwork by Gibby Haynes as full color endpapers and illustrations throughout the book.
Praise For Me & Mr. Cigar…
An LA Weekly Book of the Month
A Kirkus Reviews Best Young Adult Novel of 2020

Praise for Me and Mr. Cigar

"It takes a book as hilarious, bizarre, profane, and heartfelt as Me & Mr. Cigar to truly convey the surreality of coming of age as a teenage boy. This book hit this former teenage boy and new dog owner right in the heart, by way of the gut."
—Jeff Zentner, Morris Award winning author of The Serpent King and Goodbye Days

"This book is so wild, so mind-blowing, much fun to read, that I almost forgot it was fiction! (It is fiction, right? Mega-giant tech companies aren't really in cahoots with the government, right? Flying alien creatures aren't really mistaken for lawnmowers . . . right? Please, tell me this is fiction!) Fast-paced, brilliantly funny, irreverent, clever . . . AND it's illustrated? Me and Mr. Cigar is the quintessential teen read, and ipso facto a must-read for adults, too!"
—Garth Stein, #1 New York Times bestselling author of The Art of Racing in the Rain

"In the book world we call it 'magical realism.' In the music world they call it 'psychedelic rock.' Gibby Haynes is very good at both, which he proves with his brilliant first novel Me and Mr. Cigar. This novel has it all: glimpses into Haynes's Texas childhood and teen years, a touch of his distinctive surrealism, and a heartfelt story which makes it a very good read."
—Blake Nelson, author of Girl and Recovery Road

"I felt like I was diving into a YA written by Thomas Pynchon. It was a dang blast!"
—Geoff Herbach, bestselling author of Stupid Fast

"Butthole Surfers' Gibby Haynes wrote a YA book as weird as the band's music."
—The AV Club

"Particularly odd."
—Houston Chronicle

"Between the bindings of Me & Mr. Cigar dwells a strange chain of events indeed, but profane, tangible fantasy is what indie nation has come to expect from the wild heart of this Native Texan."
—Austin Chronicle

"Could this be Haynes' true medium?"
—Austin American-Statesman

"This is a story of friendship and the complexities of family. Of retribution and forgiveness. And it's hard to say much else without giving too much away . . . The book does feel rebellious and mildly dangerous—the sort of thing a young teen will delight in reading when the parents are downstairs watching TV, smiling at the fact that they'll never know the subversive nature of the prose because, let's face it, most parents don't read their teen's Young Adult novels. But the flip-side is that there are real life lessons in here."
—LA Weekly

"[Haynes] has traded in the bullhorn-blasted vocals for a more nuanced, but just as outrageous, form of expression . . . Combines the coming-of-age edge of The Catcher in the Rye with the surrealism of David Lynch."
—San Antonio Express-News

"YA the Gibby Haynes way."
—The Hype Magazine, Gift Guide

"Are you sitting uncomfortably? Butthole Surfers chaos magnet Gibby Haynes has written a YA novel . . . It's midway between a coming-of-age fable and a psychadelic road novel."
—UNCUT Magazine

"By far the weirdest book I have ever read."
—The Nerd Daily

"Me & Mr. Cigar is a mind-blowing, surrealistic novel about a boy and his dog . . . This wonderful—if completely odd book is unlike anything you've read before."
—The Big Takeover

"Haynes has concocted a compelling story. The cartoon chaos he used to create within the confines of a five-minute rock song were legend. Given 250 pages (divided into 90 speedy chapters), it's bonkers."
—Red Hook Star-Revue

"Oscar is wreathed by a colorful supporting cast led by a pooch who is generally the brightest and most dangerous character in the room . . . As boy-and-his-dog tales go, a long, long way from Lassie."
—Kirkus Reviews, Starred Review

"Haynes's fast-paced debut is full of colorful characters and concepts."
—Publishers Weekly
Soho Teen, 9781616958121, 256pp.
Publication Date: January 14, 2020
About the Author
Gibby Haynes is a musician, visual artist, writer, and filmmaker best known as a founding member of the Butthole Surfers, whose outrageous concerts spawned a global cult following and whose albums have sold millions worldwide. He lives in Brooklyn with his family. Me & Mr. Cigar is his first novel.
1. Much of Me & Mr. Cigar takes place on the road, with Oscar at the wheel. In what ways does Oscar attempt to control his own destiny throughout book? What is he running towards—or running from?
2. The novel's Prologue and Epilogue are both written from an omniscient third person point of view, while the plot itself unfolds from Oscar's first person point of view. How do these bookends frame the story, and how do they contribute to its overall mood and feel? Why do you think the author chose a more detached perspective for the novel's beginning and end?
3. Oscar lost his father at a young age; his mother is largely absent; his sister only contacts him when she needs help. How has the family loss and isolation affected Oscar? How has it informed his relationships with other characters in the book?
4. On page 47, Carla Marks confesses to Oscar that she can talk to cicadas. How and why might this supernatural ability endear her to him?
5. Technology plays a huge role in Me & Mr. Cigar, in ways that run the gamut of catastrophic to comical. The Itty Bitty Corporation's inventions often appear to defy reality. On page 188 at the top of Chapter 71, Oscar reflects on the power of the invisibility aerosol: "Despite the evil that can be perpetrated with such a device, I feel oddly confident that I am doing no wrong." Do you agree with Oscar's assessment of his own actions? Do you think there an underlying message about technology in the book?
6. Cigar's backstory is never fully explained. What are his possible origins? Does the text give any clues?