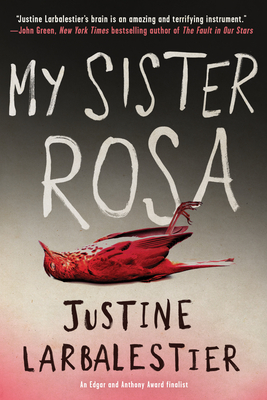 My Sister Rosa
Paperback

* Individual store prices may vary.
Other Editions of This Title:
Digital Audiobook (11/14/2016)
Hardcover (11/15/2016)
Description
"Beats The Silence of the Lambs for suspense—it's the kind of book that had me literally gasping aloud as it rattled to its incredible conclusion."
—Cory Doctorow, New York Times bestselling author of Homeland

What if the most terrifying person you know is your ten-year-old sister?

Seventeen-year-old Aussie Che Taylor loves his younger sister, Rosa. But he's also certain that she's a psychopath—clinically, threateningly, dangerously. Recently Rosa has been making trouble, hurting things. Che is the only one who knows; he's the only one his sister trusts. Rosa is smart, talented, pretty, and very good at hiding what she is and the manipulation she's capable of.

Their parents, whose business takes the family from place to place, brush off the warning signs as Rosa's "acting out." Now that they have moved again—from Bangkok to New York City—their new hometown provides far too many opportunities for Rosa to play her increasingly complex and disturbing games. Che's always been Rosa's rock, protecting her from the world. Now, the world might need protection from her.
Praise For My Sister Rosa…
Praise for My Sister Rosa

A Kirkus Reviews Best Teen Book of 2016
A Publishers Weekly Best Young Adult Book of 2016

"[My Sister Rosa is] amazing . . . It's a permanent presence in my life now . . . [Justine Larbalestier's] brain is an amazing and terrifying instrument."
—John Green, author of The Fault in Our Stars

"The evil in the room across the hall, the evil in the flowery party dress, the evil who just wants a bedtime story—Rosa is more frightening and more adorable than any villain you have yet met. Larbalestier is at her tricky, terrifying best in this novel."
—E. Lockhart, New York Times bestselling author of We Were Liars

"Troubling, thoughtful, provocative, and wise, My Sister Rosa is a compelling character study, a chilling thriller, and a love letter to the diversity and vibrancy of New York City."
—New York Times bestselling author Kass Morgan

"With My Sister Rosa, Larbalestier brings us a novel that starts out as a quirky family story with a cast of intriguing and likeable characters (even the titular pyschopath), but which quickly races into psychological thriller territory that meets and beats The Silence of the Lambs for suspense—it's the kind of book that had me literally gasping aloud as it rattled to its incredible conclusion."
—Cory Doctorow for BoingBoing.com

"My Sister Rosa is a gripping, terrifying, wonderful story that I could not put down."
—Laurie Halse Anderson

"An utterly compelling and wonderfully creepy exploration of the many faces of psychopathy. Rosa will stay with you long after you turn the last page."
—Jay Kristoff, New York Times bestselling coauthor of Illuminae

"Manipulative, murderous Rosa is one of the most terrifying villains to come along in fiction in quite awhile."
—Buffalo News

"Not one to shy away from tough subject matter, Larbalestier addresses issues related to gender, sexual orientation, religion, identity, and race with tact . . . This dark thriller is the 1956 film The Bad Seed meets 2016; readers will be simultaneously terrified when Rosa's present and afraid to let her out of their sight." 
—Kirkus, Starred Review

"A chilling contemplation on human morality—Che's physical sparring in the ring has nothing on his go-arounds with Rosa . . . [incorporates] sharp commentary on privilege, faith, gender identity, and race. The tension of wondering where and how Rosa will strike next will keep readers riveted from start to finish."
—Publishers Weekly, Starred Review

"Larbalestier reminds readers of her masterful gift for slippery, unreliable characters . . . Thriller fans will devour this suspenseful, chilling meditation on the roles of nature and nurture in creating dangerous criminals."
—ShelfAwareness, Starred Review

"A tense, thrilling rumination on the psychology of evil, this work manages to keep a suspenseful tone while also showcasing a burgeoning romantic relationship. There are also a wide variety of nuanced and complex diverse characters in Che's New York City neighborhood. Rosa is a truly chilling figure, seemingly unpredictable in her violence yet methodical in her manipulations of those around her." 
—School Library Journal, Starred Review

"The plot is devilishly clever, with clues that point to without giving away the surprise twists . . . Even those with no prior experience of [Larbalestier's] craftiness will find Che's helplessness in the face of Rosa's casual cruelty absolutely chilling."
—The Bulletin for the Center for Children's Books, Starred Review

"My Sister Rosa is terrifying, brilliant, and heart-wrenching. A must read."
—Cindy Pon, author of Serpentine

"Larbalestier masterfully crafts a unique tale about a boy and his kid sister who bring old problems to a new city. It's darkly funny, disconcerting, and absolutely brilliant!"  
—Jason Reynolds, author of The Boy in the Black Suit and coauthor of All American Boys

"Haunting is the best way to describe Larbalestier's latest home run . . . I loved the hidden depth of the secondary characters and found the complexity of the family dynamics familiar and fascinating."
—RT Book Reviews

"In confronting Rosa's sinister tendencies, Che not only comes face-to-face with his family's dark past but also a few grim secrets of his own . . . A captivating exploration of family, fate, and the fight to outrun them."
—Booklist

"A toe-curling psychological thriller."
—The Sydney Morning Herald

"Larbalestier's novel is a slow boil, moody and tense, with just the right amount of creep factor and a casually diverse cast of characters . . . Che's journey toward self-awareness is at times enlightening, at times devastating, and the threat of violence from Rosa is suspenseful and truly terrifying."
—The Horn Book Magazine

"Outstanding . . . This is a subtle but completely unsettling examination of how evil is born and how it is often found in the most unsuspecting places. My Sister Rosa is tough to put down and even more difficult to forget."
—New Mystery Reader

"The sense of impending doom overshadowed all. It will take some time to truly absorb My Sister Rosa and more time to recover . . . An excellent psychological thriller featuring diverse characters; it's a page-turner that happens to fall into the YA category." 
—DarkMatterZine.com

Praise for Razorhurst

"A day full of bloody confrontations, secret alliances and unexpected romance . . . fascinating setting, colorful names, and sharp, peppery dialogue."
—The New York Times Book Review
 
"Vivid . . . Lavishly imagined . . . Larbalestier's elaborate world is sure to linger."
—Los Angeles Times
 
"Vivid and bloody and bold and fast—I feel like Razorhurst is in my bones now."
—Elizabeth Gilbert
 
"Sure, it is shiny and chilly and bloody and sharp, like the razor of the title, but Larbalestier's book is also magical and glamorous."
—E. Lockhart, New York Times bestselling author of We Were Liars
 
"Larbalestier packs plenty of danger into the single day this novel covers . . . [The] story's interwoven intrigue and empathy make it feel timeless."
—Publishers Weekly, Starred Review
 
"Larbalestier pulls no punches with the gruesome, gory details about the violence of poverty, and the result is a dark, unforgettable and blood-soaked tale of outlaws and masterminds."
—Kirkus Reviews, Starred Review
 


Soho Teen, 9781616958176, 360pp.
Publication Date: December 26, 2017
About the Author
Justine Larbalestier is the Australian-American author of many novels, including the award-winning Razorhurst and Liar, which both received four starred reviews. Justine lives in Sydney, Australia, and New York City, though not at the same time. You can find her on Twitter @JustineLavaworm and her website, justinelarbalestier.com.
or
Not Currently Available for Direct Purchase