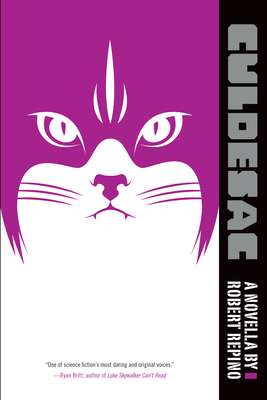 Culdesac (War with No Name)
Paperback

* Individual store prices may vary.
Other Editions of This Title:
Digital Audiobook (11/14/2016)
MP3 CD (11/15/2016)
Compact Disc (11/15/2016)
Compact Disc (11/15/2016)
Description
The war with no name rages on, setting the world on fire. Humanity faces extinction at the hands of the Colony, a race of intelligent ants seeking to overthrow the humans and establish a new order.

The bobcat Culdesac is among the fiercest warriors fighting for the Colony. Driven by revenge and notorious for his ability to hunt humans in the wild, Culdesac is the perfect leader of the Red Sphinx, an elite unit of feline assassins. With the humans in retreat, the Red Sphinx seizes control of the remote village of Milton. But holding the town soon becomes a bitter struggle of wills. As the humans threaten a massive counterattack, the townsfolk protect a dark secret that could tip the balance of the war. For the brutal Culdesac, violence is the answer to everything. But this time, he'll need more than his claws and his guns, for what he discovers in Milton will upend everything he believes, everything he fought for, and everything he left behind.

Relentless, bloody, and unforgiving, Culdesac is the story of an antihero with no soul to lose, carving a path of destruction that consumes the innocent and the guilty alike.
Praise For Culdesac (War with No Name)…
Praise for Culdesac

"Repino imbues a startling sense of realism to a story about an intelligent cat's desire to wipe out humanity; Culdesac's story is not only tense and violent, but oddly emotional and touching."
—Tor.com

"Entertaining."
—The Missourian 

"Have you ever wondered what might happen if you raised animal intelligence, stood them up, and made them human-sized? Repino has an intriguing answer. Culdesac is a great entry into his series."
—Steve Perry, New York Times bestselling author of Shadows of the Empire

"Returning to his subversive world of sentient animals, Repino makes you wonder why you'd read books with human characters." 
—Ryan Britt, author of Luke Skywalker Can't Read

"The ideas of instinct, intellect, and belief come into play in a postapocalyptic world where bestowing "humanity" on those lacking it may result in extinction for all. This mix of George Orwell's Animal Farm and dystopian sf creates an unusual and unforgettable read."
—Library Journal 

Praise for Mort(e)

An io9 Very Best Science Fiction And Fantasy Book Of 2015
A February 2015 Indie Next List Selection
An Amazon Best Book of January 2015
An IndieBound January 2015 Bestseller

"Mort(e) is complex, beguiling, and often bloody . . . [An] utterly absorbing debut."
—The Boston Globe

"Mort(e) catapults the reader into a wild, apocalyptic world . . . [Mort(e)'s] journey, set against the backdrop of an ideological war between pure rationality and mysticism, makes for a strangely moving story."
—The Washington Post 

"With poignant flashes of a morality tale, this debut novel makes us rethink our relationship to all of Earth's creatures (since they may someday turn on us)."
—Time Out New York

"Marvelously droll . . . This novel is all kinds of crazy, but it wears its crazy so well."
—Slate
 
"Mort(e) is funny, smart, well-written; it's already among the better debuts of the year."
—Flavorwire

"[A] first novel of notable depth and invention."
—Las Vegas Weekly 

"[N]ot your ordinary kitty…"
—Ft. Worth Star-Telegram

"An epic science-fiction thriller . . . Mort(e) will stick with you long after you close the pages."
—Tor.com

"Robert Repino's Mort(e) is, page after page, an infectious tale."
—Electric Literature

"[A] twisted, insane We3."
—io9.com

"In Repino's capable hands, Mort(e) is entertaining and intelligent science fiction that can be read as an adventure fantasy, but goes much deeper than that."
—The Missourian 

"What unfolds is told in a sarcastic and sometimes caustic style by a young writer of promising talent—by which I mean, a talent that is promised on the first page and then, after a series of ant mythologies, feline war tragedies, and inter-species friendships, firmly established by the end."
—The Rumpus
Soho Press, 9781616958190, 128pp.
Publication Date: November 15, 2016
About the Author
Robert Repino grew up in Drexel Hill, Pennsylvania. After serving in the Peace Corps, he earned an MFA in Creative Writing from Emerson College. He is the author of Mort(e), the first volume of the War With No Name series. His fiction has appeared in The Literary Review, Night Train, Hobart, and The Coachella Review. He lives in New York and works as an editor for Oxford University Press.
or
Not Currently Available for Direct Purchase