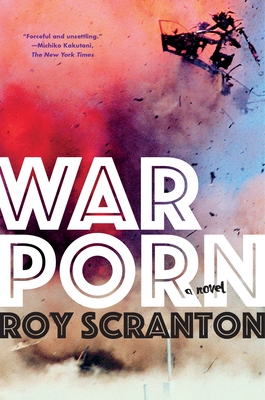 War Porn
Paperback

* Individual store prices may vary.
Other Editions of This Title:
Digital Audiobook (8/1/2016)
Description
"One of the best and most disturbing war novels in years." 
—The Wall Street Journal

"War porn," n. Videos, images, and narratives featuring graphic violence, often brought back from combat zones, viewed voyeuristically or for emotional gratification. Such media are often presented and circulated without context, though they may be used as evidence of war crimes.
 
War porn is also, in Roy Scranton's searing debut novel, a metaphor for the experience of war in the age of the War on Terror, the fracturing and fragmentation of perspective, time, and self that afflicts soldiers and civilians alike, the global networks and face-to-face moments that suture our fragmented lives together. In War Porn three lives fit inside one another like nesting dolls: a restless young woman at an end-of-summer barbecue in Utah; an American soldier in occupied Baghdad; and Qasim al-Zabadi, an Iraqi math professor, who faces the US invasion of his country with fear, denial, and perseverance. As War Porn cuts from America to Iraq and back again, as home and hell merge, we come to see America through the eyes of the occupied, even as we see Qasim become a prisoner of the occupation. Through the looking glass of War Porn, Scranton reveals the fragile humanity that connects Americans and Iraqis, torturers and the tortured, victors and their victims.
Praise For War Porn…
Praise for War Porn

"Forceful and unsettling." 
—Michiko Kakutani, The New York Times

"One of the best and most disturbing war novels in years." 
—The Wall Street Journal 

"War Porn offers a view of the American military unlike anything else written about Iraq or Afghanistan. The book offers a guided meditation on Iraq certain to force long overdue introspection on how we think about the war, those who fought it and the Americans and Iraqis it affected. Though War Porn doesn't set out to change anyone's mind, it's impossible to read it without reconsidering how you think about Iraq and our treatment of those who served."
—New Republic 

"To read Scranton is to engage with a powerful intellect."
—Los Angeles Review of Books

"What impresses is the brutal immediacy of the writing, its authority. Roy Scranton is a truth telling war writer."
—E.L. Doctorow, National Book Critics Circle Award-winning author of Ragtime and The March

"Roy Scranton's searingly honest first novel is surreal, ultra-real, and like everything he writes from the heart. This examination of the tragedy of what happened in Iraq reaches out to touch of all us. A brilliant literary achievement."
—Jeff VanderMeer, author of the Southern Reach trilogy 

"Powerful, engaging, heartrending, corrosive and unyielding."
—Joyce Carol Oates

"I have never read a book like War Porn. Roy Scranton writes with unnerving power. There is much to admire here—the meticulous craftsmanship, the hysterical comic passages, the way the sheer audacity of vision is matched at every turn by the innovative skill to carry it out—but what I'm left with at the end is difficult to put into words. It's intense and troubling. It's what all truly excellent literature leaves you with. A sense of something shattering."
—Phil Klay, National Book Award-winning author of Redeployment

"War Porn is dire, savage, and brilliant, a simmering fever-dream of a novel that's as pure and true in its vision of the long war as anything I've read. Roy Scranton is merciless—and why should he be anything but? War's corruption soaks through every layer of life, and War Porn drives home that truth with unflinching, and ultimately harrowing, honesty."
—Ben Fountain, author of Billy Lynn's Long Halftime Walk

"Scranton, a US veteran with an unusually poetic ear, captures the Beckettian banter—as well as trauma—of modern soldiering. War Porn rewards repeated reading."
—The Spectator (UK)

"In writing War Porn, Scranton has produced a literary work that doesn't just describe the outrages of the war, but punches them into the American gut. War Porn contains some of the most significant and original writing on deployment to be found in contemporary American literature about the Iraq War."
—The Intercept  

"[Scranton] has a real aesthetic skill and is moved by a genuine sympathy for humanity. Roy Scranton's War Porn expresses and helps advance the profound social anger that is emerging amidst the rumble of a society devastated by imperialist war."
—World Socialist Web Site

"Roy Scranton's War Porn is not a book you read once and put away. You read it, think about it, then read it again. Between its covers awaits a fracture in our cultural assumptions about war."
—Consequence Magazine

"Brilliant."
—The Rumpus

"[War Porn raises] interesting questions about the nature of those who demand and those who supply. Scranton is a gifted writer ."
—Electric Literature 

"This book is truly unique—true in its fidelity to fact, unique in the depth of its empathy. In prose that rises to aphoristic, coruscating brilliance, Iraq vet Roy Scranton has painted, in words, the equivalent of Goya's war etchings. A rare and genuine masterpiece."
—Joydeep Roy-Bhattacharya, author of The Watch and The Storyteller of Marrakesh

"A harrowing novel of the Iraq invasion and occupation, War Porn exposes the dark heart of that war for all to see. Brilliant and stark, War Porn is that rare book that demands to be read out of sheer significance—a stunning accomplishment."
—Matt Gallagher, author of Youngblood

"Roy Scranton's four years of service in the U.S. Army lend his work an undeniable authority, but it's his ability to address multiple sides of the conflict that proves exceptional, coloring his fiction with a rare empathy."
—The Village Voice 

"[War Porn is] a different kind of Iraq War novel, for sure, but it's not just that. It's an expression of Scranton's philosophy about telling new, different stories as a means of survival."
—The Millions

"[A] fierce debut . . . Scranton delivers a poetic sensibility and a staccato writing style, and the result is a no-holds-barred amalgam of plotlines that is especially tragic given all that we now know about the wrenching mess that is today's Iraq."
—Booklist 

"Scranton's provocative debut novel lucidly captures the fractured perspectives of war. Scranton writes with honesty and authority about a complicated clash of weapons, politics, and culture. [War Porn] is an unflinching, and sometimes difficult, examination of humanity during wartime." 
—Publishers Weekly  

"An uncompromising look at the trauma of war."
—Library Journal

"A kaleidoscopic view of war experience . . . Scranton's literary skill and fierceness of vision make him a stout antagonist for anyone who wants to take him on."
—Time Now
 
"Necessary."
—scene4 magazine

Soho Press, 9781616958336, 352pp.
Publication Date: August 1, 2017
About the Author
Roy Scranton is the author of War Porn and Learning to Die in the Anthropocene, and co-editor of Fire and Forget: Short Stories from the Long War. His journalism, essays, and fiction have been published in The Nation, Rolling Stone, The New York Times, Boston Review, and elsewhere. He holds a PhD in English from Princeton and an MA from the New School for Social Research, and teaches in the Department of English at the University of Notre Dame.
or
Not Currently Available for Direct Purchase