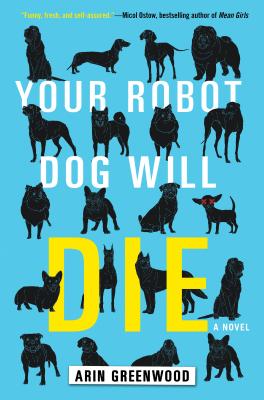 Your Robot Dog Will Die
Hardcover

* Individual store prices may vary.
Other Editions of This Title:
Digital Audiobook (4/16/2018)
Paperback (3/19/2019)
Description
Fusing the heart of Julie of the Wolves with the imagination of Little Brother and Ship Breaker, this speculative YA is a must-read for any dog lover.

When a global genetic experiment goes awry and canines stop wagging their tails, mass hysteria ensues and the species is systematically euthanized. But soon, Mechanical Tail comes to the rescue. The company creates replacements for "man's best friend" and studies them on Dog Island, where 17-year-old Nano Miller was born and raised. Nano's life has become a cycle of annual heartbreak. Every spring, she is given the latest robot dog model to test, only to have it torn from her arms a year later. But one day she makes a discovery that upends everything she's taken for granted: a living puppy that miraculously wags its tail. And there is no way she's letting this dog go.
Praise For Your Robot Dog Will Die…
A Children's Book Council 'Hot Off the Press' Pick for April
YALSA's 2019 Quick Picks for Reluctant Readers
Winner of Creative Loafing's 'Best of the Bay' Award for Best Local Author

Praise for Your Robot Dog Will Die

"Only a true dog lover could have written this marvelous book. By setting the story in a dystopian world where real dogs are no more, its artful storytelling makes the best possible case for treating dogs well, as that is what they so richly deserve for giving us unconditional love like no other creature on this earth. This book will make you smile and give your real-life canine extra hugs, and really, what could be better than that?"
—W. Bruce Cameron, #1 New York Times bestselling author of A Dog's Purpose
 
"This novel is a perfect choice for animal lovers, adventure lovers, and those who enjoy books with unique plots. Anyone who rescues animals? It's a must-read!"
—Pamela Kramer, Huffington Post contributor and animal advocate 

"Robot Dog weds sci-fi adventure to a heart-tugging human/canine love story, and the result is an unforgettable read. I adored this book and couldn't put it down!"
—Gwen Cooper, New York Times bestselling author of Homer's Odyssey and My Life in a Cat House 
 
"This book is weird, and I mean that in the most complimentary way possible."
—Eric Smith, Paste Magazine

"Our most anticipated indie YA."
—Barnes & Noble Teen Blog

"A wild little tale that dances on the edge of your heartstrings . . . This book had me overcome with feelings of hope, anguish, fear, and inspiration. Arin's distinct ability to capture the world that we are careening toward if we are not careful left me feverishly turning pages in hopes that there is a way to save us all from such a bleak future, a world without our best furry friends. I could not put this book down!"
—Deidre Franklin, founder of Pinups for Pit Bulls and author of The Pit Bull Life: A Dog Lover's Companion

"Satisfying and wistful, with an ending that will thrill every animal rescuer out there. Impossible to put down."
—Debby McMullen, author of How Many Dogs: Using Positive Reinforcement to Manage a Multiple Dog Household

"Your Robot Dog Will Die is a fascinating and well-written novel that will make both lovers of dystopian fiction and animals want to wag their tail."
—Annie England Noblin, author of Sit! Stay! Speak! and Pupcakes 

"Arin Greenwood tackles animal welfare challenges like no one has before. Do we save animals? Do we challenge the way things are and have always been? According to Greenwood, the answer is yes. And I could not agree more."
—Shannon Glenn, Executive Director of My Pit Bull is Family 

"One of the most thought-provoking books I have read this year . . . [an] engrossing tale that, while exploring brutal actions, ends in a way guaranteed to warm hearts."
—Best Friends Magazine

"There is no putting down this fun, quirky read."
—The New Barker 

"An unusual, quirky book with unexpected twists and turns."
—Pet Connection Magazine 
"A very unique approach . . . suspenseful and exciting!"
—Seattle Book Review

"Skirts the line between science fiction and speculative fiction . . . a unique story well-suited to reluctant readers."
—YALSA's 2019 Quick Picks for Reluctant Readers

"A really fun book about hope and discovery."
—Book Riot, "Hey YA" Podcast 

"It's an intense read, sure to leave an impression, and readers will likely have difficulty getting Dog Island out of their heads."
—Shelf Awareness 

"Compelling, [and] also zany . . . It's smart, fun, and while it will make you consider how we can better treat our furry best friends, it won't bring on flashbacks of that time in second grade when you read Where the Red Fern Grows and sobbed into your animal crackers on the swing set."
—LitReactor
 
"This book definitely creates an interesting philosophical conundrum. Readers will enjoy Greenwood tackling ethical dilemmas around life, suffering and what it means to take care of the world around us."
—RT Book Reviews 

"Tacitly challenges our notions of kindness and our world view of bioethics . . . The way she weaves this delightfully heartbreaking, comically sobering dystopian story sets her work apart from most dystopian YA."
—Creative Loafing

"Fast-paced and entertaining . . . Arin has a deft touch."
—Marianas Variety

"A meaningful read for teens and adults of all ages."
—BarkPost

"I loved the book! It's so well done—I was hooked from the get-go. Plus, if you're conversant with the world of animal welfare, it's hard not to see Your Robot Dog Will Die as a gripping allegory." 
—Duncan Strauss, host of "Talking Animals" 

"It is a great read, and [Arin Greenwood] is a brilliant writer."
—Raise the Woof Podcast

"Funny, fresh, and self-assured, Your Robot Dog Will Die is a charming, gripping speculative look at the darker side of animal activism. Read this book! Your human brain will thank you."
—Micol Ostow, bestselling author of Mean Girls

"The novel explores the gap between human intention and impact . . . A provocative reflection on humanity's increasingly damaging effects on the natural world."
—Kirkus Reviews 

"A thought-provoking story line . . . Quirky details and imaginative tech characterize the simultaneously futuristic and off-the-grid environment of Dog Island."
—Booklist 
"Your Robot Dog Will Die is best read with a warm puppy in your lap. Don't have one? This book will make you want to head to your nearest shelter and pick up a furry companion. Everyone who loves a rescue animal should read this smart YA novel."
—Erin Ruberry, editor of the "In Better News" newsletter 

"A fun and engaging romp through a slightly upended future . . . deals with some of our most pressing animal-ethics issues with lovable dogs (real and not real)."
—Susan Houser, Out the Front Door blog

"It's a perfect beach read . . . It poses a humongous question: What is suffering? But author Arin Greenwood delivers her response in a funny, thought-provoking, and quick-moving novel."
—Oh My Dog! blog

"This story was definitely different than any others that I've read previously."
—Chapter 2 Books (Hudson, WI)


Praise for Arin Greenwood

"Savvy, fun and fast-paced, full of twists and turns that you won't see coming."
—Jodi Lynn Anderson, New York Times bestselling author of Peaches, May Bird, and Tiger Lily

"Polished writing, crackling dialog, and irresistible characters . . . Serves up surprises from start to finish."
—Sophie Littlefield, nationally bestselling author of Garden of Stones

"Thrilling, chilling, funny and true to life."
—Gary Shteyngart, New York Times bestselling author of Super Sad True Love Story

"Full of dead ends, sharp turns and swerving mishaps this mystery novel is a nonstop, high-speed chase for the truth."
—The New Orleans Advocate

"Readers will be pulled by Zoey's strong inner compass and martial-arts
Prowess . . . Readers of detective, spy, and crime novels, as well as Ayn Rand fans, will find tidbits to enjoy as Zoey and family prevail against the odds." 
—Booklist

"An intricate tale of confusion and loss as Zoey attempts to peel away the mysteries surrounding her family and her unusual upbringing . . . This is good for ravenous fans of thrillers with a twist." 
—VOYA

"Part mystery-thriller, part coming-of-age tale, and part romance with a pinch of the paranormal."
—School Library Journal

"Reminiscent of A Wrinkle in Time, Greenwood's debut for teens twists and turns with mysterious men, real bullets and numerous candidates for worst parent ever . . . [Readers] with a philosophical bent may find references to Kant, Nietzsche and Ayn Rand entertaining."
—Kirkus Reviews
Soho Teen, 9781616958398, 208pp.
Publication Date: April 17, 2018
About the Author
Arin Greenwood is an animal writer, novelist, and former lawyer living in St. Petersburg, Florida, with her husband, Ray; their dog, Murray; and their cats, Elf, Jack, and Chappy. Arin was animal welfare editor for the Huffington Post. Her stories about dogs, cats, and other critters have appeared in The Dodo, The Washington Post, Slate, Creative Loafing, the Today Show's website, the American Bar Association Journal, and other publications. Arin is also the author of Save the Enemy. Find out more at www.aringreenwood.com.
or
Not Currently Available for Direct Purchase