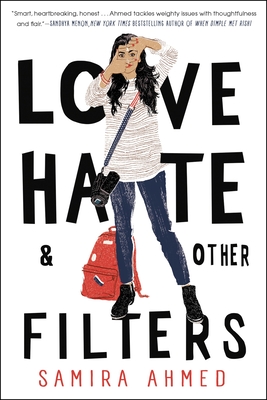 Love, Hate and Other Filters
Hardcover

* Individual store prices may vary.
Other Editions of This Title:
Paperback (1/8/2019)
Description
A NEW YORK TIMES BESTSELLER

In this unforgettable debut novel, an Indian-American Muslim teen copes with Islamophobia, cultural divides among peers and parents, and a reality she can neither explain nor escape.
 
Seventeen-year-old Maya Aziz is torn between worlds. There's the proper one her parents expect for their good Indian daughter: attending a college close to their suburban Chicago home and being paired off with an older Muslim boy her mom deems "suitable." And then there is the world of her dreams: going to film school and living in New York City—and pursuing a boy she's known from afar since grade school.

But in the aftermath of a horrific crime perpetrated hundreds of miles away, her life is turned upside down. The community she's known since birth becomes unrecognizable; neighbors and classmates are consumed with fear, bigotry, and hatred. Ultimately, Maya must find the strength within to determine where she truly belongs.
Praise For Love, Hate and Other Filters…
A New York Times Bestseller
A Seventeen Magazine Best YA Book of 2018
An ABA "Indies Introduce" Selection for Winter/Spring 2018
An ABA IndieNext "Top Pick"
A Paste Best YA of the Decade
A Spring 2018 Barnes & Noble Discover Great New Writers Selection 
A Kobo Winter eBook Indie Pick
YALSA 2019 Best Fiction for Young Adults Nominee
A Seventeen Magazine Top 22 Young Adult Book of 2018
A Society of Midland Authors Literary Award Winner in Children's Fiction
A Goodreads Choice Award Semifinalist 2018 
A 2019 Illinois Reads Selection
A Reading Group Choices Favorite Young Adult Book of 2018
A School Library Journal Best Book of 2018
A Bustle Best Young Adult Book of 2018
A 2018 Shimmy Awards Semi-Finalist
A School Library Journal Top 10 Audiobook of 2018
A Buzzfeed Best Book of 2018
A 2019 TAYSHAS List Selection
BookPeople's Teen Press Corps Top 18 Books of 2018

Praise for Love, Hate and Other Filters

​"​Intensely readable."
—The Guardian

"Heartfelt . . . Ahmed deftly and incisively explores the complicated spaces between 'American and Indian and Muslim' in modern America."
—Teen Vogue​

"For those of you who sometimes wish your parents would just let you run your own life, let Love, Hate & Other Filters be your savior."
—Seventeen Magazine

"Love, Hate, & Other Filters is a compulsively readable, totally adorable coming-of-age rom-com with a serious, and timely, side."
—Cosmopolitan

"[An] incredible debut novel." 
—Elle

"Ahmed authentically and expertly tells a story relevant to today's climate. More than that, it's a meaningful #OwnVoices book about identity and inner strength that everyone should absolutely read." 
—Buzzfeed

​"​This intriguing coming-of-age debut will rival Thomas's The Hate U Give with its sensitive and must-read tale of an Indian-American Muslim teen and her battle with Islamophobia.​" 
—HuffPost

"The perfect mix of romance and personal reflection." 
—HerCampus​

"Books can teach you a lot about people, places and cultures; Love, Hate & Other Filters is one of those books. This book is relatable to anyone that has ever felt as if they don't fit in or anyone who wants to learn to stop the hate . . . Love, Hate & Other Filters is 2018's most important YA novel."
—Christian Science Monitor

​"This smart, heartbreaking, honest debut novel is as timely as it is hopeful. Ahmed tackles weighty issues with thoughtfulness and flair. I was completely swept away."
—Sandhya Menon, New York Times bestselling author of When Dimple Met Rishi

"Love, Hate & Other Filters heralds a dazzling new talent. Samira Ahmed creates a masterful alchemy of heart, humor, profundity, poetry, romance, and humanity. Through the eyes of the richly drawn Maya Aziz, we get a powerful, timely-yet-timeless, and poignant story about the delicate dance of coming of age in two cultures."
—Jeff Zentner, William C. Morris award winner of The Serpent King

"A heartbreakingly beautiful debut that weaves together the rush of new love, the shock of old hatred, the pressure of protective parents and the culture clash between generations—in other words, a cinematic glimpse into one experience of growing up Muslim in modern America."
—Heidi Heilig, author of The Girl from Everywhere and The Ship Beyond Time

"Love, Hate & Other Filters made me laugh and made me cry. Maya Aziz is a teen everyone needs to know. Her story—an exploration of the unique challenges Muslim Americans face as she pursues her dreams, falls in love, and finds her place within her family and her faith—is one that will stay with me forever. A much-needed addition to the young adult canon."
—Aisha Saeed, author of Written in the Stars

"Love, Hate & Other Filters hit so close to home, it sometimes hurt to read. I laughed at Maya's wry observations and wept at her profound ones; this book is a searing, honest portrait of what it really means to be a Muslim American teen loyal to two cultures and figuring out how to carve out a space of her own in between."
—Sarvenaz Tash, author of The Geek's Guide to Unrequited Love

"Love, Hate & Other Filters shines with heart and hope in the face of prejudice. Samira Ahmed is a bright new star in the YA firmament."
—Marieke Nijkamp, New York Times bestselling author of This Is Where It Ends
 
"[A] brilliant, heartbreaking, empowering debut."
—Supriya Kelkar, author of Ahimsa
 
"A deeply moving YA debut."
—Elite Daily ​

"A fantastic book."
—WAMC, The Roundtable

"A raw look at the cultural realities of violence and prejudice as well as the coming of age of a young woman . . . [Samira Ahmed] is someone to watch."
—KRCB's A Novel Idea

​"A​n entertaining coming-of-age story that tackles Islamophobia​."
—Paste Magazine

"​A breathtaking debut by an #OwnVoices author​."
—BookRiot

"This sweet, honest, charming debut skillfully balances joy and pain, loyalty and independence, humor and heartbreak, and establishes Ahmed as a definite author to watch." 
—Barnes & Noble Teen Blog ​

"If you're looking for a contemporary romance that doesn't shy away from the true experiences of the modern teen—prejudice, discrimination, violence, political unrest—this #OwnVoices book is perfect for you."
—Bustle

"Love, Hate & Other Filters offers a bit of solace to teenagers growing up in a tense political climate.​"
—HelloGiggles

"A promising debut novel . . . [Maya's] story of family expectations and her dreams is bound to strike a chord with almost every South Asian American."
—The American Bazaar

​"In an astute debut, Ahmed intertwines a multicultural teen's story with a spare, dark depiction of a young terrorist's act. The characters are fully dimensional and credible, lending depth to even lighter moments and interactions. Alternately entertaining and thoughtful, the novel is eminently readable, intelligent, and timely."
​​—Publishers Weekly, Starred Review

"​Ahmed crafts a winning narrator—Maya is insightful, modern, and complex, her shoulders weighted by the expectations of her parents and the big dreams she holds for herself. Brief interstitials spread evenly throughout the text key readers into the attack looming ahead, slowly revealing the true figure behind its planning with exceptional compassion. Utterly readable, important, and timely.​"
​—Booklist, Starred Review
​
​"Maya's voice is pitch-perfect; funny, warm, and perfectly teenaged​. ​Sweet and smart with a realistic but hopeful ending, this novel is a great examination of how hatred and fear affects both communities, and individual lives."
—​School Library Journal, Starred Review ​

"Extremely timely. Reminiscent of Born Confused by Tanuja Desai Hidier, Love, Hate & Other Filters brings an authentic new voice to Muslim-American literature for young adults."
—BookPage, Top Teen Pick for January ​

​"The core relationships are authentic and memorable, and the conclusion is satisfying. A well-crafted plot with interesting revelations about living as a second-generation Muslim-American teen in today's climate." 
—Kirkus Reviews

"The book is wonderfully constructed. Maya's voice is authentic, providing readers with insight into her life as an American Muslim teenager . . . readers will find much to digest here and will be totally engrossed from page one."
—VOYA​

"[Love, Hate & Other Filters] starts out as a pitch-perfect romantic contemporary, then turns everything upside down when Maya must confront Islamophobia, try to find a balance between her cultures and stand up for her dreams. A must read for fans of Adam Silvera, Angie Thomas and Jenny Han."
—Justine Magazine

"​Ahmed brings glorious life to Maya's story, providing cultural details that are relatable to many whether from Maya's specific background or not​. ​Readers will appreciate Maya's passionate pursuit of her dream and her journey to embrace and respect her cultures while remaining true to herself."
—The Bulletin of the Center for Children's Books ​

"Samira Ahmed's debut thoughtfully explores life in America through the eyes of a child of immigrants, the far-reaching effects of racism and religious intolerance, and the challenges of balancing personal dreams and parental expectations."
—​Bookish​

​"A​n unforgettable debut novel  ​. . . beautifully written."
—Bitch Media​

"A coming-of-age story ripped from the headlines full of pop culture references, sweet romance, and a powerful message about what it means to be a young American (no matter the hyphens) in a climate of nationalism and fear, Love, Hate and Other Filters is a perfect choice for book clubs seeking to share relatable, relevant titles that spark discussion, or #ownvoices additions to school and library collections."
—Nerdy Book Club

"Ahmed has written a book that will sucker punch you with emotions—much like teen life it is cute one minute and raw the next. It is a masterpiece."
—Rachel Strolle, Anderson's Bookshop Naperville, IL

"A compelling balance of relationship woes, family drama, and racial violence. I really appreciate how this book doesn't pull punches about the reality of being a Muslim teen in the US today, but also gives the protagonist a creative passion, cute boys, and a positive ending. An excellent read."
—Cecilia Cackley, East City Bookshop

"Love, Hate and Other Filters has everything you want in a realistic YA novel: characters that come fully to life; a mix of humor, horror, and romance that add up to the normal high school experience; a protagonist who grows and changes through it all. But in this case she's a Muslim-American and there are terrifying events unfolding in the background that will affect her and her family in a number of ways. This is irresistible, page-turning fiction wrapped around a core that's smart, serious, and thought-provoking."
—Christie Olson Day, Gallery Bookshop

Soho Teen, 9781616958473, 312pp.
Publication Date: January 16, 2018
About the Author
Samira Ahmed was born in Bombay, India, and grew up in a small town in Illinois in a house that smelled like fried onions, cardamom, and potpourri. A graduate of the University of Chicago, she taught high school English, helped create dozens of small high schools, and fought to secure billions of additional dollars to fairly fund public schools. She's lived in Vermont, Chicago, New York City, and Kauai, where she spent a year searching for the perfect mango. Follow her on Twitter and Instagram @sam_aye_ahm.