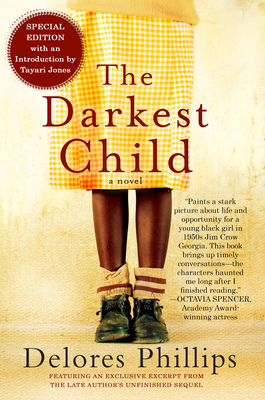 The Darkest Child
Paperback

* Individual store prices may vary.
Other Editions of This Title:
Paperback (1/1/2005)
Paperback (8/8/2005)
Description
A new edition of this award-winning modern classic, with an introduction by Tayari Jones (An American Marriage), an excerpt from the never before seen follow-up, and discussion guide.
 
Pakersfield, Georgia, 1958: Thirteen-year-old Tangy Mae Quinn is the sixth of ten fatherless siblings. She is the darkest-skinned among them and therefore the ugliest in her mother, Rozelle's, estimation, but she's also the brightest. Rozelle—beautiful, charismatic, and light-skinned—exercises a violent hold over her children. Fearing abandonment, she pulls them from school at the age of twelve and sends them to earn their keep for the household, whether in domestic service, in the fields, or at "the farmhouse" on the edge of town, where Rozelle beds local men for money.
 
But Tangy Mae has been selected to be part of the first integrated class at a nearby white high school. She has a chance to change her life, but can she break from Rozelle's grasp without ruinous—even fatal—consequences?
Praise For The Darkest Child…
Praise for The Darkest Child

Winner of the Black Caucus of the ALA Award
Nominee for the Hurston/Wright Legacy Award
 
"The Darkest Child is a great gift, a timeless American treasure."
—Tayari Jones, author of An American Marriage 

"A well-written story that underscores the power of education, The Darkest Child paints a stark picture about life and opportunity for a young black girl in 1950s Jim Crow Georgia. This book brings up timely conversations—the characters haunted me long after I finished reading."
—Octavia Spencer, Academy Award–winning actress from The Help and Hidden Figures

"Filled with grand plot events and clearly identifiable villains and victims . . . lush with detail and captivating with its story of racial tension and family violence."
—The Washington Post Book World

 "Phillips writes with a no-nonsense elegance . . . As a vision of African-American life, The Darkest Child is one of the harshest novels to arrive in many years . . . [Phillips] buttresses those harsh episodes with a depth of characterization worthy of Chekhov, pitch-perfect dialogue, and a profound knowledge of the segregated South in the '50s."
—The New Leader
 
"[An] exceptional debut novel . . . [Has] a depth and dimension not often characteristic of a first novel."
—Library Journal, Starred Review
 
 "Bold memorable characters and enough drama to keep you up all night wondering what can possibly happen next."
—The Black Book Review
 
 "Evil's regenerative powers and one girl's fierce resistance . . . A book that deserves a wide audience."
—The Cleveland Plain Dealer
 
"Horrific and gripping."
—Philadelphia Inquirer
 
"Heart-rending."
—Dallas Morning News

"A fierce and bitter story, told with striking authority. Delores Phillips has created a family and a town rich with resonant voices, all of them caught up in struggles both personal and public, and a mother so wildly commanding she earns a place beside some of the great mad women who embitter the lives of the children who love them."
—Rosellen Brown, author of Half a Heart and Civil Wars

"[A] searing sebut . . . Using a cast of powerfully drawn characters, Phillips captures life in a town that serves as a microcosm of a world on the brink of change."
—Publishers Weekly

"A grim tale, set in the dying days of segregation, about one young woman's struggle to escape her past, her mother, and her duties . . . Phillips writes vividly."
—Kirkus Reviews

"A brilliant, unnerving, memorable debut."
—Caribbean Life
Soho Press, 9781616958725, 432pp.
Publication Date: January 30, 2018
About the Author
Delores Phillips was born in Bartow County, Georgia in 1950, the second of four children. She graduated from Cleveland State University with a bachelor of arts in English and worked as a nurse at a state psychiatric hospital in Cleveland. Her work has appeared in Jean's Journal, Black Times, and The Crisis. She passed away in 2014; The Darkest Child was her only novel.
1. As the book opens, does Tangy Mae truly believe her mother is dying? If she does, how has she remained so innocent? Would things be different today? How is the loss of Tangy's innocence reflected in her telling of the story?
2. How is the hierarchy that Rozelle establishes among her children of "white," "Indian," and "Negro" shaped by her own experience as a light-skinned black woman, as well as America's history of colonization and slavery? Do you believe that racism based on skin tone persists today? How does its role differ within and outside of minority communities?
3. Rozelle has been brutal to her children, but she has never killed one until she throws Judy from the porch (Chapter 27). She is convincing when she tells the sheriff it was an accident. Why does Tangy momentarily refuse to believe her own senses? When she thinks, "No mother could do that, not even mine. Could she?" who or what is she questioning?
4. What effect does Rozelle's appearance have on her mental condition? What benefits does she derive from her beauty, and conversely, how does it harm her? What is the difference between her current treatment by white society and the treatment she would be accorded if she "passed" as white?
5. What do you believe Rozelle's reasons are for having children? Do you think she would have used "the pill" if it had been available? Rozelle says of Judy's birth, "It broke something inside me they can't fix. Had to take it out . . . said I couldn't have no mo', and all I got was a darkie." What might this have to do with Judy's untimely death?
6. How is Mushy different from her mother? How did she manage to leave the family to go to work in Cleveland? Did the experience really change her? Is Tangy Mae right to judge her for drinking? Why has she returned to Pakersfield?
7. Tangy Mae's adolescence coincides with the last decade of Jim Crow and the start of integration in schools. She mentions in Chapter 55 that the county's decision to integrate high schools is reversed in the second year due to violence. Do you think Tangy Mae would still have benefited from being part of the inaugural integrated class?
8. Despite her mother's constant disparagement and the pain she has had to endure, Tangy Mae retains her strength and ambition. How has he been able to survive and retain her humanity? Is she right to leave at the end of the book, or could she have done something else? Why does she bring Laura with her?