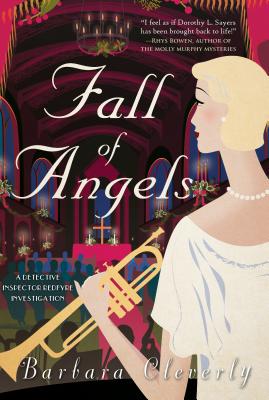 Fall of Angels (An Inspector Redfyre Mystery #1)
Hardcover

* Individual store prices may vary.
Other Editions of This Title:
Paperback (7/2/2019)
Library Binding, Large Print (10/3/2018)
Description
Barbara Cleverly, bestselling author of the Joe Sandilands series, introduces an ingenious new sleuth who navigates 1920s Cambridge, a European intellectual capital on the cusp of dramatic change.

England 1923: Detective Inspector John Redfyre is a godsend to the Cambridge CID. The ancient university city is at war with itself: town versus gown, male versus female, press versus the police force and everyone versus the undergraduates. Redfyre, young, handsome and capable, is a survivor of the Great War. Born and raised among the city's colleges, he has access to the educated élite who run these institutions, a society previously deemed impenetrable by local law enforcement.
 
When Redfyre's Aunt Hetty hands him a front-row ticket to the year's St. Barnabas College Christmas concert, he is looking forward to a right merrie yuletide noyse from a trumpet soloist, accompanied by the organ. He is intrigued to find that the trumpet player is—scandalously—a young woman. And Juno Proudfoot is a beautiful and talented one at that. Such choice of a performer is unacceptable in conservative academic circles.
 
Redfyre finds himself anxious throughout a performance in which Juno charms and captivates her audience, and his unease proves well founded when she tumbles headlong down a staircase after curtainfall. He finds evidence that someone carefully planned her death. Has her showing provoked a dangerous, vengeful woman-hater to take action?
 
When more Cambridge women are murdered, Redfyre realizes that some of his dearest friends and his family may become targets, and—equally alarmingly—that the killer might be within his own close circle.
Praise For Fall of Angels (An Inspector Redfyre Mystery #1)…
Praise for Fall of Angels

"Charmingly old-fashioned . . . Cleverly resolves the mystery with her customary expertise and good taste. But she's human enough to take the occasional jab at men who make the rules of society, 'smothering female talent, gagging and belittling their wives and daughters.'" 
—The New York Times Book Review
 
"The inspector's earnestness is well-tempered by a good deal of wit and charm. And Ms. Cleverly displays a sure knowledge of the personal attitudes, social conditions, science and slang of a fascinating transitional period in history."
—The Wall Street Journal
 
"Cleverly, known for the intricate puzzles she creates and the depth with which she draws her sleuths, has another winner in Redfyre. With dry humor to leaven a frightening story, richly imagined characters and a sure sense of place and time, she leaves the reader eager for Redfyre's next case."
—Richmond Times-Dispatch
 
"A novel that will equally satisfy fans of Evelyn Waugh and Dorothy L. Sayers, Fall of Angels is a delicious concoction, showcasing Barbara Cleverly's prodigious talent. John Redfyre is a detective for the ages."
—Tasha Alexander, New York Times bestselling author of Death in St. Petersburg 
 
"I have been a fan of Barbara Cleverly's ever since her first Joe Sandilands novel, and find her new series quite exciting. I feel as if Dorothy Sayers has been brought back to life! Detective Inspector John Redfyre is Lord Peter Wimsey without the affectations. Many writers can tell us about the 1920s, but so few can transport us there, as Barbara Cleverly does."
—Rhys Bowen, New York Times bestselling author of the Royal Spyness and Molly Murphy mysteries
 
"I enjoyed the excellent writing, the careful placement in time and place, and strong pacing."
—Deadly Pleasures Magazine
 
"In this new series kickoff, Cleverly provides the requisite period detail, adds a cunning mystery, and acknowledges that the fight for equality continues to this day."
—Kirkus Reviews
 
"A brilliant sleuth with surprisingly liberal politics for the time, Redfyre combines the wit and willingness to defy convention of Kerry Greenwood's Phryne Fisher with the polish of Dorothy Sayers' Lord Peter Wimsey, adding a hint of G. M. Malliet's Max Tudor. The novel has the feel of a humorous cozy while exploring serious themes and boasting richly flawed characters . . . a promising new series."
—Booklist
 
"Aficionados of Jacqueline Winspear and Dorothy Sayers will relish this atmospheric historical mystery, with its colorful period details that brilliantly capture post–World War I Britain."
—Library Journal
 
"Imagine Lord Peter Wimsey attended Cambridge instead of Oxford, and needed a job of work to support himself. And there you have it, Inspector Redfyre, a toff as adept at detection as he is at wordplay. Fall of Angels is sharp, witty, and pleasingly surprising."
—James R. Benn, author of the Billy Boyle WWII mysteries 
 
"Excellent historical detail, humorous dialogue, intriguing characters, and a whodunit that will keep readers on the end of their seat until the very end."
—New York Journal of Books
 
"Simply stellar . . .  Reaches back to the works of P.G. Wodehouse and the great mystery writers of his time, but is written in such a way that the present-day reader can be totally engaged."
—Reviewing the Evidence
 
"Fall of Angels provides a wide cast of smart women."
—Kingdom Books
 
"Cleverly's scene setting is vivid and skillful."
—Crime Review

Praise for Barbara Cleverly
 
"Despite her mastery at vivid scene-setting, Cleverly never loses sight of the historical puzzle that is central to her story. Simply put, it's a stunner."
—The New York Times Book Review
 
"Fans of P.D. James, take note: Here's a worthy colleague."
—The Seattle Times
 
"Stylish and intricate . . . Cleverly has perfect pitch for period and place, whether her hero is unearthing evil in India, England or France."
—Richmond Times-Dispatch
Soho Crime, 9781616958763, 384pp.
Publication Date: May 15, 2018
About the Author
Barbara Cleverly was born in the north of England and is a graduate of Durham University. A former teacher, she has spent her working life in Cambridgeshire and Suffolk; she now lives in Cambridge. She is the author of thirteen books in the Joe Sandilands series, including The Last Kashmiri Rose, The Blood Royal, Not My Blood, A Spider in the Cup, Enter Pale Death, and Diana's Altar.
or
Not Currently Available for Direct Purchase