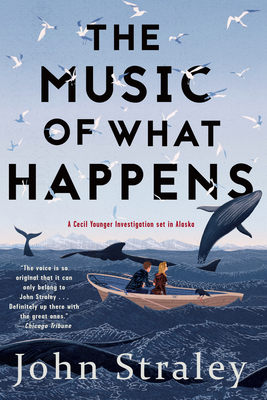 The Music of What Happens (A Cecil Younger Investigation #3)
Paperback

* Individual store prices may vary.
Other Editions of This Title:
Digital Audiobook (10/4/2018)
Description
In the third entry to the series, Alaska P.I. Cecil Younger is fresh out of rehab with a head wound, a child custody case from hell, and the clients to match.

Confrontational and obsessed, Priscilla DeAngelo is sure her ex is conspiring with a state senator to wrest her son from her, and thus, she hires Cecil Younger to investigate. This is the first time Younger has to deal with lawyers in flashy suits and overused paper shredders. When she storms off to Juneau for a showdown, Younger's custody case swiftly turns into a murder. Younger is fired from the defense team, but he can't stop thinking about the case, and keeps on with the investigation alone. He's not sure what keeps him involved. Is it Priscilla's sister (his lost love)? His regard for truth as a rare commodity? Or the head injury Priscilla's ex gave him?

But there's one thing he knows: he won't let go until it's solved, even if it kills him.
Praise For The Music of What Happens (A Cecil Younger Investigation #3)…
Praise for The Music of What Happens
"The voice is so original that is can only belong to John Straley . . . Definitely up there with the great ones."
—Chicago Tribune
 
"A web of subplots adds to the depth of a story that encompasses possible organized crime, senatorial paper shredding and obsessive love . . .  The whirlwind ride leaves the reader gasping for breath, as Shamus Award-winning Straley tells a dark story illuminated by the wild vigor of both the Alaskan landscape and his own writing."
—Publishers Weekly, Starred Review
 
"Notable, like Cecil's first two outings, for some charmingly loopy storytelling and some magical Alaskan scenery."
—Kirkus Reviews

Praise for the Cecil Younger investigations
"Strong and sobering . . . With his storyteller's sense of dramatic action, [Straley's] in his glory."
—The New York Times Book Review

"Straley isn't prolific, but when he does publish a book it's a gem . . . It's always a pleasure to read Straley's vivid studies of these folks—the slightly cracked, rugged and very funny characters of the Far North."
—The Seattle Times

"Thoroughly enjoyable and slightly wacko . . . Ironic humor reminiscent of the Coen brothers and violence worthy of Quentin Tarantino."
—The Boston Globe

"What a warm, engaging, profoundly human book this is: its skin crackling, its heart enormous and open. It's a mystery with judicious blasts of violence and dread, but it opens also onto the bigger mysteries—of community, of family, of place."
—John Darnielle, lead singer of The Mountain Goats and author of Wolf in White Van
 
"A fascinating Alaskan setting, great characters, a highly unusual plot and remarkably good writing. It's a winner."
—Tony Hillerman, New York Times bestselling author of the Leaphorn and Chee novels
 
"Lesser writers look to their characters' poor choices and attempts to rectify them, John Straley loves his characters for just those choices. Hölderlin wrote: 'Poetically man dwells on the earth.' Some of us wind up in limericks, some in heroic couplets. But damned near every one of us, sooner or later, ends up in one of Straley's wise, wayward, wonderfully unhinged novels."
—James Sallis, author of Drive and the Lew Griffin mysteries

"Like the Coen brothers on literary speed, John Straley is among the very best stylists of his generation."
—Ken Bruen, Shamus Award winning author of The Guard
 
"Straley is one of the best prose stylists to emerge from the genre in a long time, and his evocation of the chilly, dangerous landscape and climate effectively sets a foreboding tone."
—San Francisco Chronicle
 
"Absorbing and convincing . . . Straley's a real writer."
—The Washington Post Book World
Soho Crime, 9781616959159, 288pp.
Publication Date: June 5, 2018
About the Author
The youngest of five children, John Straley was born in Redwood City, California, in 1953. He received a BA in English from the University of Washington and, at the urging of his parents, a certificate of completion in horse shoeing. John never saw himself living in Alaska (where there are no horses left to shoe), but when his wife, Jan, a prominent whale biologist, announced she was taking a job in Sitka, the two headed north and never left. John worked for thirty years as a criminal defense investigator in Sitka, and many of the characters that fill his books were inspired by his work. Now retired, he lives with his wife in a bright green house on the beach and writes in his weather-tight office overlooking Old Sitka Rocks. The former Writer Laureate of Alaska, he is the author of ten novels.
or
Not Currently Available for Direct Purchase