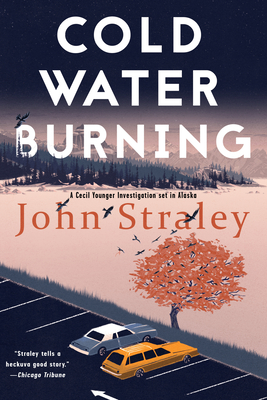 Cold Water Burning (A Cecil Younger Investigation #6)
Paperback

* Individual store prices may vary.
Other Editions of This Title:
Digital Audiobook (6/21/2018)
Description
After years on the job as a private investigator in Sitka, Alaska, Cecil Younger doesn't claim to have learned much about humanity as a whole, but he does know this: truth is a slippery thing. 

When the wife of a former client asks Cecil to find her husband, Cecil agrees. After all, helping to get Richard exonerated during a tragic murder trial three years ago was one of the biggest successes of Cecil's career. But why, if Richard's name was cleared, is he MIA now? Patricia, Richard's steadfast wife, has one guess: someone is after him. It's no secret that Richard has a long list of enemies, not least of which are the family members of the dead. But things soon get complicated when Patricia is killed, sending Cecil on a desperate trip to sea to chase down the twisted truth.
Praise For Cold Water Burning (A Cecil Younger Investigation #6)…
Praise for Cold Water Burning
"Straley tells a heckuva good story, but the real pleasure in reading him is his prose. Like author Nevada Barr, he creates a vivid sense of place, and readers almost feel as if they've visited Sitka."
—Chicago Tribune

"Vivid seamanship, myriad plot skews, intriguing Alaska, and new dad Cecil, the poster boy for angst-riddled, flawed decisions, make this a standout."
—Kirkus Reviews, Starred Review

"The sixth Cecil Younger mystery may also be the best . . . This is a solid mystery, well told . . . Fans will be delighted, and readers unfamiliar with the series will find themselves searching out the previous entries."
—Booklist

Praise for the Cecil Younger investigations
"Strong and sobering . . . With his storyteller's sense of dramatic action, [Straley's] in his glory."
—The New York Times Book Review

"Mr. Straley's prose continues to dazzle . . . His word-pictures have a hallucinatory brilliance appropriate . . . to the eerie beauty of the Alaskan landscape."
—The Wall Street Journal
 
"It's always a pleasure to read Straley's vivid studies of these folks—the slightly cracked, rugged and very funny characters of the Far North."
—The Seattle Times

Staley's done the impossible. He's reinvented the private eye novel."
—The Denver Post
 
"Like the Coen brothers on literary speed, John Straley is among the very best stylists of his generation."
—Ken Bruen, Shamus Award winning author of The Guard
 
"Lesser writers look to their characters' poor choices and attempts to rectify them, John Straley loves his characters for just those choices. Hölderlin wrote: 'Poetically man dwells on the earth.' Some of us wind up in limericks, some in heroic couplets. But damned near every one of us, sooner or later, ends up in one of Straley's wise, wayward, wonderfully unhinged novels."
—James Sallis, author of Drive and the Lew Griffin mysteries

"What a wild wild ride. Straley grabs you by the throat and doesn't let go. You think left and he goes right. You think up and he goes down. Cecil Younger is a continuously great but flawed and wobbly investigating hero."
—Willy Vlautin, author of The Motel Life
 
"[A] superb series of Alaska mysteries . . . What Straley offers is excitement, high comedy and a mega work out for the senses."
—Literary Review
Soho Crime, 9781616959210, 272pp.
Publication Date: June 19, 2018
About the Author
The former Writer Laureate of Alaska, John Straley is the author of ten novels. He lives in Sitka, Alaska, with his wife, Jan, a prominent whale biologist. John worked for thirty years as a criminal defense investigator. Now retired, he writes in his weather-tight office overlooking Old Sitka Rocks.
or
Not Currently Available for Direct Purchase