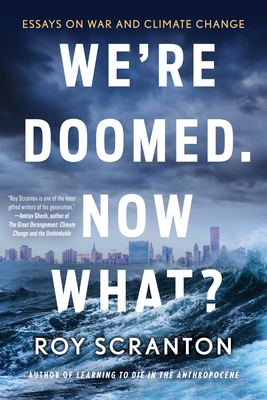 We're Doomed. Now What?
Essays on War and Climate Change
Paperback

* Individual store prices may vary.
Other Editions of This Title:
Digital Audiobook (7/16/2018)
Compact Disc (7/17/2018)
MP3 CD (7/17/2018)
Compact Disc (7/17/2018)
Description
An American Orwell for the age of Trump, Roy Scranton faces the unpleasant facts of our day with fierce insight and honesty. We're Doomed. Now What? penetrates to the very heart of our time.

Our moment is one of alarming and bewildering change—the breakup of the post-1945 global order, a multispecies mass extinction, and the beginning of the end of civilization as we know it. Not one of us is innocent, not one of us is safe. Now what?

We're Doomed. Now What? addresses the crisis that is our time through a series of brilliant, moving, and original essays on climate change, war, literature, and loss, from one of the most provocative and iconoclastic minds of his generation. Whether writing about sailing through the melting Arctic, preparing for Houston's next big storm, watching Star Wars, or going back to the streets of Baghdad he once patrolled as a soldier, Roy Scranton handles his subjects with the same electric, philosophical, demotic touch that he brought to his groundbreaking New York Times essay, "Learning How to Die in the Anthropocene."
Praise For We're Doomed. Now What?: Essays on War and Climate Change…
Praise for We're Doomed. Now What?

"[Scranton] writes clearly and convincingly about the emotional, existential challenges that attracted him to war, and how he was changed by the time he returned home."
—The New York Times

"Readers brave enough to pick it [We're Doomed. Now What?] up will discover the direct and unvarnished commentary it promises . . . Based on its title, some readers might expect We're Doomed to function as an unremitting rant against the people and agencies actively destroying the environment. But Scranton is a more subtle and versatile writer than that. While he has many disturbing factoids about climate change at his fingertips—and deploys them with precision and accuracy—the essays benefit from the author's tendency toward self-deprecation."
—Sierra, the national magazine of the Sierra Club

"Roy Scranton is one of the most gifted writers of his generation."
—Amitav Ghosh, author of The Great Derangement: Climate Change and the Unthinkable

"Roy Scranton is our Jeremiah of the anthropocene and a brutally honest chronicler of American violence in all its forms. His message is as urgent as it is discomfiting. Hear him."
—Andrew J. Bacevich, author of America's War for the Greater East: A Military History

"These are thoughtful, powerful essays from the extremes of geography and experience. Not easy reading, but electric and worthwhile."
—Mark Greif, author of Against Everything and The Age of the Crisis of Man

"Taken together, these essays—dark, often beautiful, frequently scholarly, always gripping—seek to accurately describe things we might prefer not be described. The work is difficult, noble in intention, and brilliant in execution."
—The Gazette
 
"Scranton's book isn't really about the science of global warming. It's a deeply felt meditation on what it all means for us philosophically and ethically."
—WPR's To the Best of Our Knowledge

"Scranton skillfully integrates literature and philosophy into his own thoughts, creating multilayered writings that beg to be read slowly and carefully by a reader willing to pay attention for a steady length of time. Eye-opening and honest, these essays are like receiving a terminal diagnosis from a specialist while still leaving a margin of hope on the sides."
—Shelf Awareness

"A realistic, if depressing, look at the modern world and how readers can survive the new environment humans have created."
—Library Journal

​"Scranton's warnings must be heeded."
—Kirkus Reviews

"Roy Scranton is a gifted, intrepid writer, and these essays are mesmerizing despite their dire themes (climate change, war, violence). We're Doomed. Now What? is an elegiac book that grieves as it presses forward."
—Powell's Books, Staff Pick
 
Praise for Learning to Die in the Anthropocene

"Roy Scranton draws on his experiences in Iraq to confront the grim realities of climate change. The result is a fierce and provocative book."
—Elizabeth Kolbert, Pulitzer Prize–winning author of The Sixth Extinction: An Unnatural History
 
"Roy Scranton lucidly articulates the depth of the climate crisis with an honesty that is all too rare, then calls for a reimagined humanism that will help us meet our stormy future with as much decency as we can muster . . . This is a wise and important challenge from an elegant writer and original thinker."
—Naomi Klein, author of This Changes Everything: Capitalism vs. the Climate

Praise for War Porn

"One of the best and most disturbing war novels in years." 
—The Wall Street Journal 

"A view of the American military unlike anything else written about Iraq or Afghanistan . . . A guided meditation on Iraq certain to force long overdue introspection on how we think about the war, those who fought it and the Americans and Iraqis it affected." 
—New Republic  
 
"Forceful and unsettling."  
—Michiko Kakutani, The New York Times 

"Searingly honest . . . This examination of the tragedy of what happened in Iraq reaches out to touch of all us. A brilliant literary achievement."
—Jeff VanderMeer, author of the Southern Reach trilogy
Soho Press, 9781616959364, 360pp.
Publication Date: July 17, 2018
About the Author
Roy Scranton is the author of War Porn and Learning to Die in the Anthropocene, and co-editor of Fire and Forget: Short Stories from the Long War. His journalism, essays, and fiction have been published in The Nation, Rolling Stone, The New York Times, Boston Review, and elsewhere. He holds a PhD in English from Princeton and an MA from the New School for Social Research, and teaches in the Department of English at the University of Notre Dame.