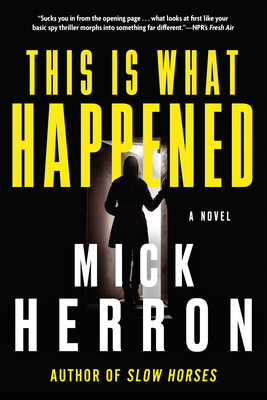 This Is What Happened (Paperback)
Soho Crime, 9781616959777, 304pp.
Publication Date: December 4, 2018
Other Editions of This Title:
Hardcover (1/30/2018)
Library Binding, Large Print (2/21/2018)
* Individual store prices may vary.
Winter 2018 Reading Group Indie Next List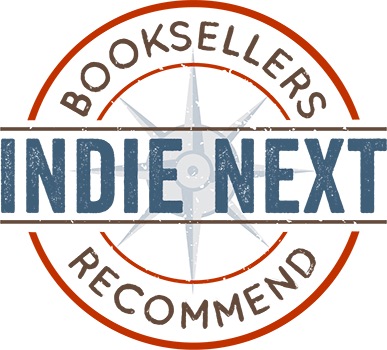 "Herron has crafted another winner: flawed characters, a plotline that didn't go anywhere near where I imagined it would, and twists that kept me up and turning pages well into the night. Bravo!"
— Bobbi Hahn, By Hand, Ink, Hilton Head Island, SC
View the List
Description
From CWA Gold & Steel Dagger winner Mick Herron comes a shocking, twisted novel of thrilling suspense about one woman's attempt to be better than ordinary.
 
Twenty-six-year-old Maggie Barnes is someone you would never look at twice. Living alone in a month-to-month sublet in the huge city of London, with no family but an estranged sister, no boyfriend or partner, and not much in the way of friends, Maggie is just the kind of person who could vanish from the face of the earth without anyone taking notice. Or just the kind of person MI5 needs to infiltrate the establishment and thwart an international plot that puts all of Britain at risk.

Now one young woman has the chance to be a hero—if she can think quickly enough to stay alive.
About the Author
Mick Herron was born in Newcastle and has a degree in English from Balliol College, Oxford. He is the author of ten other novels, Slow Horses, Dead Lions, Nobody Walks, Real Tigers, Spook Street, Down Cemetery Road, The Last Voice You Hear, Why We Die, Smoke and Whispers, and Reconstruction, as well as the novella The List. His work has won the CWA Gold Dagger for Best Crime Novel, the Steel Dagger for Best Thriller, and the Ellery Queen Readers Award, and been nominated for the Macavity, Barry, Shamus, and Theakstons Novel of the Year Awards.
Praise For This Is What Happened…
Praise for This Is What Happened

"Sucks you in from the opening page . . . what looks at first like your basic spy thriller morphs into something far different—a tricky game of three-character monte filled with sly twists that Herron reveals with the precision of a high-end Swiss watchmaker."
—John Powers, NPR's Fresh Air

"Mr. Herron cleverly employs the tropes of spy fiction to construct a frightening psychological puzzle. He then transforms the conundrum into yet another unexpected story, one that leaves the reader hoping for a resolution that may or may not materialize."
—Tom Nolan, The Wall Street Journal

"There is, quite simply, no current thriller writer who enjoys better word-of-mouth than Mick Herron."
—Financial Times

"Like [Herron's] other books, this one resides where escapism and political paranoia meet. Planted firmly in the realm of the possible, his works toy with 21st-century fears and manias: terrorism, government deceit, economic meltdowns and hostage-takers . . . That he accomplishes all this while interspersing the hair-raising with the humorous is quite a feat. He's a trickster, a wit, a cynic, a slippery rogue of a storyteller who is unapologetic about leading the reader astray, but who makes the diversion worthwhile."
—Helen T. Verongos, St. Louis Post-Dispatch

"In clipped, stylish prose, Mick Herron's sly, twisty, bullet-paced narrative tracks Maggie's journey from a skittish participant in her own life to a reluctant recruit in something diabolical. Suddenly, Maggie's life becomes a Patricia Highsmith story."
—Carole E. Barrowman, The Minneapolis Star Tribune

"Beautifully written and ingeniously plotted . . . This dark thriller is rife with the deadpan wit and trenchant observation that Herron's readers relish."
—Publishers Weekly, Starred Review

"Profoundly disturbing . . . Fans who miss the startling and compelling psychological suspense of Ruth Rendell will relish this unsettling tale."
—Booklist, Starred Review

"Fans of twisty espionage fiction and psychological suspense won't want to put this book down until they find out what exactly happened."
—Library Journal

"Herron has some fantastical twists in mind that Agatha Christie never dreamed of."
—Kirkus Reviews

"Draws on [Herron's] incisive spymaster knowledge as well as other imaginative forays, and uses the mean streets of contemporary London to their utmost advantage."
—The Seattle Review of Books

"[Herron's] sentences have no wasted words; they're just long enough to land their punches and leave. The story goes to dark, disturbing places, but not without a sense of humor."
—Shelf Awareness

"[This is What Happened] has the potential to be the next big thing, like The Girl on the Train next big thing . . . It's an espionage novel, a thriller and a mystery, all rolled into one glorious book that you can and will read in one sitting." 
—Bookreporter

"Takes elements of the familiar spy story, with its secrets and switchback betrayals, and locks them inside a tightly-sealed box of psychological suspense."
—Reviewing the Evidence

"Herron's latest is highly recommended for its unexpected take on an otherwise familiar theme, its characters and setting, and especially for ways Herron takes us down unanticipated narrative roads." 
—Bookgasm  

"It would be criminal to even hint at the plot of Mick Herron's new thriller This Is What Happened. With not an unnecessary word, Herron conjures a trio of deeply flawed Londoners and sets them hurtling down the path from bad to worse. Before you know it the sickening realization of what is actually happening hooks you like an armful of heroin. This Is What Happened is so fiendishly, perversely addictive that you'll stay up late turning the pages and put the book down begging for more. Mute your phone, lock the door, and ​put yourself in the hands of a master storyteller.​"
—David Enyeart, Common Good Books

Praise for Mick Herron, Winner of the CWA Gold Dagger for Best Crime Novel & 2017 CWA Ian Fleming Steel Dagger for Best Thriller

"Mick Herron never tells a suspense story in the expected way . . . In Herron's book, there is no hiding under the desk." 

─The New York Times Book Review

"Terrific spy novel . . . Sublime dialogue, frictionless plotting." 
—Ian Rankin, bestselling author of the Inspector Rebus books  
"Stylish and engaging." 
─The Washington Post

"Heroic struggles, less-heroic failures and a shoot-out-cum-heist . . . with no let-up in the page-turning throughout." 
—Esquire 
 
"A funny, stylish, satirical, gripping story . . . Memorably seedy characters, sharp dialogue, complex plot. I'm hooked."
—The Guardian
 
"This is blackly funny, tense and worryingly plausible. The most enjoyable British spy novel in years."
—Mail on Sunday
 
"[A] deliciously sleazy and sophisticated spy thriller."
—The Irish Times