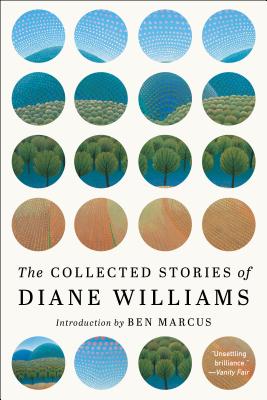 The Collected Stories of Diane Williams
Hardcover

* Individual store prices may vary.
Other Editions of This Title:
Digital Audiobook (10/1/2018)
Paperback (9/10/2019)
Description
With over three hundred new and previously published short stories as well as three novellas, The Collected Stories of Diane Williams brings together distilled works of "unsettling brilliance" (Vanity Fair) that have rewritten the rules of American short fiction.

From Ben Marcus' introduction to The Collected Stories of Diane Williams:

"Diane Williams has spent her long, prolific career concocting fictions of perfect strangeness, most of them no more than a page long. She's a hero of the form: the sudden fiction, the flash fiction, whatever it's being called these days. The stories are short. They defy logic. They thumb their nose at conventional sense, or even unconventional sense. But if sense is in short supply in these texts, that leaves more room for splendor and sorrow. These stories upend expectations and prize enigma and the uncanny above all else. The Williams epiphany should be patented, or bottled—on the other hand, it should also be regulated and maybe rationed, because it's severe. It's a rare feeling her stories trigger, but it's a keen and deep and welcome one, the sort of feeling that wakes us up to complication and beauty and dissonance and fragility."
Praise For The Collected Stories of Diane Williams…
An A.V. Club 10 Favorite Reads of 2018
A PopMatters Best Short Story Collection of 2018
A Bright Young Things Best Book of 2018

Praise for The Collected Stories of Diane Williams

"Erudite, elegant and stubbornly experimental. For any writer, an omnibus collection is a triumph. To see years of Ms. Williams' confounding fictions collected in so hefty a volume is like seeing snowflakes accrue into an avalanche."
—Rumaan Alam, The New York Times

"This book will rewire your brain."
—NPR's Pop Culture Happy Hour 

"The godmother of flash fiction."
—The Paris Review

"Diane Williams seeks to stun, in something near the literal sense of the word . . . There are no first sentences full of orienting details, no dramatic dialogue, no neat epiphanies in a story's final lines. A concluding sentence is more likely to open up a story than to resolve it."
—The New Republic

"Full of funny, libidinal and invigorating enigmas . . . Readers who love the arresting phrase, the surprising word, will gravitate to her . . . It's perfect to leave on the bedside table, to be consulted before one's dreamlife begins."
—The London Review of Books

"[Williams'] stories court laughter first, then, and only in retrospect, long-accumulated tears: tears of regret for opportunities lost, for people mislaid; tears of despair for the strangeness, the separateness that intimacy reveals and fails to overcome. You don't have to read all three hundred and five stories to get the point (Though you should. Williams can do more with two sentences than most writers can do with two hundred pages)."
—Merve Emre, The New York Review of Books

"Savage, wild, sideways stories flirt with reality and sever you from your roots, only to bring you back changed."
—San Francisco Chronicle

"The world—so-called civilized—is Williams' oyster, and her prose shucks like a knife to open a manifold view of the quivering human meat within."
—Austin Chronicle

"Describing one of Diane Williams' stories inevitably takes more words than those in the story itself. And there is something equally wonderful about the dissonance between the sheer size of the megalithic [The] Collected Stories of Diane Williams and the conciseness of the perplexing, beautiful texts within. I have always been drawn to books that can be opened at random and still provide a full reading experience. This volume is that and more. It reminds me of Borges' book of sand, which has neither a beginning nor an end because its pages multiply infinitely as one turns them."
—Hernán Diaz, In the Distance  

"One of few true originals writing today, the author revels in confusions left unexplained, tensions unresolved . . . The result is a heady immersion into Williams' wit and the often unsettling situations she throws her characters into, tracing the preoccupations, from sex to selfhood to death, of one of American literature's most unique voices."
—The A.V. Club

"A literary event of great import."
—KBOO's Between the Covers

"The classic short story of posterity is a sprawling black hole, pussyfooting around a nub of recognizable truth for pages and pages, while Williams nails it in one."
—The Baffler

"A once-in-a-generation event, a cause and effect of authorial significance."
—Literary Hub

"This is an omnibus collection that belongs on the shelves of every reader who admires the short story form."
—PopMatters

"Imagine little sparks of Old Testament prophets and Edward Gorey and Robert Coover and something else I can't quite pin down (Dorothy Parker, maybe?) fizzing away and doing cool things to your brain."
—Bright Young Things

"A pleasure for readers attentive to both language and story. Fans of flash fiction will want to study at the feet of this master of the form."
—Kirkus Reviews

"Williams creates clipped fictions that are designed to seduce . . . The experience is often unsettling, but her mini-roller-coasters offer a hell of a ride."
—The Arts Fuse

Praise for Diane Williams

"Diane Williams is one of the true living heroes of the American avant-garde. Her fiction makes very familiar things very, very weird."
—Jonathan Franzen

"Williams' short precise, and emphatic sentences build a strange society whose denizens are not quite familiar to us and not quite comfortable with their own quietly disturbing evolutions.  Not a single moment of the prose, here, is what you expect, and even the ordinary is, in the context created by Diane Williams, no longer  ordinary.  It is fresh, happy and peculiar—or is it we who are refreshed, happy, and more preculiar than before after reading her?"
—Lydia Davis 

"One of America's most exciting violators of habit."
—Los Angeles Times
 
"Flash fictions that are often beautiful but impenetrable, structured like little riddles to unspool. While it is easy to compare Williams' work to that of Lydia Davis, another expert writer of absurdist shorts, this collection stands in its own category as defiantly whimsical and weird . . . Williams creates stories that can be consumed in small bites. But she provides enough material in each to chew over for an entire meal."
—The New York Times

"Let's hear it for the magnificent Diane Williams, one of the wittiest and most exacting writers of our time. Her fictions are fervid endorsements of terrible, joyous life. But that's not quite right, because like all great literature, they are life."
—Sam Lipsyte

"Diane Williams is hilarious, brilliant, eccentric, powerful, and, luckily, ours."
—Deb Olin Unferth

"Discomfitingly and devastatingly funny, Williams upends the mundane, the painful, and the unusual, resulting—much in the way an art teacher might ask her class to copy a photograph upside-down—in precision and clarity."
—Elle

"[Williams'] details are always precise, and her masterful prose distills her fictional worlds down to bright, brief moments . . . We can feel 'the mysteries of daily life' pulsing through Williams' keenly observed, contemplative tales."
—San Francisco Chronicle

"Her work is certainly odd, but it's also poetic, passionate, and precisely crafted. Her strange voices linger in the mind. Part of the pleasure of reading Williams is you have no idea what's coming next. Don't fret. These marvelous stories do have a beginning, middle and an end—just not necessarily in that order."
—Los Angeles Times
Soho Press, 9781616959821, 784pp.
Publication Date: October 2, 2018
About the Author
Diane Williams is the founder and editor of the distinguished literary annual, NOON, the archive of which, as well as Williams' personal literary archive, was acquired in 2014 by the Lilly Library. She is the author of nine previous volumes of short fiction and the recipient of four Pushcart Prizes. She lives in New York City.
or
Not Currently Available for Direct Purchase