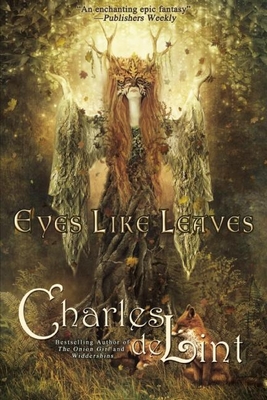 Eyes Like Leaves (Paperback)
Tachyon Publications, 9781616960506, 320pp.
Publication Date: January 16, 2012
Description
This early Charles de Lint novel--previously unavailable in a paperback edition--is a stirring epic fantasy of Celtic and Nordic mythology along with swords and sorcery. In the Green Isles, the summer magic is waning. Snake ships pillage the coastal towns, and the evil Icelord encases the verdant lands in a permanent frost. A mysterious old wizard prepares to mount one last defense of the Isles, hurrying to instruct his inexperienced apprentice in the art of shape-changing. In a desperate race to awaken the Summerlord, the newfound mage gathers a few remaining allies, including a seemingly ordinary young woman and her protective adoptive family. Mercilessly pursued by the Icelord's army of stormkin, they flee north to the seat of the Summerlord's power. But the revelation of a family betrayal leads to new treachery--and time is running short for the Summerborn.
About the Author
Charles de Lint is the best-selling author of more than seventy adult, YA, and children's books, including Moonheart, The Onion Girl, Widdershins, Medicine Road, and Under My Skin. He is the recipient of the World Fantasy, YALSA, Crawford, and Aurora awards. De Lint is a poet, songwriter, performer, and folklorist, and he writes a book review column for Fantasy & Science Fiction.
Praise For Eyes Like Leaves…
"De Lint's greatest skill is his human focusthe mythic elements never overshadow his intimate study of character. To read de Lint is to fall under the spell of a master storyteller, to be reminded of the greatness of life, of the beauty and majesty lurking in shadows and empty doorways." Quill & Quire

De Lint is a romantic; he believes in the great things, faith, hope, and charity (especially if love is included in that last), but he also believes in the power of magicor at least the magic of fictionto open our eyes to a larger world." Edmonton Journal


"One of the most gifted storytellers writing fantasy today."  Locus magazine
"Mr. de Lint's handling of ancient folklore to weave an entirely new pattern has never, to my knowledge, been equaled."  Andre Norton, author, Elvenbane
"There is no better writer now than Charles de Lint at bringing out the magic in everyday life."  Orson Scott Card, author, Ender's Game
"World Fantasy Award-winner de Lint dusts off an enchanting epic fantasy written in 1980 but never published. . . . His nascent poetic style evokes beautiful imagery."
Publishers Weekly
"This is classic high fantasy, written and revised by a master. . . . It is a must for de Lint completists and, actually, for all high-fantasy and folkloristic fiction fans."
Booklist
"This traditional fantasy . . . bears de Lint's characteristically lyrical prose and hypnotic storytelling. Filled with Celtic lore and wonderfully drawn characters, this standalone epic should please the author's many fans and lovers of medieval fantasy."
Library Journal
Advertisement