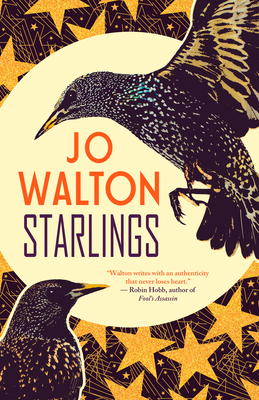 Starlings (Paperback)
Tachyon Publications, 9781616960568, 272pp.
Publication Date: February 13, 2018
* Individual store prices may vary.
Description
"Exquisitely written feats of imagination, each one leaving an impression long after it's done."--Kelley Armstrong, bestselling author of Rituals. In this intimate first collection from award-winning novelist Jo Walton (Among Others, The King's Peace, Necessity) are captivating glimpses of her subtle myths and wholly reinvented realities. An ancient Eritrean coin uncovers the secrets of lovers and thieves. The magic mirror sees all but can do almost nothing. A search engine logically proceeds down the path of an existential crisis. Three Irish siblings thieve treasures with ingenuity, bad poetry, and the aid of the Queen of Cats. Through eclectic stories, intriguing vignettes, inspired poetry, and more, Walton soars with humans, machines, and more than a hint of magic.
About the Author
Jo Walton is a Welsh-Canadian author of science fiction, fantasy, and poetry. She has published thirteen novels, most recently Necessity. A fourteenth, Lent is due out in Fall 2017. Walton has also published three poetry collections and an essay collection. She won the John W. Campbell Award for Best New Writer in 2002, the World Fantasy Award for Tooth and Claw in 2004, the Hugo and Nebula awards for Among Others in 2012, and in 2014, both the Tiptree Award for My Real Children and the Locus Award for What Makes This Book So Great. Walton comes from Wales, has lived in England, and now lives in Montreal, where the food and books are much better.