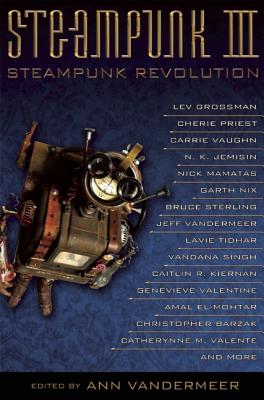 Steampunk III
Steampunk Revolution
Paperback

* Individual store prices may vary.
Description
Playfully mashing up the romantic elegance of the Victorian era with whimsically modernized technology, the wildly popular steampunk genre is here to stay. Now...long live the revolution Steampunk Revolution features a renegade collective of writers and artists, including steampunk legends and hot, new talents rebooting the steam-driven past and powering it into the future. Lev Grossman's ?Sir Ranulph Wykeham-Rackham, GBE, a.k.a. Roboticus the All-Knowing" is the Six-Million-Dollar Steampunk Man, possessing appendages and workings recycled from metal parts, yet also fully human, resilient, and determined. Bruce Sterling's ?White Fungus" introduces steampunk's younger cousin, salvage-punk, speculating on how cities will be built in the future using preexisting materials. Cat Valente's ?Mother Is a Machine" explores the merging of man and machine and a whole new form of parenting. In Jeff VanderMeer's anti-steampunk story ?Fixing Hanover," a creator must turn his back on his creation because it is so utterly destructive. And Cherie Priest presents ?The Clockroach," a new and very unsettling mode of transportation. Going far beyond corsets and goggles, Steampunk Revolution is not just your great-great-great-granddad's zeppelin...?it's an even wilder ride.
Praise For Steampunk III: Steampunk Revolution…
Steampunk isn't just about Victorians playing with cogs and gears; these stories (and a few essays) reveal some of the latest steps in this branch of speculative fiction's evolution."
Shelf Awareness

VanderMeer's follow-up to previous similarly themed anthologies targets established fans of the retro-infatuated steampunk movement."
Publishers Weekly

This third volume of the acclaimed Steampunk anthology series features an international cast of authors and a revolutionary take on the wonders of Steam. As steampunk continues to gain in popularity, these new tales and fresh tropes from established steampunk storytellers and new exciting talents reconcile Victorian pleasantries with passionate ideologies, reinvigorating the genre."
Books World

Demonstrates the power of a well-orchestrated collection...a must-have for any fan of the subgenre."
Beyond Victoriana

The 27 stories gathered here are therefore noteworthy both because of their subject matter as well as for the way they stretch the stylistics of Steampunk in new and different directions."
Bookgasm
These stories have something everyone can enjoy."
SF Site
Tachyon Publications, 9781616960865, 428pp.
Publication Date: October 5, 2012
About the Author
Ann VanderMeer is the Hugo Award-winning editor of Weird Fiction Review. She was the fiction editor at Weird Tales and the publisher of Buzzcity Press, work for which received the British Fantasy, International Horror Guild, and Rhysling awards. An expert on Victoriana, she is the co-editor, with her husband Jeff VanderMeer, of the bestselling World Fantasy Award-nominated Steampunk series. Her other anthologies include the Best American Fantasy and Leviathan series, The Thackery T. Lambshead Pocket Guide to Eccentric & Discredited Diseases, The New Weird, and Last Drink, Bird Head.
or
Not Currently Available for Direct Purchase