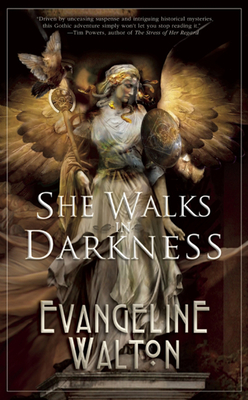 She Walks in Darkness
Paperback

* Individual store prices may vary.
Description
A gorgeous Tuscan villa harboring a terrible secret houses this beautifully harrowing adventure of ancient mystery and modern intrigue. Archaeologist Richard Keyes and his resourceful young bride, Barbara, are expecting a blissful honeymoon in a welcoming new country. But from the moment they arrive in their secluded new home, circumstances conspire against them. The key to an ages-old mystery lies in the catacombs under the villa, in a familial conflict reawakened after generations of sacrifice, betrayal, and madness. This first publication of a newly discovered jewel from a World Fantasy Lifetime Achievement Award winner is sure to please readers of all genres.
Praise For She Walks in Darkness…
Driven by unceasing suspense and intriguing historical mysteries, this Gothic adventure simply won't let you stop reading it."
Tim Powers, author of World Fantasy Award-winner The Bible Repairman

For those of us who loved Evangeline Walton's lyrical and energetic quartet retelling the Four Branches of The Mabinogion, her novella She Walks in Darkness is a startling but quite gripping change...a remarkable gift from the past."
Patricia A. McKillip, author of Wonders of the Invisible World

[Evangeline Walton has the] ability to humanize historical and mythological subjects with eloquence, humor, and compassion."
Fantasy Review

What comes next is the harrowing recounting of the hours following Richard's accident in true gothic form, complete with Terrifying Scares, Horrible Tragedies, Claustrophobic Predicaments, Looming Threats and the pervasive sense that something supernatural might be afoot. It is a tale of obsession and madness that interplays with historical (those Etruscans as so elusive) and family mysteries to great effect."
Kirkus

... there is considerable charm in this old-fashioned hair-raiser, and Walton's focus on history and myth is distinctive."
Kirkus

Walton's compression, her economy is brilliant Barbara's narrative, for instance, moves easily from the horrifying present to the innocence of the previous day in a single tense-shifting paragraph. No bells or whistles. Deftly done.
The Da Vinci Code's Dan Brown also could learn something from her handling of big, historical enigmas."
Call of the Siren
Tachyon Publications, 9781616961336, 192pp.
Publication Date: September 1, 2013
About the Author
Evangeline Walton was a writer whose works include Mabinogion tetralogy, as well as The Cross and the Sword, The Sword Is Forged, and Witch House. She won a Mythopoeic award, a Fritz Leiber award, two Locus awards, and the World Fantasy Lifetime Achievement award.
or
Not Currently Available for Direct Purchase