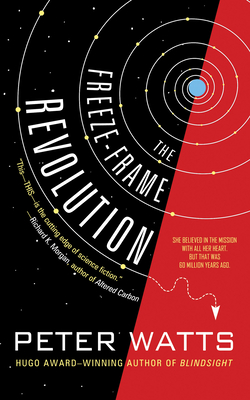 The Freeze-Frame Revolution (Paperback)
Tachyon Publications, 9781616962524, 192pp.
Publication Date: June 12, 2018
Other Editions of This Title:
Compact Disc (10/16/2018)
MP3 CD (10/16/2018)
Compact Disc (10/16/2018)
* Individual store prices may vary.
Description
"This--THIS--is the cutting edge of science fiction." --Richard K. Morgan, author of Altered Carbon How do you stage a mutiny when you're only awake one day in a million? How do you conspire when your tiny handful of potential allies changes with each job shift? How do you engage an enemy that never sleeps, that sees through your eyes and hears through your ears, and relentlessly, honestly, only wants what's best for you? Trapped aboard the starship Eriophora, Sunday Ahzmundin is about to discover the components of any successful revolution: conspiracy, code--and unavoidable casualties. Note from the publisher: The red letters in the print edition (highlighted letters in the e-book) indicate special bonus content.
About the Author
Peter Watts is a former marine biologist and a current science-fiction author. His debut novel in the Rifters series, (Starfish) was a New York Times Notable Book, and his novel (Blindsight) has become a required text in undergraduate courses ranging from philosophy to neuroscience, and was a finalist for numerous North American genre awards. His shorter work, including Beyond the Rift, has received the Shirley Jackson, Hugo, and Aurora awards. Watts's work is available in twenty languages and has been cited as inspirational to several popular video games. He lives in Toronto.