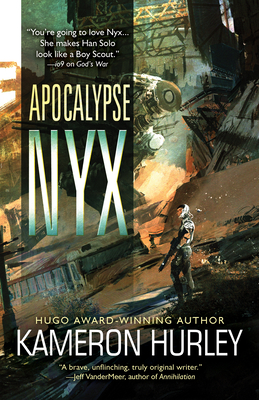 Apocalypse Nyx
Paperback

* Individual store prices may vary.
Description
Promotion at major trade and genre conventions, including BEA, ALA, Readercon, Gencon, the International Conference for the Fantastic in the Arts, and the World Science Fiction and World Fantasy conventions Features, interviews, and reviews targeting literary and genre venues, including the Washington Post, NPR, the Los Angeles Times, The New York Times, the Chicago Tribune, Locus, and the San Francisco Chronicle Author events/appearances to include Perth, Australia; Indianapolis, Indiana; Vail, Colorado; Ohio events in Cincinnati, Dayton, and ColumbusPlanned galley distribution and book giveaways to include NetGalley, Goodreads, Edelweiss, Tor.com, and additional online outlets Advertising and promotion in national print and via online outlets and social media.
Tachyon Publications, 9781616962944, 288pp.
Publication Date: July 17, 2018
About the Author
Kameron Hurley is the author of The Stars are Legion and the award-winning essay collection The Geek Feminist Revolution, as well as the God's War Trilogy and the Worldbreaker Saga. Hurley has won the Hugo Award, Kitschy Award, BSFA Award, and Sydney J. Bounds Award for Best Newcomer. She was also a finalist for the Arthur C. Clarke Award, the Nebula Award, and the Gemmell Morningstar Award. Her short fiction has appeared in Popular Science Magazine, Lightspeed Magazine, and many anthologies. Hurley has also written for The Atlantic, Entertainment Weekly, the Village Voice, Bitch Magazine, and Locus. She posts regularly at KameronHurley.com.