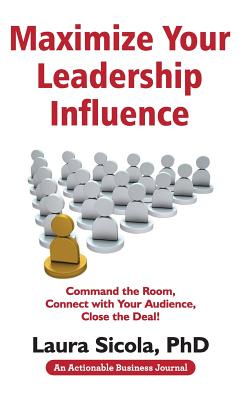 Maximize Your Leadership Influence
Command the Room, Connect with Your Audience, Close the Deal!
Hardcover

* Individual store prices may vary.
Other Editions of This Title:
Paperback (3/7/2018)
Description
Let's face it: Leadership is more than a role, it's an image, and the way that you communicate -- to anyone and everyone -- will either reinforce your leadership image in their mind, or sabotage it. You've heard the expression, "It's not what you say, it's how you say it." The truth is: if you want to be a master of influence, it's both.
When you speak, does your message paint a clear picture and concisely get to the point? Does it showcase your expertise and get through to the listener's ears, mind and heart? Does your delivery completely captivate them, or do they just feel like they are being held captive? Most importantly, does your delivery inspire people to get on board with your vision?
If your answer isn't "yes" to all of the above, this is the fast-track handbook to launch you to successfully conquering Dr. Laura Sicola's Three Cs: Command the room, Connect with your audience and Close the deal, and becoming a Master of Influence.
Maximize Your Leadership Influence is part of the THiNKaha series, whose slim and handy books contain 140 well-thought-out AHA messages. Increase your online influence by picking up AHAthat, and easily share quotes from this book on Twitter, Facebook, LinkedIn, and Google+ via this link: http: //aha.pub/LeadershipInfluence
Thinkaha, 9781616992439, 126pp.
Publication Date: March 7, 2018