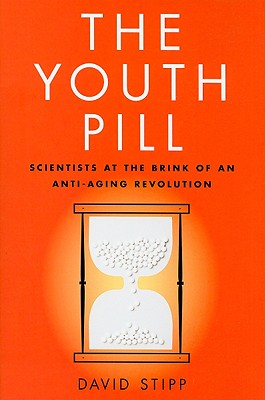 The Youth Pill: Scientists at the Brink of an Anti-Aging Revolution (Hardcover)
Scientists at the Brink of an Anti-Aging Revolution
Current Hardcover, 9781617230004, 320pp.
Publication Date: July 8, 2010
* Individual store prices may vary.
or
Not Currently Available for Direct Purchase
Description
In "The Youth Pill," journalist David Stipp explores the scientific battle against aging and the pioneers of the movement to extend lifespan for everyone. He takes readers behind the scenes and introduces us to the key players who are experimenting with the most promising cutting-edge research. It is an informative and provocative read that shows how a small group of optimistic and determined scientists are closing in on drugs that will change the way we live forver.
Praise For The Youth Pill: Scientists at the Brink of an Anti-Aging Revolution…
"Improvements in technology, particularly the ability to sequence DNA quickly, have made the serious study of ageing possible. All this is carefully chronicled in "The Youth Pill" by David Stipp, a former medical writer for the Wall Street Journal and an able guide to this young science. His book draws readers down the blind alleys and experimental dead ends that are an inevitable part of scientific research, as well as explaining the advances that have been made and the hunches that led to them."
-The Economist

"An engaging account of the burgeoning field dubbed gerontology-the study of aging and of medicinal tools to block its unwanted effects"
-Dr. Scott Gottlieb, former deputy commissioner of the FDA, Wall Street Journal

"From the history of attitudes and philosophies on old age and various nostrums that have been pitched to the hard science of the cellular mechanisms of aging, genetic studies, and dietary variables and finally to what is becoming the big biotech business of life extension, Stipp covers the field admirably...This tour de force is recounted with insight, authority, and a somewhat breezy style reminiscent of the best of Natalie Angier's works."
-Gregg Sapp, Evergreen State College, Library Journal

From the title of the book, I expected hype about resveratrol or some other miracle pill; but instead it is a nuanced, levelheaded, entertaining, informative account of the history and current state of longevity research. It makes that research come alive by telling stories about the people involved, the failures and setbacks, and the agonizingly slow process of teasing out the truth with a series of experiments that often seem to contradict each other."
-Dr. Harriet Hall, Science-Based Medicine

"Stipp's experiences as a popular Wall Street Journal and Fortune magazine writer have blessed him with a singular style, crafting complex explanations of scientific discoveries (and failures) into eminently enjoyable reading. Whether or not the notion of living energetically to the age of 150 appeals, Stipp makes the research compelling."
-Donna Chavez, Booklist

"...a well written and documented journey through all the theories, animal studies and human observations since the 1900's about the attempts to find the fountain of youth...Mr. Stipp delivers a detailed exploration of the complex quest for youth with humor and thoroughness. He entertains with details of intrigue and one-up-manship in the research world as well as everything you ever wanted to know about the naked mole-rat."
-Suzan M. Streichenwein, M.D., FAPM, Medical Front-Page
Advertisement