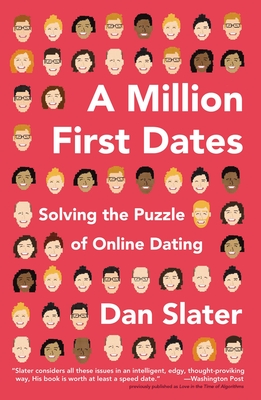 A Million First Dates (Paperback)
Solving the Puzzle of Online Dating
Current, 9781617230097, 272pp.
Publication Date: January 28, 2014
* Individual store prices may vary.
Description
** Previously published in hardcover as Love in the Time of Algorithms **
Once considered the realm of the lonely and desperate, sites like eHarmony, Match, OkCupid, and Plenty of Fish have been embraced by pretty much every demographic. Dating has been transformed from a daunting transaction based on scarcity to one in which the possibilities are almost endless. Now anyone can search for exactly what they want, connect with more people, and get more information about those people than ever before.

As journalist Dan Slater shows, online dating is changing society in more profound ways than we imagine. He explores how these new technologies, by altering our perception of what's possible, are reconditioning our feelings about commitment and challenging the traditional
paradigm of adult life.

Slater takes readers behind the scenes of a fascinating business. Dating sites capitalize on our quest for love, but how do their creators' ideas about pro ts, morality, and the nature of desire shape the virtual worlds they've created for us?
About the Author
Dan Slater is a widely published author of journalism and creative nonfiction. A former legal affairs reporter for the Wall Street Journal, he is currently a contributor for Fast Company and has also written news and commentary for the New York Times, the Washington Post, New York magazine, and GQ.
Praise For A Million First Dates: Solving the Puzzle of Online Dating…
"Slater considers all these issues in an intelligent, edgy, thought-provoking way. His book is worth at least a speed date."
—Washington Post

"Slater has dug in manfully to explain how technology is transforming how we meet and fall in love."
—Wall Street Journal

"Slater's account of the history of the cyber dating industry—from ginormous clunky old computers to modern complex algorithms—is well detailed."
—Financial Times

"In this artful examination of our techno-romantic universe, Dan Slater offers an eye-opening look at the ways our very own behaviors and desires have been forever changed." —Jessica Massa and Rebecca Wiegand, cocreators of The Gaggle and WTF Is Up With My Love Life?!
"A fascinating romp through the world of online dating, packed with anecdotes about how people are adapting (or not) to love on the Internet."
—Bethany McLean, coauthor of The Smartest Guys in the Room
-review