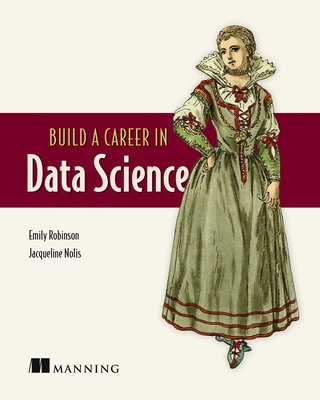 Build a Career in Data Science
Paperback

* Individual store prices may vary.
Description
Summary
You are going to need more than technical knowledge to succeed as a data scientist. Build a Career in Data Science teaches you what school leaves out, from how to land your first job to the lifecycle of a data science project, and even how to become a manager.

Purchase of the print book includes a free eBook in PDF, Kindle, and ePub formats from Manning Publications.

About the technology
What are the keys to a data scientist's long-term success? Blending your technical know-how with the right "soft skills" turns out to be a central ingredient of a rewarding career.

About the book
Build a Career in Data Science is your guide to landing your first data science job and developing into a valued senior employee. By following clear and simple instructions, you'll learn to craft an amazing resume and ace your interviews. In this demanding, rapidly changing field, it can be challenging to keep projects on track, adapt to company needs, and manage tricky stakeholders. You'll love the insights on how to handle expectations, deal with failures, and plan your career path in the stories from seasoned data scientists included in the book.

What's inside
Creating a portfolio of data science projects
Assessing and negotiating an offer
Leaving gracefully and moving up the ladder
Interviews with professional data scientists

About the reader
For readers who want to begin or advance a data science career.

About the author
Emily Robinson is a data scientist at Warby Parker. Jacqueline Nolis is a data science consultant and mentor.

Table of Contents:

PART 1 - GETTING STARTED WITH DATA SCIENCE
1. What is data science?
2. Data science companies
3. Getting the skills
4. Building a portfolio
PART 2 - FINDING YOUR DATA SCIENCE JOB
5. The search: Identifying the right job for you
6. The application: Résumés and cover letters
7. The interview: What to expect and how to handle it
8. The offer: Knowing what to accept
PART 3 - SETTLING INTO DATA SCIENCE
9. The first months on the job
10. Making an effective analysis
11. Deploying a model into production
12. Working with stakeholders
PART 4 - GROWING IN YOUR DATA SCIENCE ROLE
13. When your data science project fails
14. Joining the data science community
15. Leaving your job gracefully
16. Moving up the ladder
Manning Publications, 9781617296246, 354pp.
Publication Date: March 24, 2020
About the Author
Emily Robinson is a senior data scientist at Warby Parker, and holds a Master's in Management. Emily's academic background includes the study of leadership, negotiation, and experiences of underrepresented groups in STEM.

Jacqueline Nolis is a data science consultant and co-founder of Nolis, LLC, with a PhD in Industrial Engineering. Jacqueline has spent years mentoring junior data scientists on how to work within organizations and grow their careers.