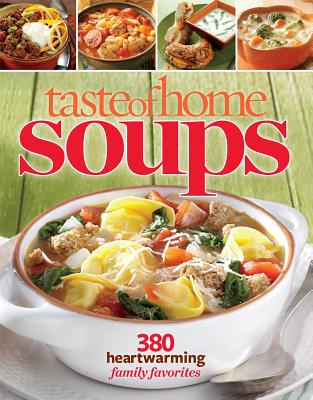 Taste of Home Soups
431 Hot & Hearty Classics
Paperback

* Individual store prices may vary.
Description
Taste of Home Soups contains over 380 heartwarming family favorite recipes for delicious homemade soups. Recipes for both quick meal ideas or old-fashioned favorites are included.



Discover more than 380 savory and delicious recipes for this chill-chasing comfort food with Taste of Home Soups. Cook up delicious one-pot meals, save time and money, and get your family to eat more veggies! Enjoy masterful shortcuts that give you homemade meals fast, or prepare old-fashioned from-scratch favorites like Chicken 'n' Dumpling Soup and New England Clam Chowder. Perhaps best of all, you'll enjoy effortless, lunch box-perfect meals as you savor the delicious leftovers! Recipes Include:

 

Quick Italian Wedding Soup

Vegetarian Chili

Classic Cream of Asparagus Soup

Steak Soup

Microwave Minestrone

Curried Pumpkin Apple Soup

Tomato Bisque

Chicken 'n' Dumpling Soup

Emily's Bean Soup

Confetti Chowder
Trusted Media Brands, 9781617650901, 256pp.
Publication Date: November 8, 2012
About the Author
Taste of Home is a leading multi-platform producer of information on food, cooking and entertaining, serving home cooks with engaging media that capture the joy and comfort received from food made with love. Taste of Home publishes three magazines (the flagship Taste of Home—America's largest cooking magazine, with a circulation of 3.2 million—Healthy Cooking and Simple & Delicious); top-selling bookazines; newsstand specials; and popular cookbooks and e-books. Tasteofhome.com is a top destination for engaging audiences with kitchen-tested recipes, how-to techniques, cooking videos and lively community forums.

 

 

Catherine Cassidy, Taste of Home Editor-in-Chief.

Launched in 1993, Taste of Home is the most popular recipe magazine in the world, with nearly 4 million paid subscribers. The delectable, practical recipes—more than 60 in each issue—are family favorites contributed by Taste of Home readers. The dishes, all beautifully photographed, capture special flavors of the season and are made with ingredients that home cooks are likely to have on hand or can readily find at a local supermarket.

 

The magazine's unique staff of field editors is made up of more than 1,000 experienced home cooks located in each state and Canadian province, who regularly share recipes, well-liked menus and kitchen tips. Taste of Home is published six times a year and has five sister magazines, Simple & Delicious, Slow Cooker, Appetizers, Cooking for 2, and Healthy Cooking.