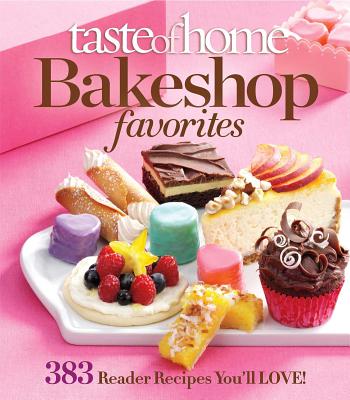 Taste of Home Bake Shop Favorites
383 Reader Recipes You'll Love!
Paperback

* Individual store prices may vary.
Description
Taste of Home Bakeshop Favorites contains 383 delicious recipes for cakes, pies, breads, pastries, cookies, as well as seasonal baking ideas and great beverage recipes.




Taste of Home presents a delicious blend of traditional baking recipes and contemporary classics, in this new book, Taste of Home Bakeshop Favorites. There are 383 delicious fool- proof recipes for pastries, coffee cakes, breads, show-stopping desserts and all the delectable goodies you would find in a bakery.

Two chapters unique to this book are Celebrate the Seasons and Cafe Beverages.

Celebrate the Seasons highlights the best of each season. Spring includes recipes for Lemon Meringue Pie, Hot Cross Buns and Petits Fours. Summer will have items that remind you of summer, like Root Beer Float Cake, Spumoni Cookies, and Cola Cake. Fall includes pies you would serve for Thanksgiving. And, Winter, includes recipes on traditional Christmas goodies as well as a few recipes for Valentines Day.

Cafe Beverages--will have hot and cold flavored coffees, teas and chocolate drinks and a few fun accompaniments like flavored creamers, homemade stir sticks, and more!

There will also be a chapter called Just Chocolate, which will include recipes for decadent chocolate goodies, such as chocolate dipped brownies, chocolate chocolate chip cookies and cakes with chocolate ganache.

As usual, each recipe has been tasted and reviewed in the Taste of Home test kitchen, plus there are practical, proven tips, storage charts, and at-a-glance prep and cook times--so you'll enjoy perfect results every time, no matter what your skill level is.

CHAPTERS
Cookies, Brownies & Bars
Cakes & Cupcakes
Cheesecakes
Pies & Tarts
Pastries
Coffee Cakes & Sweet Rolls
Muffins & Scones
Daily Breads
Celebrate the Seasons
Cafe Beverages
Just Chocolate

Recipes
Italian Spumoni Cookies
Macaroon Bars
Chocolate Hazelnut Torte
Lemon Dream Cheesecake
Mini Apple Tarts
Classic Long Johns
Jumbo Cinnamon Rolls
Sunflower Seed & Honey Wheat Bread
Pecan Kringle Sticks
Chocolate Chai Frappes
Trusted Media Brands, 9781617650932, 320pp.
Publication Date: February 7, 2013
About the Author
ABOUT TASTE OF HOME

Taste of Home is a go-to resource for the holidays and any time of the year for information on food, cooking and entertaining. Each year, thousands of great home cooks from across the United States and Canada submit more than 40,000recipes, of which 3,000 are published in Taste of Home magazines and online, making Taste of Home one of the largest and most successful practitioners of user generated content. Before being published, every recipe is tested in the Taste of Home Test Kitchen to ensure that it can be prepared with affordable, everyday ingredients from regular grocery stores. Taste of Home content is available in print; online at Tasteofhome.com; in books; via digital download on iPad, mobile apps and Kindle; and Facebook, Twitter and Pinterest.

Taste of Home reaches more than 57 million readers, with the Taste of Home magazine as well as online and live event channels.

Catherine Cassidy, Taste of Home Editor-in-Chief.

Catherine M. Cassidy is Editor-in-Chief of Taste of Home. She is responsible for driving editorial direction and product strategy across the brand's media platforms. They include Taste of Home, the number one food and entertaining magazine in the world; TasteofHome.com; social media; special interest publications; and cookbooks. She also is responsible for editorial direction for the magazines Simple & Delicious and Healthy Cooking and Enthusiast Brands Birds and Blooms, Country, Country Woman, Farm and Ranch Living, and Reminisce.

Cassidy has toured the country as the face of Taste of Home for national and local TV, radio, and newspaper interviews in support of the best-selling Taste of Home products, including its cookbooks.

Prior to joining Taste of Home, Cassidy served as Editor-in-Chief of Prevention magazine, the nation's largest health publication, at Rodale, Inc. Cassidy joined Rodale in 1986 as an associate editor in the book division, and was later named Executive Editor of Rodale's Custom Publishing division. She started her career at Runner's World and Fit magazines in Mountain View, California. Cassidy lives in Mequon, Wisconsin, with her husband and two daughters.