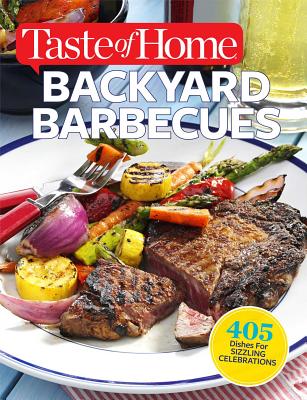 Taste of Home Backyard Barbecues
405 Dishes for Sizzling Celebrations
Paperback

* Individual store prices may vary.
Description
Whether you're whipping up a sizzling weeknight family dinner or planning a warm-weather menu for friends, Taste of Home Backyard Barbecues has you covered. Turn here for all of your fiery favorites…from steaks and chops to burgers and brats…including perfect side dishes, desserts and appetizers! Best of all, each recipe is shared by a family cook so you know it's a proven winner. Ideal for casual summer get-togethers, church picnics, family reunions, tailgates and more, Backyard Barbecues promises to be the one book home cooks reach for all season long!

Few foods celebrate warm-weather fun like charbroiled sensations, garden-fresh side dishes, and frosty desserts. That's why family cooks from coast to coast are turning to Taste of Home Backyard Barbecues for al fresco dining ideas! Whether hosting a get-together in your own yard, contributing to a neighborhood block party, tailgating at the big game or firing up the coals at the beach, Backyard Barbecues has you covered! Need a poolside appetizer? Looking for a scene-stealer at the family reunion? No problem! From sizzling specialties to refreshing treats, Backyard Barbecues is a lifesaver for surefire summer cooking success!

CHAPTERS
It's Time to Barbecue:
• In the Backyard!
• By the Pool!
• At the Beach!
• In the Park!
• On the Patio!
• At the Block Party!
• At the Game!
• Bonus: For Happy Hour!

Recipes
All-American Hamburgers
Italian Sausage
Sandwiches
Mini Burgers with the Works
Loaded Hot Dogs
Grilled Steak and Portobello Stacks
Sesame Chicken
Kabobs
Lemon-Ginger
Barbecued Ribs
Tuscan-Style Grilled Trout
Blue Cheese Burgers
Grilled Chorizo Pizzas
BLT
Pita Pockets
Grilled Clam Bake
Spinach Feta Burgers
Patriotic Fruit Pizza
Strawberry Salsa
Melon with Minted Lime Dip
Guacamole Appetizer Squares
Herbed Potato Salad
Barbecued Potato Wedges
Corn 'n' Pepper Medley
Three-Bean Bake
Chive 'n' Garlic Corn
Garden Primavera Fettuccine
Refreshing Mojitos
Frosty Lemonade Pie
Frozen Coconut Dessert
Grilled Apricots with White Chocolate
Ice Box Key Lime Pie
Trusted Media Brands, 9781617652776, 256pp.
Publication Date: May 6, 2014
About the Author
Catherine Cassidy is Editor-in-Chief of Taste of Home. She is responsible for driving editorial direction and product strategy across the brand's media platforms. They include Taste of Home, the number one food and entertaining magazine in the world; TasteofHome.com; social media; special interest publications; and cookbooks. Cassidy has toured the country as the face of Taste of Home for national and local TV, radio, and newspaper interviews in support of the best-selling Taste of Home products, including its cookbooks.
or
Not Currently Available for Direct Purchase