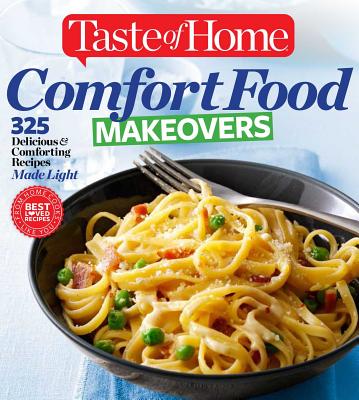 Taste of Home Comfort Food Makeovers (Paperback)
325 Delicious & Comforting Recipes Made Light
Reader's Digest/Taste of Home, 9781617654220, 256pp.
Publication Date: December 22, 2015
* Individual store prices may vary.
Description
The pros at Taste of Home received hundreds of requests to lighten up family-favorite recipes—and they did! Whether cutting calories from a bubbling casserole, trimming fat from a cheesy pizza or skimming sugar from a heavenly dessert, these experts revamped classic dishes while keeping all the mouthwatering flavor in tact. Now they're sharing their secrets in Taste of Home Best-Loved Makeovers. Inside this brand-new cookbook you'll find Nutrition Facts with every recipe as well as Diabetic Exchanges, hints and tips for making over your own favorites and more. Best of all, this must-have collection helps you dish out all the comfort you enjoy without an ounce of guilt!

Golden potpies, cheesy lasagna, piping hot mac and cheese, decadent chocolate cake…these are just some the favorite foods that home cooks from coast to coast asked Taste of Home to lighten up for them. After all, today's family cooks want to serve hearty specialties but they also want to keep sugar, fat, carbs, sodium and calories at bay. Now, readers of American's No. 1 food and entertaining magazine can lean how to trim the fat from classic dishes without cutting back on flavor. The Taste of Home Test Kitchen experts share their secrets for pairing down calories, fat and more with Taste of Home Best-Loved Makeovers. The brand-new title offers more than 340 revamped recipes, each putting a light spin on all-time classics. Complete Nutrition Information with every recipe helps buyers calculate weight-loss points and adhere to particular diet restrictions. In addition, hundreds of color photos and tips on trimming down family favorites make this cookbook a rewarding purchase for anyone hoping to serve best-loved foods without skimping on flavor.
About the Author
Taste of Home is the world's leading food media brand; They publish magazines, special interest recipe collections for sale at retail and grocery stores each year, dozens of cookbooks, and host over 300 local cooking schools around the country each year. www.tasteofhome.com

Catherine M. Cassidy is Editor-in-Chief of Taste of Home. She is responsible for driving editorial direction and product strategy across the brand's media platforms. They include Taste of Home, the number one food and entertaining magazine in the world; TasteofHome.com; social media; special interest publications; and cookbooks. Cassidy has toured the country as the face of Taste of Home for national and local TV, radio, and newspaper interviews in support of the best-selling Taste of Home products, including its cookbooks. Cassidy lives in Milwaukee, Wisconsin, with her husband.