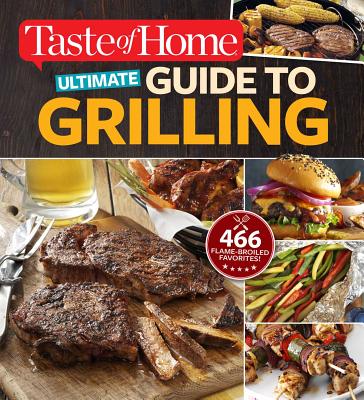 Taste of Home Ultimate Guide to Grilling (Paperback)
466 Flame-Broiled Favorites
Reader's Digest/Taste of Home, 9781617654923, 320pp.
Publication Date: April 5, 2016
* Individual store prices may vary.
Description
Taste of Home's biggest, most complete barbecue book yet Taste of Home Ultimate Guide to Grilling is loaded with 466 grilled greats plus easy-to-read cooking charts, seasoning and marinating tricks, how-to photos, a bonus chapter on tailgating, and more Nothing signals a summer celebration like the aroma of fiery foods grilled to perfection From barbecued ribs slathered in sauce and juicy burgers topped with cheese to buttery potatoes and golden ears of corn, flame-broiled favorites simply can't be beat. Now, with Taste of Home Ultimate Guide to Grilling, a finger-licking delight is never far off Whether you're sizzling up a weeknight dinner for your family or hosting a backyard barbecue for friends and neighbors, you're sure to become a grill master with the 466 recipes in this collection. Look inside for hundreds of beef and chicken dishes, as well aspork chops, ribs, sausages, fish fillets, shrimp kabobs, roasts, turkeys and even change-of-pace specialties such as pizza, garlic bread and meat loaf--all prepared on the grill. CHAPTERS
Introduction
Barbecue Basics
Crowd-Pleasing Appetizers
Sizzling Side Dishes
Sandwiches and Entr e Salads
Burgers, Brats & More
Flame-Broiled Beef
Char-Broiled Chicken & Turkey
Barbecued Pork, Lamb & More
Fiery Fish & Seafood
Savory Sauces & Seasonings
Hot & Hearty Desserts Recipes
Grilled Ribeyes with Browned Garlic Butter
Green Chili Burgers
Saucy Baby Back Ribs
Loaded Chicken Sandwich
Herbed Beer Can Chicken
Cornish Hens on the Grill
Sun-Dried Tomato Burgers
Old-Fashioned Coney Hot Dogs
Raspberry-Chipotle Pork Roast
Grilled Fish Tacos.