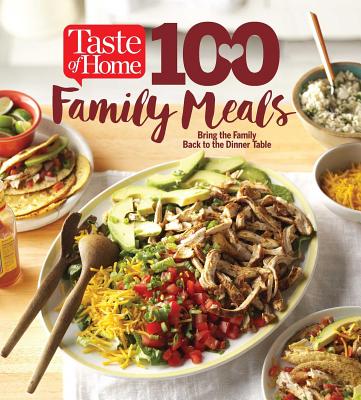 Taste of Home 100 Family Meals: Bringing the Family Back to the Table (Paperback)
Bringing the Family Back to the Table
Reader's Digest/Taste of Home, 9781617655821, 320pp.
Publication Date: December 27, 2016
Description
This year, make a different type of resolution--a resolution to family Join the thousands of home cooks who already made the commitment to serve at least 100 sit-down meals this year. They know the importance of enjoying dinner as a family, and now they're sharing their recipes, menus and timesaving tips with you in the exciting new cookbook Taste of Home 100 Family Meals. In addition to main dishes, you'll also find fast-to-fix sides, no-fuss desserts, breakfast ideas and more--for a total of 358 recipes. Take a look inside this inspiring cookbook and you'll see how easy it is to share meals as a family. Grab your copy of 100 Family Meals, join other cooks at #100FamilyMeals and start making a difference at your dinner table tonight Discover what thousands of other home cooks already have--sharing meals as a family is important. Starting today you can make memories and make a difference in your family. Join the challenge that's sweeping households from coast to coast. Resolve to serve100 sit-down family meals this year. It's easy with Taste of Home 100 Family Meals This exciting new cookbook helps you savor the heartwarming benefits of family dinners, casual weekend meals and even Saturday-morning breakfasts. It's a snap with this collection of 100 simple entrees, each including a side dish option, dessert idea or other serving suggestion. From fast stews and hot sandwiches to slow-cooked dishes and comforting casseroles, dinner-time solutions are always at your fingertips...no matter what the family calendar looks like. You'll also find two bonus chapters, helping you round out main dishes with no-fuss sides and quick desserts. Icons highlight main courses that come together in 30 minutes, simmer up in a slow cooker or only require a handful of ingredients. Tips shared by other family cooks help you substitute ingredients, streamline preparation or round out the meal.
In addition, notes panels and journal sections help you keep your commitment to sharing a meal with your family at least 100 times over the next 12 months. Join the #100FamilyMeals initiative, feed your family home-cooked dinners and start making memories in your home tonight. With Taste of Home 100 Family Meals, you'll make the dinner table a special place once again. CHAPTERS
Introduction
30-Minute Menus
Beefy Entrees
Chicken Dinners
Pork, Ham & More
Seafood Specials
Meatless Mains
Weekend Breakfasts
Sides, Salads & Breads
Quick Desserts.
Advertisement