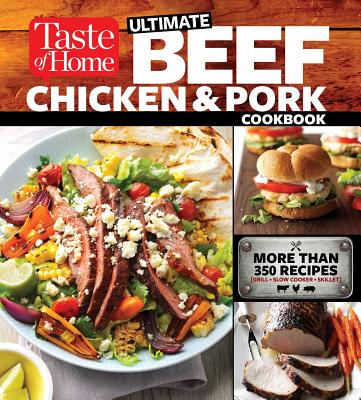 Taste of Home Ultimate Beef, Chicken and Pork Cookbook: The Ultimate Meat-Lovers Guide to Mouthwatering Meals (Paperback)
The Ultimate Meat-Lovers Guide to Mouthwatering Meals
Reader's Digest/Taste of Home, 9781617656484, 320pp.
Publication Date: June 6, 2017
Description
MEAT...IT'S WHAT'S FOR DINNER OVER 300 OF OUR BEST BEEF, CHICKEN AND PORK RECIPES FOR THE GRILL, THE STOVETOP, OR THE OVEN TO SATISFY YOUR FAMILY'S CARNIVOROUS APPETITE From grilled steaks and bacon-wrapped chicken breasts to finger-licking chops and savory roasts, this three-in-one cookbook of meaty favorites promises to satisfy the heartiest of appetites. Take a look inside Taste of Home Ultimate Beef, Chicken & Pork Cookbook, and you'll discover 312 stick-to-your-ribs specialties. Dig in to barbecued classics as well as fiery new favorites, and don't miss the oven-roasted tenderloins, fast stovetop fillets and slow-cooked stews that are sure to become staples at your table. This meaty collection also includes three At-a-Glance Icons to help you create the perfect meal, regardless of your schedule. Best of all, these stick-to-your-ribs delights were tested and approved by the Taste of Home Test Kitchen pros so you know that every dish will turn out perfect
CHAPTERS Ultimate Beef Beef 101 Quick Bites Flame-Broiled Faves Stovetop Suppers Roasts and Other Oven Entrees Simply Slow-Cooked Sandwiches & More Ultimate Chicken Chicken 101 Easy Appetizers Grilled to Perfection Skillet Recipes Oven Dinners Slow-Cooked Favorites Soups, Stews and Sandwiches Ultimate Pork Pork 101 Quick Bites Fiery Favorites On the Stovetop Hit the Oven Slow-Cooker Staples Sammies & More.
About the Author
Catherine Cassidy, Taste of Home Editor-in-Chief. Catherine M. Cassidy is Editor-in-Chief of Taste of Home. She is responsible for driving editorial direction and product strategy across the brand's media platforms. They include Taste of Home, the number one food and entertaining magazine in the world; TasteofHome.com; social media; special interest publications; and cookbooks. Cassidy has toured the country as the face of Taste of Home for national and local TV, radio, and newspaper interviews in support of the best-selling Taste of Home products, including its cookbooks. Prior to joining Taste of Home, Cassidy served as Editor-in-Chief of Prevention magazine, the nation's largest health publication, at Rodale, Inc. Cassidy joined Rodale in 1986 as an associate editor in the book division, and was later named Executive Editor of Rodale's Custom Publishing division. She started her career at Runner's World and Fit magazines in Mountain View, California. Cassidy lives in Milwaukee, Wisconsin, with her husband.
Advertisement