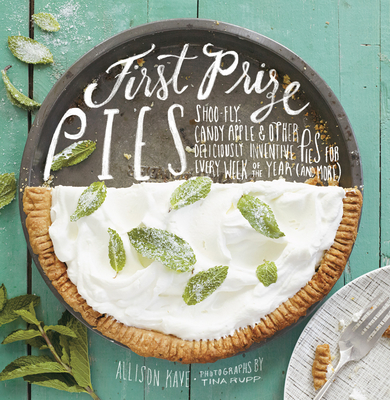 First Prize Pies (Hardcover)
Shoo-Fly, Candy Apple, and Other Deliciously Inventive Pies for Every Week of the Year (and More)
Harry N. Abrams, 9781617691027, 224pp.
Publication Date: March 11, 2014
* Individual store prices may vary.
About the Author
Keavy Landreth and Allison Kave are the founders of Butter & Scotch, Brooklyn's first dessert and craft cocktail bar, located in Crown Heights, Brooklyn, New York. In 2014, Keavy and Allison opened their Butter & Scotch storefront, which has received wide acclaim and press coverage. The bakery has been covered by New York Magazine, Nylon, Eater, USA Today, Refinery29, the New York Times, Grub Street, the TODAY show, Food & Wine, Bon Appétit, and more.

Before teaming up for Butter & Scotch, Keavy and Allison each had their own successful dessert business. Keavy founded Kumquat Cupcakery in 2007 and was one of the first vendors at the Brooklyn Flea, New York's preeminent market for artisan-made crafts and food. Her mini cupcakes have been featured in the New York Times, New York Magazine, Time Out New York, and on The Martha Stewart Show, among many others. Allison founded her boutique pie company First Prize Pies in 2010, after winning the Brooklyn Pie Bake-Off. Her pies have been featured in the New York Times, Food & Wine, Saveur, Eater, Design*Sponge, Serious Eats, the Cooking Channel, and in many other publications and television shows. Her cookbook, First Prize Pies, was published in 2014.
Praise For First Prize Pies: Shoo-Fly, Candy Apple, and Other Deliciously Inventive Pies for Every Week of the Year (and More)…
"There are about 100 good reasons to add First Prize Pies to your cookbook library. However, it is the recipe (and photo) for Nutella Pie that will forever be burned into your subconscious. It's the kind of thing that will haunt your sweet dreams for the rest of your life."
— Matt Lewis, author of Baked, Baked Explorations, and Baked Occasions (2014)
"Make room for Allison's First Prize Pies. It's a necessary book—an encyclopedia of pie porn. Occasional pie bakers will be inspired and pie pros will be reinvigorated. If you don't make her Banana Split Ice Cream Pie at least once, then something is seriously wrong with you."
— Renato Poliafito, author of Baked, Baked Explorations, and Baked Occasions
"Allison's pies, open and closed, fruit and nut, custard and cream, short, tall, rustic and refined, are the stuff of memory. Her recipes for from-the-heart pies are bound to become the sweet dreams of a generation."
— Dorie Greenspan, author of Around My French Table
"With detailed instructions and delicious, inventive recipes by the always delightful Allison Kave, this book will convince you that not only can you bake a pie, you should bake a pie; if you're smart, you must do it right now. FedEx me a slice of Samantha Bee when you're done."
— Samantha Bee, The Daily Show with Jon Stewart
"First Prize Pies offers pies for every major life occasion: The Kentucky Derby. Halloween. The After Party. The Morning After. There is always—always!—a need for these pies."
— Johnny Iuzzini, author of Dessert FourPlay
"The flavors are fun and, as the title implies, inventive, and they will get you out of any kind of pie rut in which you may currently be languishing."
— Eater National