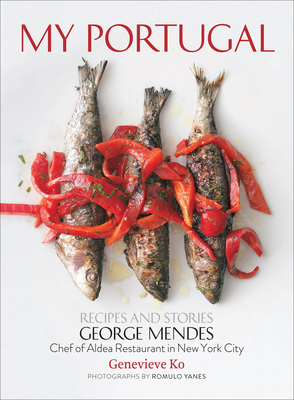 My Portugal (Hardcover)
Recipes and Stories
Harry N. Abrams, 9781617691263, 256pp.
Publication Date: October 7, 2014
* Individual store prices may vary.
About the Author
George Mendes is a Michelin-starred chef and owner of Aldea in New York City. Named one of Food & Wine magazine's ten "Best New Chefs" in 2011, Mendes is regularly featured in national newspapers, magazines, and websites, along with television appearances, including a run on Bravo's Top Chef Masters.
Genevieve Ko is a food writer who has coauthored cookbooks with several internationally renowned chefs. Ko is currently the contributing food editor at Health.
Praise For My Portugal: Recipes and Stories…
"One of my favorite chefs has at last written a delicious tome that evokes the delicate balance between fantasy travel to the western Mediterranean and local farming in the USA. The poetic recipes and the mellifluous prose inspire me to shop, to sing fados, and to celebrate and cook these alternately exotic and recognizable simple and evocative dishes for my family. This book makes me hungry for a visit to both Aldea in NYC and the Algarve [in Portugal] and will immediately join my kitchen library on the 'use now and forever' shelf."
— Mario Batali, chef/entrepreneur
"I have long admired George's thoughtful, evocative cooking at Aldea. The stories and recipes in My Portugal show the passion, warmth, and generosity of spirit that make his food so delicious."
— Daniel Patterson, chef of Coi Restaurant in San Francisco
"George is a creative genius whose culinary talent shines through each and every one of his dishes. His passion and love for Portuguese cuisine is inspiring and evident in all that he does! His recipes are simply delicious and will leave readers with a strong appreciation for Portugal and its cuisine!"
— Eric Ripert, chef of Le Bernardin in New York City
"George is an amazing chef, and we share the common approach of bringing our own personal food heritage to New York City. His cuisine is filled with the intensely satisfying flavors of a casual Portuguese feast—updated with a beautifully modern presentation and technique du jour. I can see you trying these recipes at home while sipping a nice chilled glass of vinho verde!"
— Daniel Boulud, chef/owner, The Dinex Group
"This book is a perfect example of an amazing chef cooking the cuisine that flows through his veins. George is cooking the food that is embedded in his DNA and it just so happens to be gorgeous and delicious!"
— Sean Brock, chef of Husk Restaurants in Charleston and Nashville
"In this book, George Mendes takes us with him to Portugal: He travels the small Iberian country to visit family, to investigate the origins of favorite dishes, and to understand the village where his parents lived before he was born."
— Food & Wine