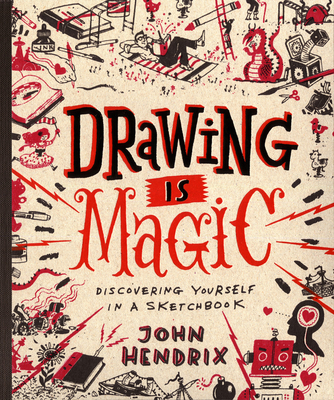 Drawing Is Magic (Hardcover)
Discovering Yourself in a Sketchbook
Stewart, Tabori, & Chang, 9781617691379, 160pp.
Publication Date: March 24, 2015
* Individual store prices may vary.
Description
A sketchbook is an essential tool for the growth of any aspiring artist, but its blank pages can be daunting to even the most motivated. Obsessed with perfection, many wind up treating their sketchbooks more like portfolios than playgrounds. In Drawing Is Magic, author John Hendrix teaches aspiring and advanced artists to find their unique visual voices and become creative daredevils. Through his freeing, offbeat exercises, drawers learn a sophisticated philosophy of creative thinking--in a way that is totally accessible and fun. Also by John Hendrix: Miracle Man
About the Author
John Hendrix is an associate professor of art at Washington University in St. Louis. His illustrations have appeared in many publications, including Sports Illustrated, Entertainment Weekly, Rolling Stone, the New Yorker, Esquire, and the New York Times. He is the author of Abe Lincoln Crosses a Creek and John Brown. He lives in St. Louis, Missouri.