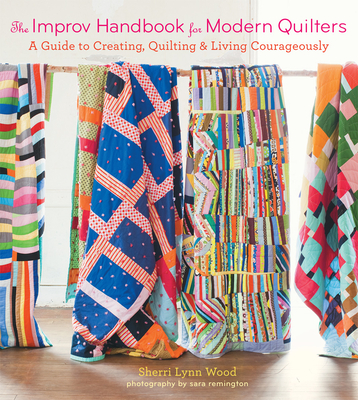 The Improv Handbook for Modern Quilters (Paperback)
A Guide to Creating, Quilting, and Living Courageously
Harry N. Abrams, 9781617691386, 176pp.
Publication Date: April 28, 2015
* Individual store prices may vary.
About the Author
Sherri Lynn Wood is an artist working in Oakland, CA. She is the recipient of the Joan Mitchell Foundation Grant for Painters and Sculptors, and a two-time MacDowell Colony Fellow. She has been making and improvising quilts as a creative life practice for twenty-five years, and blogs about it at daintytime.net. Teaching credits include Penland School of Craft, QuiltCon, and numerous modern and traditional guilds across the country.
Praise For The Improv Handbook for Modern Quilters: A Guide to Creating, Quilting, and Living Courageously…
"Wood offers a series of techniques, guidelines and lessons on color choice for those ready to explore improvisational quilting. Her book is loaded with full-color photos and examples to inspire."
"Despite how it may 'seam,' quilting isn't all about rules! Quilting can be an exhilarating way to channel your creativity and express yourself. This book is focused more on exploration than explanation—a perfect mindset for beginners!"
"The Improv Handbook for Modern Quilters is on my all-time-favorite-most-beautifully-photographed-books list. There is just so much content (176 pages!) and fuel for creativity in here. I'll be honest, I'm a picture person and I usually don't read everything in a quilting book. But I sat down with this one and it's been so interesting. I actually keep it on my coffee table!"
"I could learn a lot from this book—I want to buy it."
"Refreshing, inspiring use of color and pattern and educational—a must-have book."
"The whole look and feel of this book is glorious. You want to turn every page. You want to read it like a novel . . . there are life lessons here as well as quilt lessons."
"If improv scares you, check this book out because it lets you think about improv in a different way. This book makes you want to let go of control!"
"One of the best quilting books I've ever read. Why? Because this book empowers readers to tap a creative vein and improvise with scissors and a pile of stash fabric."
"As someone who enjoys improv quilting, I found myself poring over Sherri's book day after day, quickly jotting down notes and techniques to try with my next project."
"Wood provides a comprehensive overview of improvisational techniques."