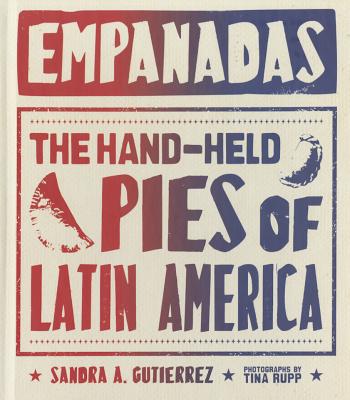 Empanadas (Hardcover)
The Hand-Held Pies of Latin America
Stewart, Tabori & Chang, 9781617691430, 176pp.
Publication Date: April 21, 2015
* Individual store prices may vary.
Description
Found from New York to Los Angeles, from Mexico to Brazil and into the Latin Caribbean, empanadas are the most widely eaten hand-held pies in the world. They can be filled with a marvelous array of ingredients featuring simple, vibrant flavors and can make a perfect snack, everyday meal, decadent dessert, or great party fare. Empanadas offers a collection of the most delicious recipes and essential tips on creating the perfect mini pie for any occasion, from Argentinian cheesy spinach empanadas, crispy Mexican chorizo and potato pies with tomatillo salsa, and flaky Brazilian shrimp and tomato empanadas to Costa Rican empanaditas stuffed with gooey pineapple jam. With an introduction on the history of empanadas, a lesson on dough types and folding techniques, 60 succulent recipes, and mouthwatering color photographs throughout, Empanadas is a beautiful, practical, and definitive guide to making, serving, and enjoying everyone's favorite hand-held pie.
About the Author
Sandra A. Gutierrez grew up in Guatemala, is an expert on Latin American cuisine, and is the author of The New Southern-Latino Table and Latin American Street Food. She teaches cooking classes and blogs at sandraskitchen.typepad.com.
Praise For Empanadas: The Hand-Held Pies of Latin America…
"Good things come in small packages, as Sandra Gutierrez shows in her appetite-rousing book. It is stuffed with a huge range of little pies, from the very authentic to cutting edge. I learned something about Latino culture and cooking on virtually every page."
"What a warm introduction to the world's most satisfying portable meal. From rounds and rectangles to half-moons and footballs, empanadas of every shape, size, and nationality get a place at the table. I can't wait to bite into these bundles of flavor—and freeze some for later!"
"Leafing through Empanadas I was torn between the impulse to dash into the kitchen and start making dough and wanting to sit down and read every word to learn about the regional differences, cultural traditions, and time-tested techniques that crowd every page of this wonderful book."
"Sandra Gutierrez, my go-to guide for all things culinary and Latin American, makes a strong case for this cool comfort food in Empanadas . . . Who knew that they could be hot or cold, big or little, sweet or savory, spicy or mild, plain or fancy, soft or crisp, meaty or vegetarian, even gluten-free? Sandra Gutierrez, that's who, and you won't find a more personable or passionate guide to lead you through the delicious world of empanadas."
"Sandra Gutierrez's approach to this wondrous world of hand-held pies is nothing short of brilliant. The techniques and attention to detail are a testimony to her teaching style and the recipes are drool-worthy. Groundbreaking!"