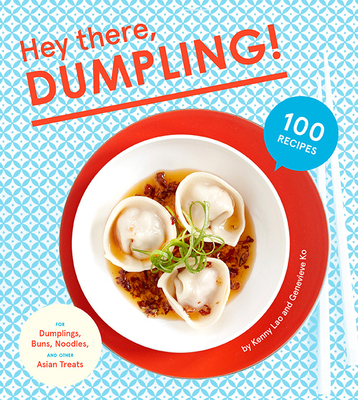 Hey There, Dumpling!
100 Recipes for Dumplings, Buns, Noodles, and Other Asian Treats
Hardcover

* Individual store prices may vary.
Description
Kenny Lao has been making dumplings for 30 years—in homes, food trucks, and restaurants across America. He has made dumplings at large family parties, in professional kitchens with Michelin-star chefs, and even with rap mogul P. Diddy. In his first cookbook, Lao reveals how to make the perfect dumpling and host amazing dumpling parties.

Hey There, Dumpling! features 100 recipes covering classic Asian and modern flavors, including Pork and Napa Cabbage and Spicy BBQ-Glazed Beef dumplings, mix-and-match tangy dips, crispy salads, delicious noodles, and festive drinks. With 50 color photographs, graphic step-by-step tutorials, and Lao's accessible approach to the kitchen, you'll be inspired to make dumplings a regular for weeknight meals and a star at your next dinner party.

Praise For Hey There, Dumpling!: 100 Recipes for Dumplings, Buns, Noodles, and Other Asian Treats…
"Jump in—the dumplings are mighty fine!"
— Ted Allen, host, Food Network's Chopped and All-Star Academy

"When Kenny teaches you how to make dumplings, you laugh and cry and sometimes blush; this book is no exception. With its culinary precision, ultra-tasty/ultra-hip recipes, and spicy humor, Hey There, Dumpling! pulls together every element that makes a dumpling irresistible."
— Sara Kate Gillingham,James Beard Award-winning author and founding editor, The Kitchn and Apartment

"Consider Kenny Lao a personal trainer for your hot Asian buns. His flavorful recipes work brilliantly and his optimism, enthusiasm, and encouragement keep you completely entertained along the way."
— Jeni Britton Bauer, Owner of Jeni's Splendid Ice Creams

"Kenny, this book, and the recipes within it are just like a dumpling--fun, satisfying, and full of good stuff. He has a real knack for explanation and organization, which, along with his delicious recipes, proudly provide a refreshing sense of comfort and care in an otherwise chaotic world. May this book leap from the shelf and stick to the pot of your mind and belly."
— Justin Warner, Chef/owner of Do or Dine, Brooklyn, NY

"I don't think I've been this excited about a cookbook in a long time."
— Tommy Habetz, Chef/owner of Bunk Sandwiches, Portland, OR

"Kenny Lao's passion for food brings so much creativity and inspiration which shows on every page of this book. These recipes will excite you and prove cooking can be fun. Enjoy!"
— Hong Thaimee, Author of True Thai and chef/owner of Ngam, New York, NY
Stewart, Tabori & Chang, 9781617691560, 208pp.
Publication Date: September 8, 2015
About the Author
Kenny Lao is a restaurant consultant, TV personality, and cofounder of Rickshaw Dumplings. Previously the special projects director for Drew Nieporent's Myriad Restaurant Group (Tribeca Grill and Nobu, among others), he currently lives in Los Angeles with his husband, John, and dog, Zipper.