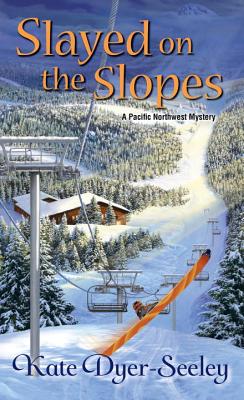 Slayed on the Slopes (A Pacific Northwest Mystery #2) (Paperback)
Kensington, 9781617730009, 304pp.
Publication Date: March 31, 2015
* Individual store prices may vary.
Description
After talking her way into a job writing for Portland's Northwest Extreme magazine, Meg Reed may now really be in over her head. Actually, about 8,000 feet over her head. . .

She's at Mount Hood's remote Silcox Hut, covering the the seriously hardcore Ridge Rangers-- Oregon's elite high-altitude rescue team--during their four-day winter training. Sure, Meg beefed up her outdoor skills over the summer . . . but she's still hoping to cover the event with some hot chocolate by the cheery fireplace. Then, during a sudden blizzard, she swears she hears gunshots. No one stranded in the hut believes her . . . until self-absorbed Ridge Ranger Ben Rogers is found outside in a pool of frozen blood. Meg's now got to find this killer quickly . . . before cabin fever does them all in!

Praise For Scene Of The Climb

"A splendid overview of the greater Portland and Columbia River Gorge region, perfect for travel buffs. Her protagonist shows promise with her determined attitude and moxie." --Library Journal

Includes Adventure Guides!
About the Author
Kate Dyer-Seeley is the author of Scene of the Climb, Slayed on the Slopes, Silenced in the Surf, and First Degree Mudder in the Pacific Northwest Mystery series, as well as the memoir Underneath the Ash. Her writing has appeared in Climbing Magazine, The Oregonian, The Columbian, Portland Family Magazine, and The Vancouver Voice. She is an active member of the Willamette Writers Association and the Pacific Northwest Writers Association. Visit her website at katedyerseeley.com.
or
Not Currently Available for Direct Purchase