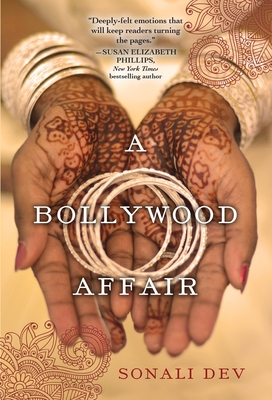 A Bollywood Affair
Paperback

* Individual store prices may vary.
Other Editions of This Title:
Paperback (7/26/2016)
Description
"Deeply-felt emotions that will keep readers turning the pages." --Susan Elizabeth Phillips, New York Times bestselling author

Mili Rathod hasn't seen her husband in twenty years--not since she was promised to him at the age of four. Yet marriage has allowed Mili a freedom rarely given to girls in her village. Her grandmother has even allowed her to leave India and study in America for eight months, all to make her the perfect modern wife. Which is exactly what Mili longs to be--if her husband would just come and claim her.

Bollywood's favorite director, Samir Rathod, has come to Michigan to secure a divorce for his older brother. Persuading a naïve village girl to sign the papers should be easy for someone with Samir's tabloid-famous charm. But Mili is neither a fool nor a gold-digger. Open-hearted yet complex, she's trying to reconcile her independence with cherished traditions. And before he can stop himself, Samir is immersed in Mili's life--cooking her dal and rotis, escorting her to her roommate's elaborate Indian wedding, and wondering where his loyalties and happiness lie.

"Heartfelt, witty, and thoroughly engaging, Sonali Dev's debut is both a vivid exploration of modern India and a deeply honest story of love, in all its diversity.
"A fresh new voice...Deeply-felt emotions that will keep readers turning pages. A BOLLYWOOD AFFAIR has it all."—Susan Elizabeth Phillips, New York Times bestselling author

"Deeply romantic and emotional, with characters I fell in love with, A BOLLYWOOD AFFAIR is simply unputdownable. It's sexy, it's dramatic, but most of all, it's a sweet, hot love story that made me sigh and smile and want to read it all over again as soon as I turned the last page."—Nalini Singh, New York Times bestselling author

"An impressive debut and a charming contemporary Indian fairytale...Vibrant and exuberantly romantic, Affair is chock full of details that reflect India's social and cultural flux." —NPR.com

"As intricate as a henna tattoo and as sweet as gulab juman... this witty confection is sure to delight...Captures all the glamour, mix-ups and humor of a classic Bollywood film."  —Shelf Awareness

"Dev's heartfelt debut novel is rich in scenes and images illuminating Indian culture, leaving readers with a greater understanding and appreciation of Indian traditions while beautifully capturing the struggle between familial duty and self-discovery." —Booklist

"A delightful debut packed with complex characters, deep emotions and just the right touch of humor. A tale of love, loss and second chances."—Shobhan Bantwal, author of The Dowry Bride

"In this enthralling tale of romantic complications Sonali Dev not only entertains but provides new insight into the human condition. A must read."—Mingmei Yip, author of Peach Blossom Pavilion

"It is a true joy when a fresh new voice enters the genre, so make note of the name Sonali Dev! Based on this marvelous debut, Dev is set to become a star. Filled with warmth and completely unforgettable characters, this occasionally poignant story explores what happens when best laid plans go awry. An absolute winner from beginning to end, this spellbinding tale grabs your heart and never lets go!" —RT Book Reviews, 4.5 Stars, TOP PICK

"This tasty Indian American confection will satisfy female readers of any age...A contemporary, transcontinental romance told with a light touch and lots of sizzle.—Library Journal
Kensington, 9781617730139, 304pp.
Publication Date: October 28, 2014
About the Author
Sonali Dev's first literary work was a play about mistaken identities performed at her neighborhood Diwali extravaganza in Mumbai. She was eight years old. Despite this early success, Sonali spent the next few decades getting degrees in architecture and written communication, migrating across the globe, and starting a family while writing for magazines and websites. With the advent of her first gray hair her love for telling stories returned full force, and she now combines it with her insights into Indian culture to conjure up stories that make a mad tangle with her life as supermom, domestic goddess, and world traveler. Sonali is an active member of RWA and WFWA. She lives in the Chicago suburbs with her very patient and often amused husband and two teens who demand both patience and humor, and the world's most perfect dog.  Visit her on the web at sonalidev.com.